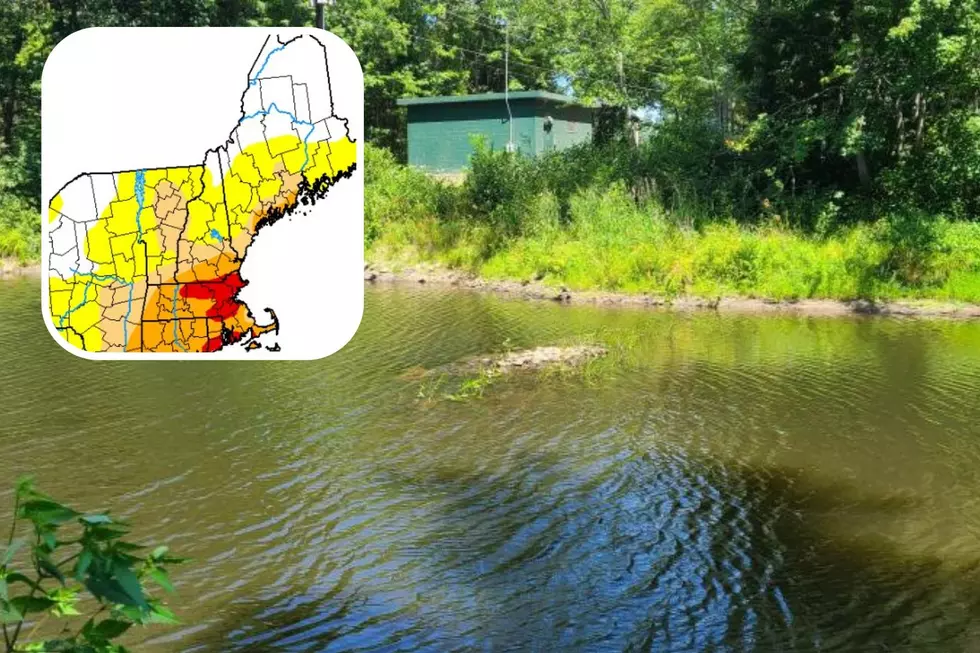 New Hampshire and Maine Seacoast Stays in a Severe Drought, but Relief is Coming
Exeter River (Town of Exeter), U.S. Drought Monitor (NOAA)
There's not much change to the latest U.S. Drought Monitor maps for the Seacoast, but Wednesday's rain could make a difference in the next report.
The latest report issued on Thursday continues to have most of Strafford and York Counties and all of Rockingham County under a severe drought.  Essex County in Masachusetts is in a severe drought. The report includes rainfall through Tuesday morning.
The amount of rain that fell was varied and fell in a short period of time, with amounts ranging from .86 inches of rain in Manchester to 1.26 inches in Rochester and over an inch in much of York County, according to meteorologist Derek Schroeter at the National Weather Service in Gray, Maine. But Portsmouth only received .38 inches
"It wasn't a soaking rain, but there was certainly localized heavier amounts. For drought relief, we're looking for more of an all-day steady rain as opposed to that quick heavy rainfall,"" Schroeter said. "The faster the rainfall rate, the less that is readily absorbed into the soil and groundwater systems, and is more susceptible to running off."
Coastal areas have a rainfall deficit of 6-8 inches, while inland areas have a deficit of 2-4 inches.
Rainy, Cool Days Are Coming
Thursday was the first day of September, which means meteorological fall has started. Will that bring more precipitation to help break the drought?
"As we head into the cool season, that's when we see the jet stream shift south and starts the transition to afternoon scattered showers and thunderstorms from organized low pressure areas that will track over the area. We're looking for those low pressure areas to slowly drift across the area with typical all-day cool, cloudy rainy days, which are more frequent in the fall," Schroeter said.
Those days likely aren't happening soon, as the Climate Prediction Center suggests that the month of September will continue the summer trend of above normal temperatures and below normal precipitation, according to Schroeter.
The Labor Day weekend looks nice, with sunny skies and temperatures around 75 on Friday and the low 80s on Saturday. Temperatures warm into the mid to upper 80s on Sunday with the chance of a thunderstorm . Monday will be cloudy with a high in the low 70s as a cool front stalls.
Contact reporter Dan Alexander at Dan.Alexander@townsquaremedia.com or via Twitter @DanAlexanderNH
Trending Stories for Seacoast Current (August 22-28, 2022)
More From Seacoast Current