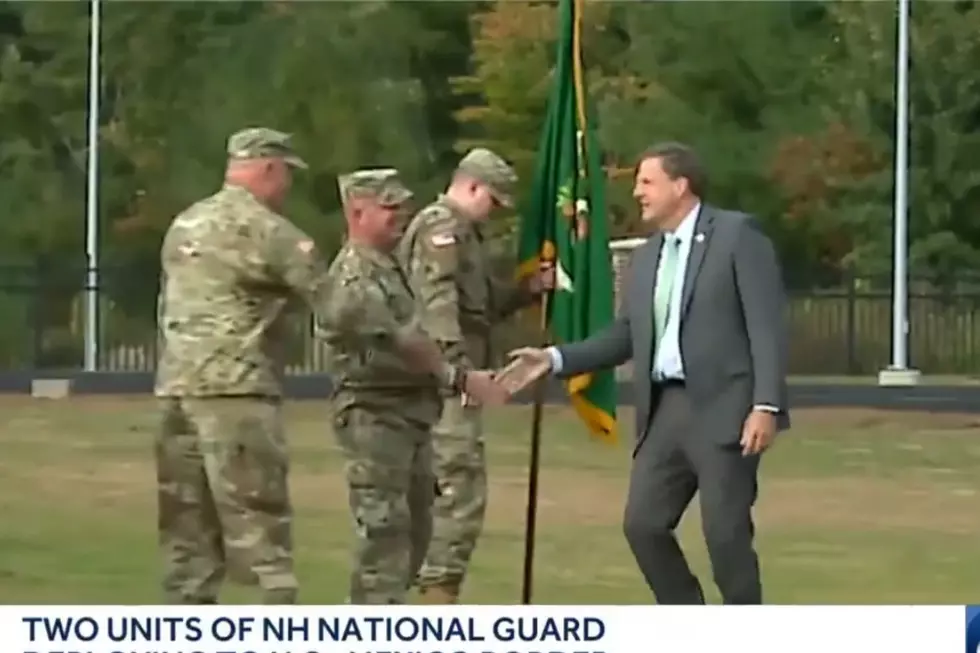 New Hampshire National Guard Units Deployed to U.S. Southern Border
Gov. Chris Sununu with members of the NH National Guard deployed to the U.S. southern border 10/3/22 (WMUR via Twitter)
Two National Guard units from New Hampshire left Monday as part of a federal mobilization at the United States southern border.
During a deployment ceremony at the Edward Cross Training Complex in Pembroke Monday afternoon, Gov. Chris Sununu said the deployment of a dozen Guard units from around the country was ordered by the U.S. Department of Defense, according to coverage by InDepthNH and WMUR.
Around 44 soldiers from the 941st Military Police Battalion headquarters will provide command and control over four subordinate units "companies" from New Hampshire, Rhode Island, Illinois, and Kentucky, making up a contingent of 500-soldiers total, according to Gov. Chris Sununu's office. It is the battalion's first deployment.
Their contingent covers approximately 250 miles of border extending to the Gulf of Mexico. This is the unit's first deployment.
Another 120 soldiers from the 237th Military Police Company are assigned to primarily surveillance sites along the border. Both units will serve for one year.
Soldiers are prohibited from being in contact with illegal migrants, and notify Customs and Border Protection of any border crossing. The unit last deployed to Afghanistan in 2012-2013.
"New Hampshire is grateful for the heroic men and women of our National Guard," Sununu said in a statement."They answered the call to serve during the COVID pandemic, and are now answering our nation's call — deploying to the ongoing humanitarian crisis along our southern border. As these brave men and women deploy, New Hampshire stands by our National Guard, and we wish everyone a safe and speedy return home."
Contact reporter Dan Alexander at Dan.Alexander@townsquaremedia.com or via Twitter @DanAlexanderNH
Michael Myers Makes a Cameo in This New Hampshire Real Estate Listing
More From Seacoast Current