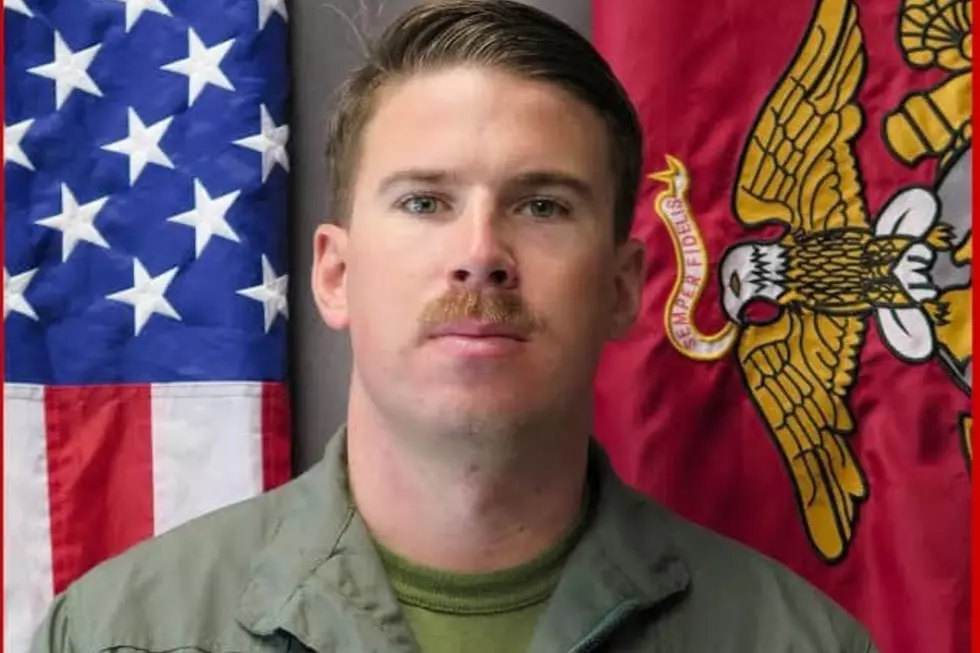 NH Pilot Killed in U.S. Marine Training Helicopter Crash
U.S. Marine Capt. Nicholas P. Losapio (U.S. Marines)
A pilot from New Hampshire was among the five U.S. Marines killed on board a helicopter that crashed in California on Wednesday.
The crew was on board an MV-22B Osprey conducting routine flight training, when it went down near Glamis, California, in the desert east of San Diego.
The U.S. Marines identified Capt. Nicholas P. Losapio, 31, as one of those killed in the crash. Select Board chairman Joe Pace confirmed that Capt. Losapio is from Kensington and a graduate of Exeter High School.
"The Kensington Board of Selectmen and the entire Town send their deepest condolences to his family on their tragic loss," the board said in a statement.
The other crew members were identified as: Cpl. Nathan E. Carlson, 21, of Winnebago, Illinois; Cpl. Seth D. Rasmuson, 21, of Johnson, Wyoming; Capt. John J. Sax, 33, of Placer, California; and, Lance Cpl. Evan A. Strickland, 19, of Valencia, New Mexico.
They were all members of the Marine Medium Tiltrotor Squadron 364, Marine Aircraft Group (MAG) 39, 3rd Marine Aircraft Wing (MAW), based at Camp Pendleton in California.
"It is with a heavy heart that we mourn the loss of five Marines from the Purple Fox family," said Lt. Col. John C. Miller, commanding officer of VMM-364. "This is an extremely difficult time for VMM-364 and it is hard to express the impact that this loss has had on our squadron and its families," Miller added. "Our primary mission now is taking care of the family members of our fallen Marines and we respectfully request privacy for their families as they navigate this difficult time."
Sax is the son of former major league baseball player Steve Sax, according to a tweet by the Los Angeles Dodgers.
Condolences for a Marine's family
"My thoughts are with Captain Losapio's family, friends and fellow Marines at this devastating time. This is a tragic loss for our military & every effort should be made to understand how this occurred so it never happens again," Sen. Jeanne Shaheen said in a tweet.
Sen. Maggie Hassan said in a tweet she and her husband Tom are praying for Capt. Losapio's family.
"This is a heartbreaking tragedy," the senator wrote.
State Senate President Chuck Morse sent his condolences in a tweet on Saturday.
"I join with all of New Hampshire in mourning the loss of Captain Losapio and his fellow Marines. They died serving our nation and keeping us safe," Morse wrote. "Their loss is reminder of the risk and sacrifice members of our armed forces accept every day. We are praying for the Losapio family and for the families of all the Marines we lost."
Capt. Losapio had served with the Marines for 8 years and received a number of awards including the Air Medal with Strike/Flight Numeral 2, the Navy and Marine Corps Achievement Medal, Navy Unit Commendation, the National Defense Service Medal, the Global War on Terrorism Expeditionary Medal, the Inherent Resolve Campaign Medal, the Global War on Terrorism Service Medal, and the Sea Service Deployment Ribbon.
The chopper went down during live-fire training as they flew over a gunnery range. The cause of the crash remains under investigation.
Four Marines were killed in March when an Osprey went down in Norway near the Arctic Circle during a NATO exercise.
Contact reporter Dan Alexander at Dan.Alexander@townsquaremedia.com or via Twitter @DanAlexanderNH
12 of the Best Campgrounds in New Hampshire
More From Seacoast Current