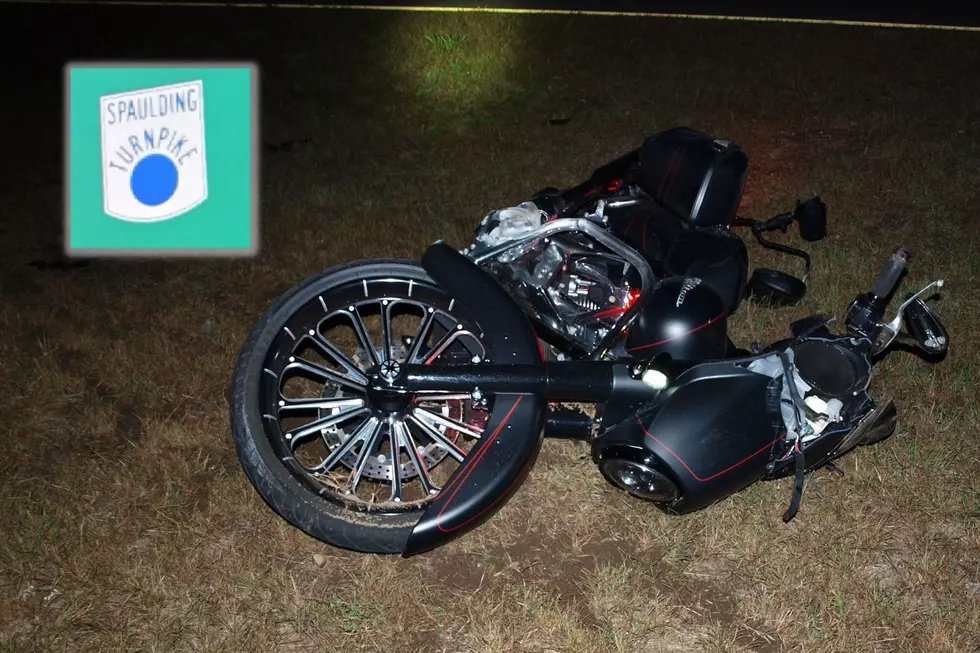 NH Seacoast Region Motorcycle Crashes Seriously Injure 2, Kill 1
Motorcycle involved in a crash on the Spaulding Turnpike Connector 9/17/22 (NH State Police)
A motorcyclist suffered life-threatening injuries in a crash on the Spaulding Turnpike Saturday in the second serious motorcycle crash in the region this weekend.
New Hampshire State Police said the driver of a 2016 Harley-Davidson was riding westbound on the Spaulding Turnpike Connector in Rochester near the northbound exit 16 off-ramp from Route 16 around 8:30 p.m. The driver and their passenger crossed the center line and went off the road on the eastbound side.
The driver was taken to Frisbie Memorial Hospital for treatment of life-threatening injuries. The passenger was transported to Portsmouth Regional Hospital with serious injuries. Their identities were not disclosed by police.
Police said neither rider was wearing a helmet at the time of the crash.
No charges have been filed.  Police asked any witnesses to the crash to contact them at 603-679-3333
Motorcyclist Hits Tree Late Friday Afternoon
A motorcyclist died in a crash late Friday afternoon after hitting a utility pole along Parker Mountain Road (Route 126), Strafford police told WMUR.
Strafford Police did not respond to Seacoast Current's request for more information on Saturday.
Friends and family identified the rider as Stevie-Ray Coletti on a GoFundMe page created to accept donations to the Charming Acres Farm in Strafford.
"Stevie was a lover of all animals big and small, and after this unexpected tragedy we are all asking for donations to go to the animals, feed, and funeral expenses," page creator Maria Jorgensen wrote.
Friend Anna Randall wrote on her Facebook page that he turned 27 the day before the crash. She said his parents, brother, and best friend, had all passed away in the past several years.
Contact reporter Dan Alexander at Dan.Alexander@townsquaremedia.com or via Twitter @DanAlexanderNH
Trending Stories for Seacoast Current (August 22-28, 2022)
More From Seacoast Current