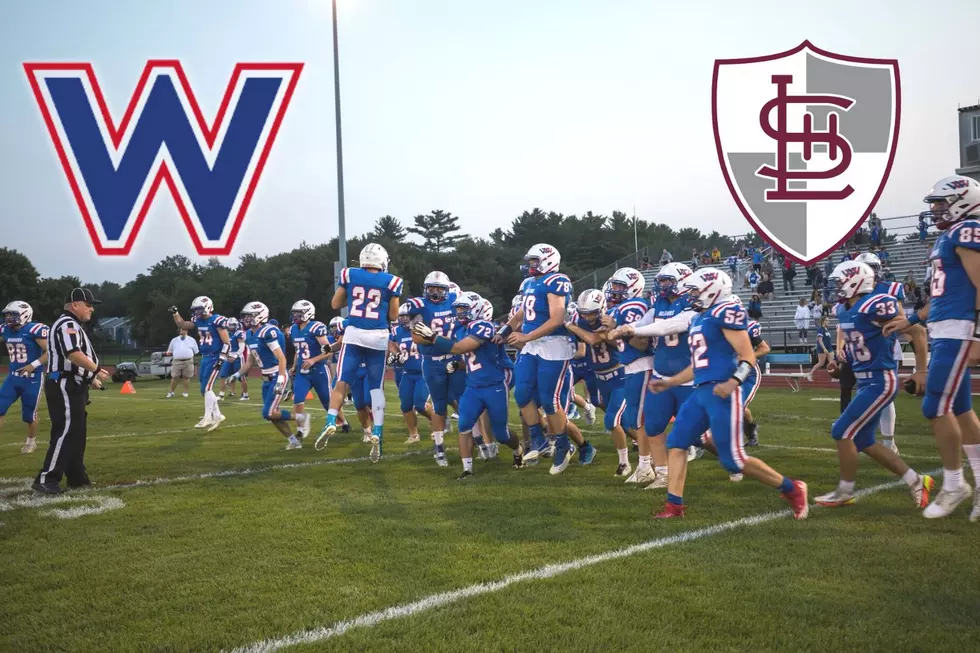 New Hampshire's Winnacunnet High School Replaces Haverhill in Thanksgiving Game
Winnacunnet Warriors on the field (Matt Parker), Winnacunnet logo (Winnacunnet High School), Lowell High logo (Lowell High School)
The Winnacunnet High School football team has stepped up and filled a Thanksgiving Day void for Lowell High School.
The Lowell High Red Raiders were scheduled to play the Haverhill Hillies in their traditional Thanksgiving morning matchup. But after video of a hazing incident in the Hillies locker room came to light, all team activity was suspended and the Thanksgiving game was canceled.
Enter the Winnacunnet Warriors.
"Friday my football coach Ryan Francoeur called me and said someone from Lowell reached out and goes 'do you think we could play?'. Personally, that sounds great to me, but could you get players?," Aaron Abood, Winnacunnet's Director of Athletics, told Seacoast Current.
Abood said he checked with the football committee of the NHIAA,  which gave its approval to play, provided there were enough players. The game is completely voluntary for players.
Francoeur told Abood that getting players was not a problem, despite the fact that Winnacunnet's season is over and equipment had been collected during the week.
"I reached out to my seniors and some of the varsity guys, first and almost every single one of them were 'yep we're in. We want to play,'" Francoeur told Seacoast Current. "I told them if we get over 20 players, we'll play. I think right now we're at 22-24 kids. I anticipate we'll have over 30 kids. Some are traveling, some are off doing other things."
Unpacking the Equipment
Equipment will get handed out Sunday, and the team will do daily walk-thru practices leading to the game Thursday at Lowell's Cawley Stadium.
Abood said he talked to Lowell High Athletic Director Dave Lezenski, who said he was under pressure to find an opponent to take Haverhill's place.
"We were able to make it work. Our kids are excited about it, a couple of parents have reached out and they're excited. Seems like it could be pretty cool," Abood said.
Abood and Francoeur said Lezenski and Lowell High football coach Shyheim Cullen were extremely grateful that Winnacunnet stepped up.
Thanksgiving Day football has not been a big tradition in Seacoast football. Francoeur said that in his 20 years at Winnacunnet, his team has never played a Thanksgiving game, but he remembers growing up in Somersworth and their annual game in the morning with Dover. He said the timing of the season made playing the games difficult in that most years the season is already over.
The Start of a Tradition?
The Red Raiders played Lawrence High School on Thanksgiving for nearly 100 years until 1997, when Lawrence dropped their football program. Haverhill took their place starting in 1998.
"We're really looking forward to something that's not new to them, but definitely new to Winnacunnet," Francoeur said. "We're just looking at it as another opportunity to play football and extend our season for a few more days and kick off the holiday morning in a good way."
The coach is curious to see what the turnout will be, and said his two boys age 8 and 11 are looking forward to the game.
Could the game bring Thanksgiving football to the Seacoast? Both Francoeur and Abood, who grew up in Manchester with the annual Turkey Bowl game, would support it.
"It's kind of cool to maybe start something. I don't know. We'll see," Abood said. "Maybe this is something we can add into the schedule if this works."
Abood is also open to the idea of buses bringing fans to the game, but it hasn't been discussed with the administration. He said students generally have got themselves to out-of-town playoff games in the past.
Photos courtesy Matt Parker Photos
Contact reporter Dan Alexander at Dan.Alexander@townsquaremedia.com or via Twitter @DanAlexanderNH
These Thanksgiving Food Items Must Be Homemade, According to Granite Staters
What Thanksgiving food MUST be homemade?
More From Seacoast Current