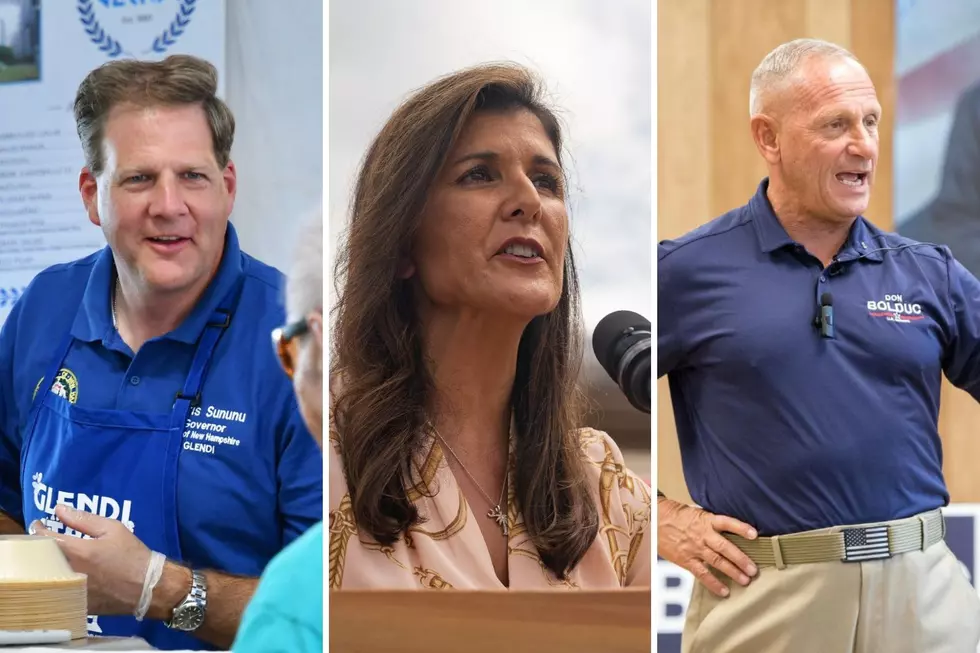 Nikki Haley Comes to NH as UNH Poll Gives Sununu Big Lead
Gov. Chris Sununu (Gov. Chris Sununu) Nikki Haley (Megan Varner/Getty Images), Don Bolduc (Scott Eisen/Getty Images)
A new Granite State Poll conducted by the UNH Survey Center puts Gov. Chris Sununu in a strong position with the election a month-and-a-half away as he gets a campaign visit from former UN Ambassador Nikki Haley on Thursday.
The poll released on Wednesday gives the governor a 55%-37% lead over Democratic challenger state Sen. Tom Sherman among all those surveyed, with 8% undecided. Sununu is the choice of independents 84%-8%, and almost all Republican 95%-1%. Half of those polled have a favorable opinion of Sununu, 31% unfavorable, and 18% are neutral. Sherman has a 21% favorable rating and 20% unfavorable, but 41% of those polled don't know enough about him to say.
58% of the 976 people polled approved of the job Sununu has done in office, with 40% disapproving and 2% with no opinion.
Haley Endorses Polar Opposites
Haley is scheduled to campaign for Sununu and GOP Senate candidate Don Bolduc Thursday and Friday in separate events after endorsing them Tuesday. The moderate Sununu endorsed state Sen. Chuck Morse in the primary and has called Bolduc a conspiracy theorist.
"Good governors make great leaders, and Chris Sununu's record speaks to how effective he is. I'm proud to support his reelection," the former governor of South Carolina wrote.
Fox News reported she will join Sununu Thursday evening for a campaign event.
Boston Globe political reporter James Pindell said in a tweet that Haley will hold a town hall event on Friday with Bolduc.
"Whether it's funding the police, securing our border, or turning our economy around, you can bet Don Bolduc will be a tireless advocate for the American people," Haley wrote in her endorsement.
Haley did not endorse Karoline Leavitt in the First Congressional District race. She endorsed runner-up Matt Mower in the primary.
Bolduc also continued to be pounded by Democrats over his "get over it" comment about abortion in a WMUR interview Sunday.  Sen. Maggie Hassan made a commercial out of the comment the next day, and Twitter is filled with daily reminders.
Haley has been involved in her own controversy this week with "The View" host Sunny Hostin. She accused Haley of changing her first name in order to appeal to Americans. Haley's legal name is Nimrata Nikki. but has used "Nikki" since high school.
"Thanks for your concern @Sunny. It's racist of you to judge my name. Nikki is an Indian name and is on my birth certificate—and I'm proud of that. What's sad is the left's hypocrisy towards conservative minorities," Haley said in a tweet. "By the way, last I checked Sunny isn't your birth name."
Hostin's legal name is Asunción Cummings Hostin.
Contact reporter Dan Alexander at Dan.Alexander@townsquaremedia.com or via Twitter @DanAlexanderNH
Famous Comedians From New Hampshire
A look at famous, funny faces from the Granite State.
More From Seacoast Current