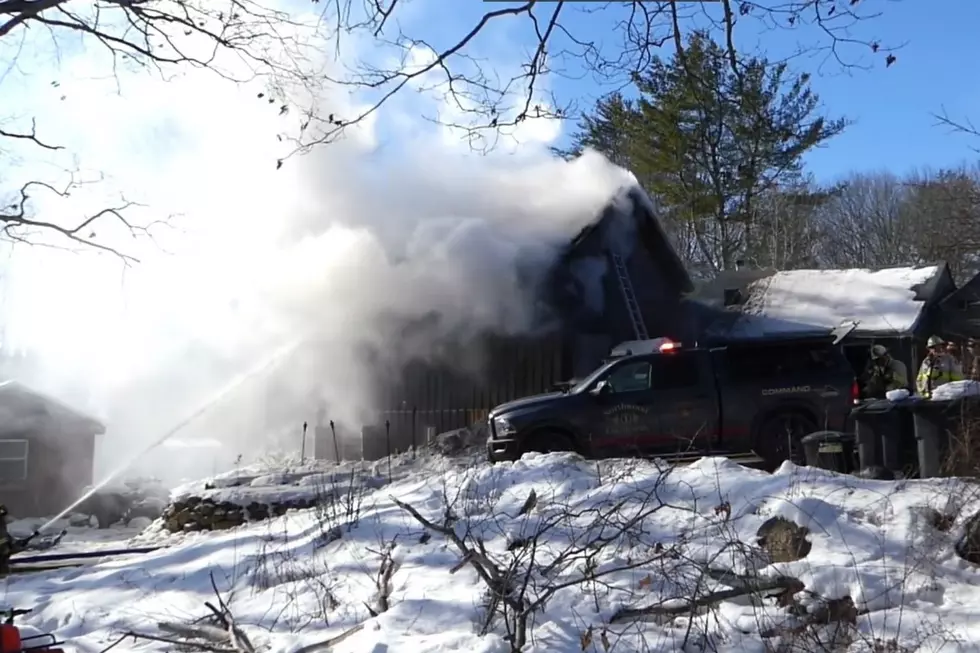 Northwood, New Hampshire, Rallies Around Family After Fire Damages Home
Fire at a house and barn in Northwood 2/3/23 (NEWS 603 via Facebook)
🔥 The house and barn on Routes 202/9 in Northwood is home to a family of six
🔥 Residents of Northwood, including members of a Facebook group, immediately went into action to help the family.
🔥 A GoFundMe page was also created to accept monetary donations
---
A barn and house were heavily damaged by a wind-whipped fire in Northwood Friday afternoon, as a community came together to help the family that lived there recover.
Firefighters battled both heavy smoke and gusty winds at the property on First New Hampshire Turnpike. The wind brought wind chills into the single digits as members of several fire companies battled the fire.
Northwood Fire and Rescue said the fire went to three alarms. One firefighter was sent to Concord Hospital with a non-life-threatening traumatic injury.
Pictures from the scene by NEWS 603 show companies from Barnstead, Barrington, Candia, Concord, Durham, Epsom, Lee, and Rochester responding to the three-alarm fire.
The road, also known as Route 9/202, was closed for several hours during the fire.
Five children, a mom, and several dogs call the barn home
According to a GoFundMe page, the mother and her five children ranging from two to 19 years old, plus several dogs, are safe, but lost nearly everything to the fire.
"The next few months will be challenging and if there is anything we can do to reduce the financial stressors involved, let do what we can! Every little bit helps," page organizer James Hobbs wrote. "If you can't donate, maybe make a meal. If you can't cook, maybe babysit. If you can't babysit, pray."
Mom Ashley Critchett posted in the Northwood NH Community Chat Facebook page, a private group, that the barn was part of the family's home and used as a living room and bedrooms.
Residents of Northwood, including members of the Facebook page, almost immediately went into action to help the family. Several people were able to provide clothing and bedding for the family. The Woods Grille restaurant offered to temporarily store donations, according to one post.
Members of the Northwood-based band Matty and the Penders donated their pay and tips from their appearance at Stripe Nine Brewing Company in Somersworth to the family, according to a picture posted in the group by drummer Aaron Hobart.
The cause of the fire remains under investigation.
Contact reporter Dan Alexander at Dan.Alexander@townsquaremedia.com or via Twitter @DanAlexanderNH
15 Things You Can Legally Bet On in Massachusetts
From sports to entertainment to even food, there are plenty of ways to role the proverbial dice.
More From Seacoast Current