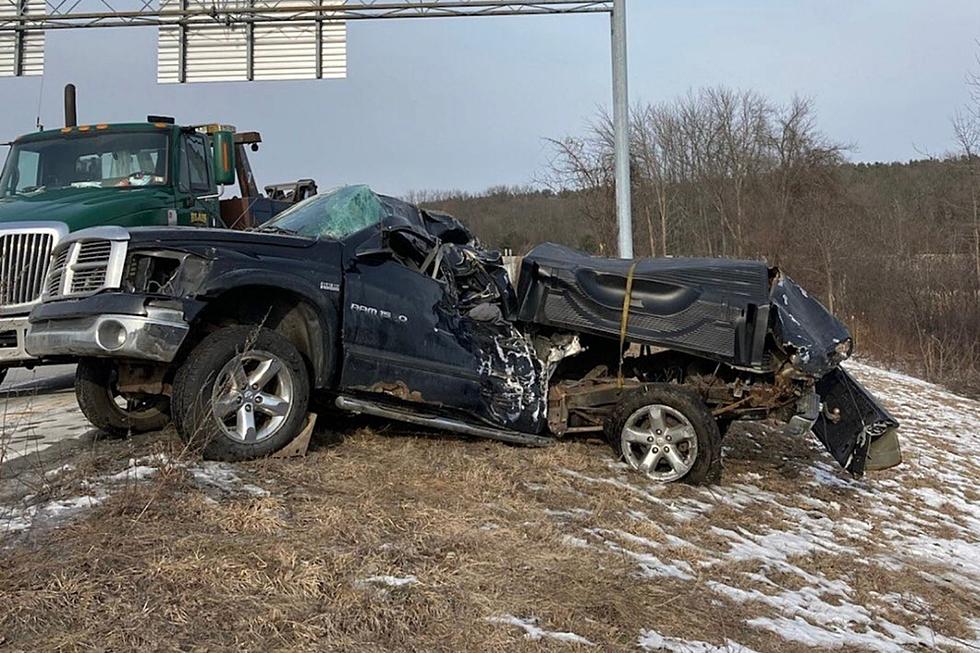 Pickup Drifts Off Route 293 Ramp and Into Tree
Pickup truck that went off the ramp from I-293 south to Rt 101 west (NH State Police)
A man who was reported missing Saturday was found inside his smashed up pickup down an embankment along Route 293 in Bedford Sunday morning.
A heavily damaged 2007 Dodge Ram 1500 pickup was reported along the ramp to Route 101 west from Route 293 south around 10:50 a.m., according to New Hampshire State Police. A preliminary investigation determined that the driver of the truck, Christopher M. Brooks, 47, of Londonderry, drifted off the road to the left, down the embankment, and into a tree.
The pick-up appears to have crashed several hours prior to it being reported.
A "be on the lookout" alert was sent to law enforcement around the state about Brooks on Saturday evening.
State Police asked anyone with information about the crash to call 603-223-8745.
Contact reporter Dan Alexander at Dan.Alexander@townsquaremedia.com or via Twitter @DanAlexanderNH
10 'Only in New Hampshire' Pics from the First Snowstorm of the Season
10 pics that show the essence of people and places in New Hampshire after the first snowstorm of the season.
More From Seacoast Current