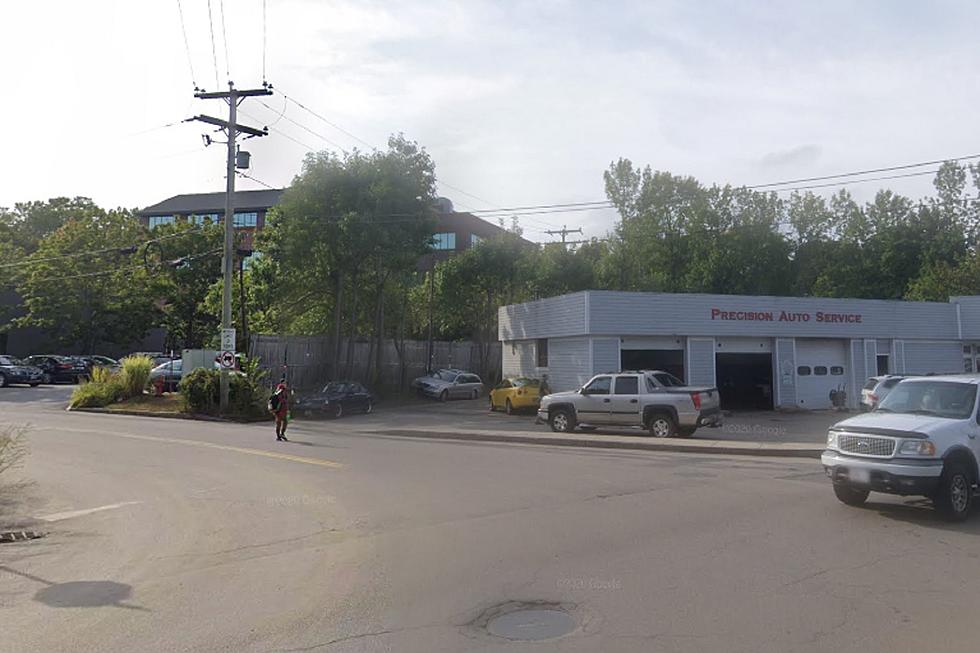 Portsmouth, NH Police Officer Allegedly Moves Barrels at Reconfigured Intersection
Intersection of Cate Street & Bartlett Street in Portsmouth before realignment (Google Street View)
A Portsmouth police officer potentially got themselves in hot water Thursday after being caught on video moving traffic barrels around at an intersection in order to "adjust" a new traffic pattern.
The intersection of Bartlett and Cate streets was realigned with the opening of a new through street called Hodgdon Way on July 16. The new road gives direct access to the Route 1 Bypass from Cate Street avoiding the Bartlett Street residential neighborhood.
One of the changes to the intersection requires traffic entering the intersection from upper Bartlett Street to come to a complete stop at the new stop sign at the reconfigured Bartlett-Cate Street intersection before continuing under the railroad trestle.
An officer working the intersection was allegedly caught on a video system set up to monitor the new pattern.
"It was professionally engineered and implemented with approval of all of the requisite boards and processes. They're going to continue to see how the traffic is flowing. The barrels were returned to their proper positions as the DPW discovered they were out of place," City Spokeswoman Stephanie Seacord told Seacoast Current.
Seacord said the DPW is not pursuing action against the officer. Seacord did not know the identity of the officer.
Portsmouth police on Saturday morning did not immediately respond to a message from Seacoast Current.
Hodgdon Way brings traffic to the Route 1 Bypass opposite Borthwick Avenue next to the Holloway car dealership.
Other changes to the intersection includes a ban on trucks on Bartlett Street.
Contact reporter Dan Alexander at Dan.Alexander@townsquaremedia.com or via Twitter @DanAlexanderNH
50 Most Popular Chain Restaurants in America
YouGov investigated the most popular dining brands in the country, and Stacker compiled the list to give readers context on the findings. Read on to look through America's vast and divergent variety of restaurants—maybe you'll even find a favorite or two.
More From Seacoast Current