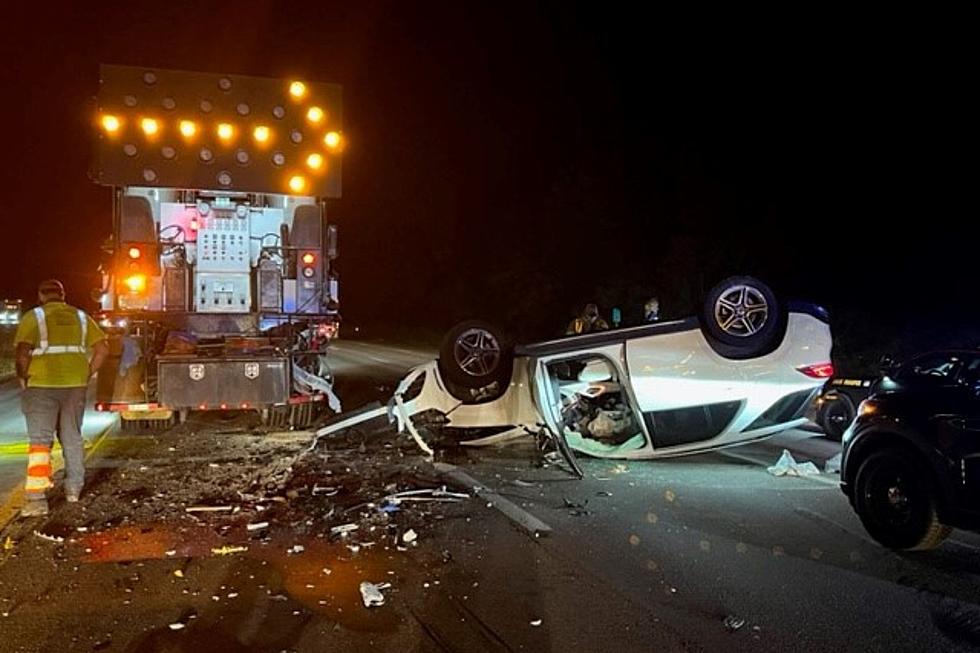 SUV Hits Line Painting Truck on New Hampshire's I-95, Flips Onto Roof
Mercedes that rolled over after hitting a line striping truck on I-95 8/2/23 (NH State Police)
Fatigue is being blamed for causing an 81-year-old man to roll his car in a work area on Interstate 95 Wednesday night.
New Hampshire State Police said Donald Mackinnon of Newmarket was following behind a moving line painting team in Hampton Fall when he hit the truck applying the lines onto the pavement. Mackinnon's 2021 Mercedes SUV flipped onto his roof, trapping him and a passenger inside. After being extricated, they were taken to Portsmouth Regional Hospital for treatment of minor injuries.
None of the work crew members were injured, according to State Police.
Warning signs were posted about the line painting project, which included four construction trucks with mounted crash attenuators, two marked police cruisers, and a construction paint truck. All had their emergency lights lit.
No charges were filed against Mackinnon.
State Police suggested drivers take a break if they feel tired, and to be aware of work areas on highways.
Contact reporter Dan Alexander at Dan.Alexander@townsquaremedia.com or via Twitter @DanAlexanderNH
Six Funny New England Bear Encounters From 2023
More From Seacoast Current