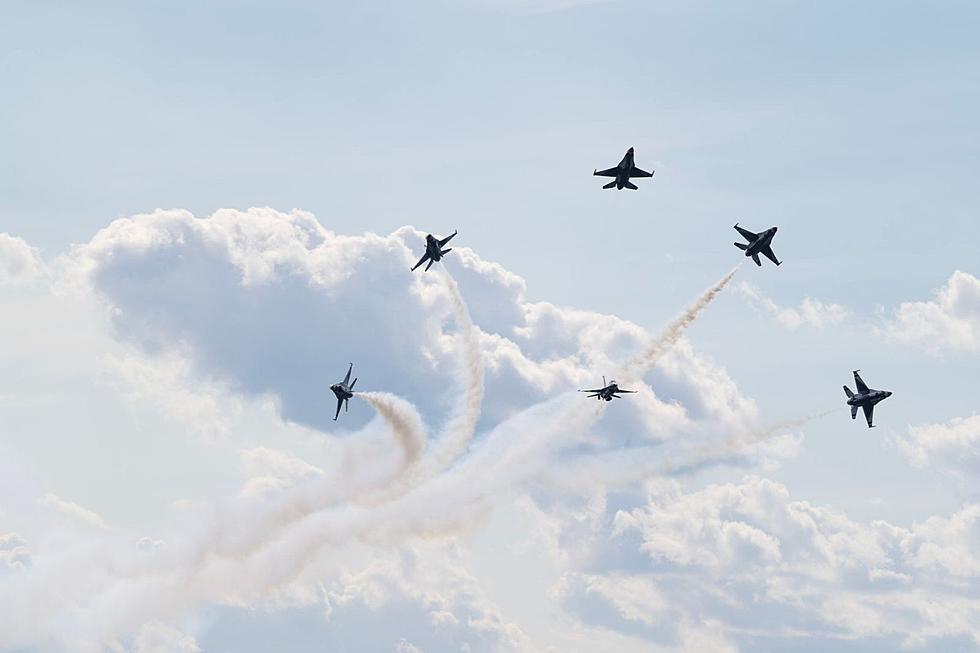 Thunder Over NH Air Show Parking Passes on Sale Saturday Morning
Thunderbirds fly on Saturday at the Thunder Over NH Air Show (157th Air Refueling Wing)
✈ The parking passes go on sale Saturday morning at 8 a.m.
✈ The initial passes were free in March and gone in less than two days
✈ A parking pass is needed to enter the Pease Tradeport the day of the air show
---
More parking passes will be available Saturday morning for September's Thunder Over New Hampshire Air Shows at the Pease Tradeport.
The parking-only passes will be available via the air show website Saturday morning at 8 a.m. after being claimed in less than two days.
Thanks to the Pease Development Authority, an additional 2,769 spots will be made available, according to Air Show Director Major Michelle Mastrobattista. The only difference from March: they're not free.
The price of the passes for the south ramp reserved red lot are $45 each. Passes for the south premium parking yellow lot are $75. Those trying to buy tickets will get to pick their lot.
The air show promoters expect the passes to sell out quickly.
Why a cost this time?
Parking released in March was free because those spots are on National Guard property.
"Additionally, there are costs to provide the parking and of course to produce the show and the parking off base will help to off-set that," Mastrobattista said.
The F-16 Viper Demo Team out of Shaw Air Force Base in South Carolina was announced as the headliner in December. They will be joined by the New Hampshire Air National Guard KC-46A and the New Hampshire Army Guard UH-60 Blackhawk.
Air National Guards from around New England, including the F-35A Lightning IIs from the Vermont Air National Guard Base and the F-15s from Barnes Air National Guard Base in Massachusetts, will also be at the show.
Nashua's Rob Holland, Kent Pietsch, and US Special Operations Command Para Commandos round out the other announced performers.
Contact reporter Dan Alexander at Dan.Alexander@townsquaremedia.com or via Twitter @DanAlexanderNH
24 Legendary Bands that Have Never Performed in Maine
Here is a list of 25 bands and performers who never played a show in Maine. It includes some of the most legendary groups to ever play.
Info from
setlist.fm
was used to compile this list.
More From Seacoast Current