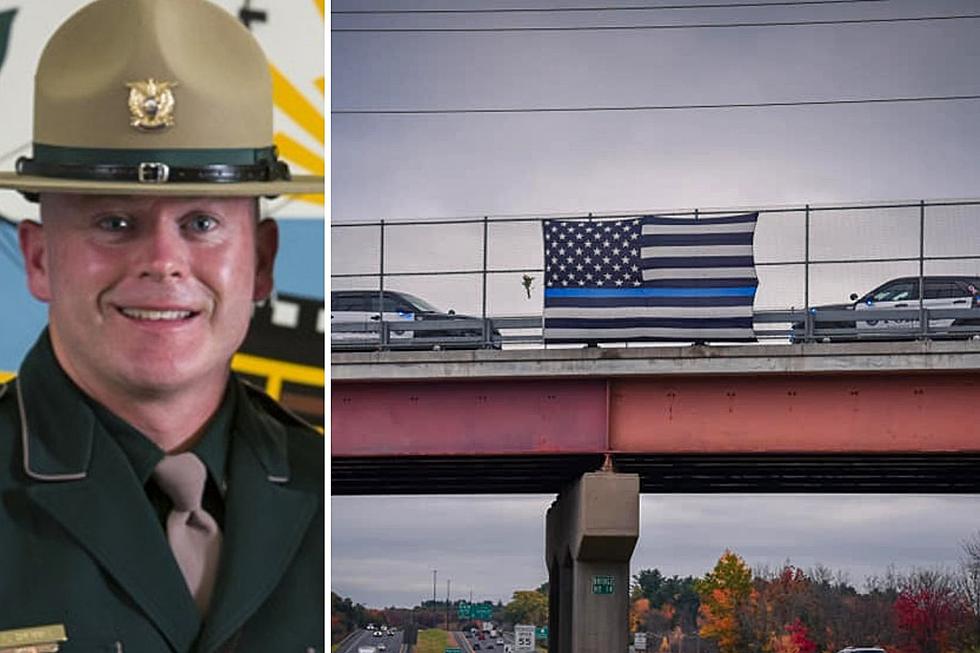 Trucker Indicted in Fatal Hit of NH State Police Trooper on Route 95
NH State Police SSgt Jesse Sherrill (NH State Police) flag hung from Ocean Rd. overpass by Greenland Police (Greenland Police)
The trucker who struck and killed New Hampshire State Police Staff Sgt. Jesse Sherrill on a work detail on Route 95 had used marijuana within three days of the crash, according to court documents.
Sherrill was struck and killed just after midnight on Oct. 28 near Exit 3 in Greenland by a truck, as Sherrill sat in his police vehicle while crews installed rumble strips on the shoulder of the northbound lanes. A tractor trailer hit the cruiser causing heavy damage, while the truck wound up in the woods. The 20-year-veteran was taken to Portsmouth Regional Hospital where he passed away.
The trucker, Jay Paul Medeiros, of Ashford, Connecticut, was indicted on negligent homicide and reckless conduct charges, according to court documents obtained by Patch.
Medeiros was found to have Delta 9 Carboxy THC in his blood, and ignored several warnings and lights to move over, according to the court documents, hitting Sherrill's vehicle at a high rate of speed.
"The New Hampshire State Police are thankful to the Maine State Police and the Rockingham County Attorney's Office for their extensive investigative work following this tragedy," State Police Col. Nathan A. Noyes said in a statement. Staff Sgt. Sherrill is missed each and every day by his family, friends, and State Police colleagues."
Sherill's name was added Saturday to the National Law Enforcement Officers Memorial in Washington. He was among 472 police officers nationwide who lost their lives in 2021 in the line of duty.
Sherrill grew up in Barrington and worked at State Police Troop A, based in Epping.
Contact reporter Dan Alexander at Dan.Alexander@townsquaremedia.com or via Twitter @DanAlexanderNH
Fallen NH State Police Trooper SSgt Jesse Sherrill Comes Home
The body of New Hampshire State Police Staff Sgt. Jesse Sherrill who died in the line of duty early Thursday while working a construction detail was brought from Concord to Dover on Friday.
More From Seacoast Current