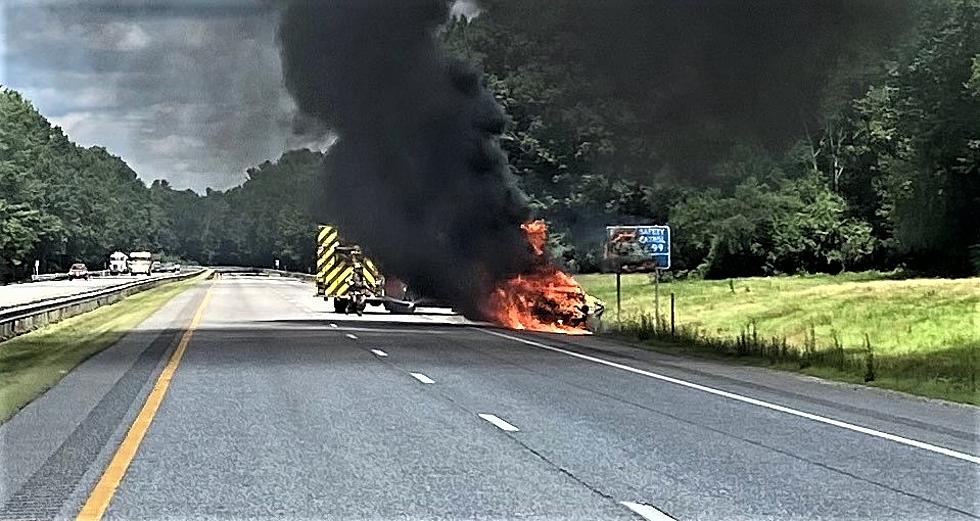 Vehicle Goes up in Flames on Turnpike in Dover, NH
Courtesy Photo
A man who pulled over because his check engine light turned on discovered his vehicle was on fire just before noon on Friday.
Emergency rescue crews were called to Route 16 northbound between the toll booth and Exit 7 in Dover at 11:51 a.m.
When they arrived, the vehicle was engulfed in flames.
"We have a fully involved vehicle," could be heard on local radio traffic.
Fire Chief Paul Haas said when the man opened the hood of his vehicle to see what may have caused the alarm to go off, he realized there was a fire in the engine compartment.
Haas said the man was not injured.
Both lanes of traffic were shut down so the fire could be extinguished. Once it was out, one lane of traffic was open until the scene could be cleared.
Haas said that a Newington ambulance was called to help assist the department because there were three other emergency calls going on at the same time.
Contact Managing News Editor Kimberley Haas at Kimberley.Haas@townsquaremedia.com.
Inside Amazon: A Detailed History of America's Biggest Online Retailer
Stacker
compiled a list of key moments in Amazon's history and its current business from a variety of sources. Here's a look at the events that turned an online bookstore into a global conglomerate and a self-made entrepreneur into the world's second-richest man.
More From Seacoast Current