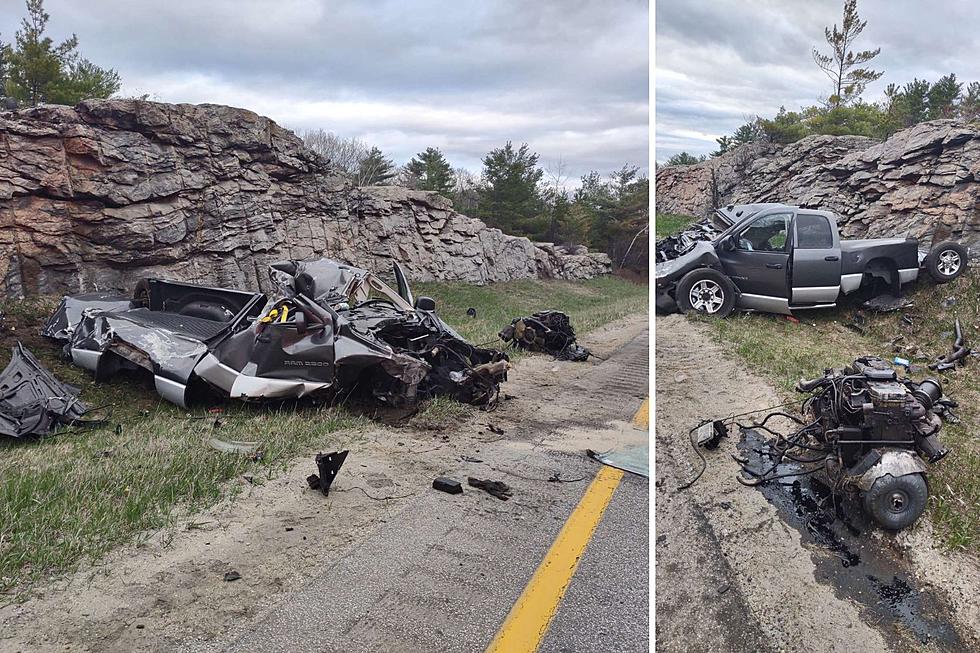 Teen Hits Rocks in Route 101, Flips Pickup Several Times
Dodge Ram pickup involved in a crash on Route 101 in Candia (NH State Police)
🔴 A Dodge Ram pickup went off the left side of Route 101 in Candia Wednesday
🔴 It hit the rocks in the center median and flipped several times
🔴 The cause of the crash is under investigation by New Hampshire State Police
---
A teenage driver rolled over several times when his pickup went off Route 101 and hit several rocks in the median.
The 17-year-old driving a Dodge Ram 2500 pickup east on the highway in Candia hit the rock formation in the center median near Exit 3 (Route 43) around 6:05 p.m. and flipped over several times before coming to a rest on the road, according to New Hampshire State Police.
One photo of the crash shows the engine separated from the pickup. The investigation of why the pickup left the road and removal of the pickup truck closed Route 101 for about 45 minutes. Excessive speed and failure to maintain proper lanes are both potential factors.
Several drivers stopped to help the teen from Auburn before first responders arrived. He was taken to Eliot Hospital in Manchester for treatment of serious but non-life threatening injuries.
Contact reporter Dan Alexander at Dan.Alexander@townsquaremedia.com or via Twitter @DanAlexanderNH
These Are 20 Must-Visit Hidden Gems in New Hampshire
More From Seacoast Current