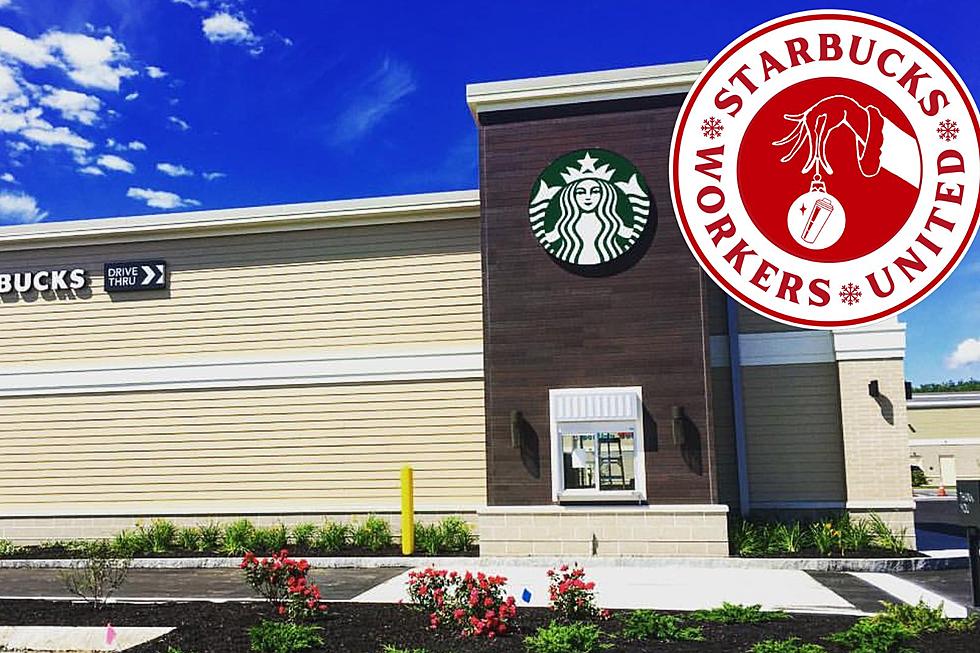 Will Workers Union Action Threaten Starbucks Red Cup in New Hampshire, Maine?
Starbucks at Granite Ridge in Rochester (The Ridge), Red Cup Rebellion logo (Starbucks Workers United)
☕ Starbucks' annual Red Cup Day is expected to be Thursday
☕ The workers union, Starbucks Workers United, planned a strike at all stores
☕ Customers are being asked to hold their own show of support
---
It's the day Starbucks fans wait for every year: the annual Red Cup Day.
The coffee chain gives away its limited edition, 16-ounce reusable Christmas cup with the purchase of a fall or holiday beverage, while supplies last. This year's date has not been announced, but based on past dates, many believe the day is Thursday.
Starbucks Workers United, the union that represents over 8,000 workers from 360 stores, is betting on the day being Thursday, and is calling an unfair labor practice (ULP) strike they're referring to as the Red Cup Rebellion. The union, which called a similar strike in 2022, believes that stores are "understaffed and overworked" on one of the company's busiest and most profitable days of the year.
The twist this year is that workers at all locations are being asked to participate, not just unionized stores. "Customers and allies" are also invited to take action.
"In addition to our nationwide ULP strike on the 16th, we're also asking customers and allies to lead actions at Starbucks stores in their communities in solidarity with workers rising up for a fairer workplace," the union wrote on its website, where it has invited supporters to adopt a store.
New conflict between the union and coffee chain
The union said in an email that the rebellion is also fueled by resentment towards the company over its newly-announced benefit and wage plan. Unionized stores are not eligible for the benefits and are subject to collective bargaining, according to the company.
"Starbucks is withholding these benefits from organizing stores. That's illegal, and is an example of the Unfair Labor Practices (ULP) we're going on strike to protest Nov 16," the union wrote in an email to supporters.
An administrative law judge for the National Labor Relations Board in September ruled that Starbucks acted illegally when it raised pay only for non-union workers. Starbucks has appealed that ruling, saying NLRB's standards don't allow employers to make changes in the wages or benefits of unionized employees.
A search of the Starbucks Workers Union website reveals that the only participating non-union location in New Hampshire is in the Aldi shopping center at 1111 South Willow Street in Manchester.
Some participating stores may not be on the list for fear of reprisal, according to the union.
The Starbucks at Granite Ridge in Rochester is the only unionized store in New Hampshire. The only unionized store in Maine is on Alfred Street in Biddeford. A store in Portland's Old Port was closed after employees voted to unionize. Maine's AFL-CIO chapter in a statement called the closure "an 'egregious anti-union tactic' in violation of the right of workers to unionize free from retaliation under the National Labor Relations Act.
Contact reporter Dan Alexander at Dan.Alexander@townsquaremedia.com or via X (Twitter) @DanAlexanderNH
10 Workout Classes in New Hampshire That Will Kick Your BUTT
Check out these 10 workout classes in New Hampshire.
Gallery Credit: Riley
New Hampshire's Adam Sandler: In Photos
More From Seacoast Current