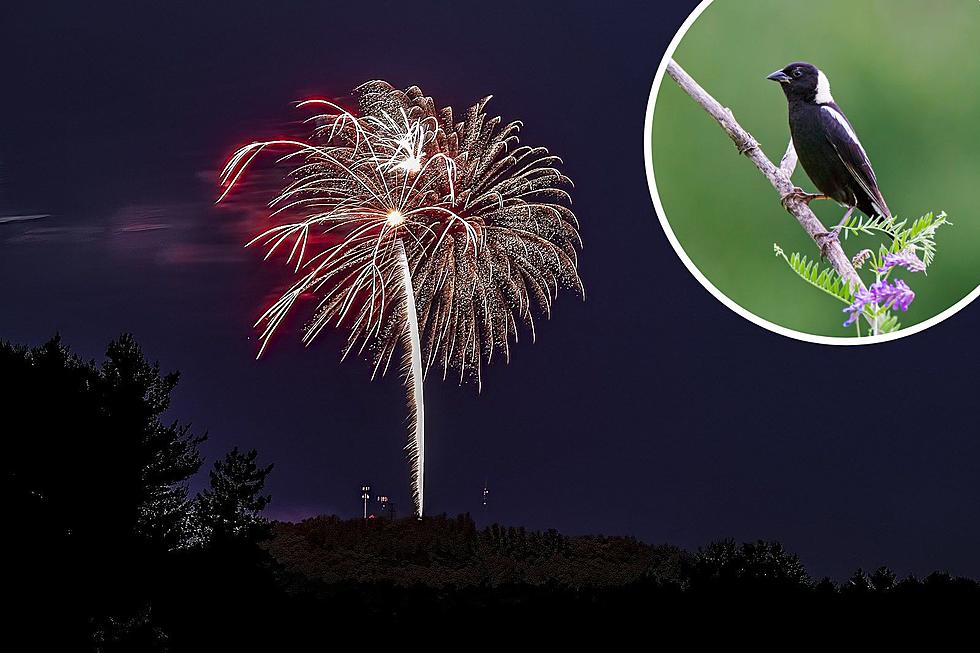 Amesbury Fireworks Postponed by Another Bird
Fireworks in Dover in 2021 (Shawn St. Hillare), Bobolink
🔴 Bobolinks were nesting in the area needed for fireworks at Woodsom Farm in Amesbury
🔴 The fireworks are postponed until Labor Day
🔴 There are no federal or state protections for Bobolinks
---
It's not only piping plovers who can postpone fireworks.
The Fourth of July fireworks have been postponed in Amesbury because of Bobolinks nesting in the fields at Woodsom Farm, the site of Amesbury Days, which usually culminate in the display.
"Under the direction of the State Ornithologist, Mass Wildlife agents joined by Mass Audubon Society conducted a walking grid search with the city to identify areas that could be safely mowed. As a result, the area that was identified for both seating and parking was not large enough to accommodate the size of the crowds that attend this event."
Amesbury Days will go on as scheduled, but the fireworks will be postponed until Labor Day.
No Mowing
City Councilor Anthony Rinaldi said on the event's Facebook page that the fields should have been mowed earlier in the season to prevent the nesting.
"The problem of the mowing plan not being implemented was probably due to the loss of the DPW director and the passing of Geoff Cyr who actually did the mowing," Rinaldi said.
Rob Desmarais retired in December, with Peter Manor taking the position on an interim basis. Joseph Buckley was announced in April as the permanent replacement for Desmarais.
According to the Massachusetts Division of Fisheries and Wildlife, bobolinks breed in grassland. Their numbers have declined in population as grassland is lost to deforestation and development, although their population is steady in Massachusetts. The Bobolink Projects says they arrive in mid-to-late May to breed, with hatching occurring in mid-June.
They do not have any state or federal protections.
Nesting piping plovers on Hampton Beach caused a firework display celebrating the annual Sculpture Classic to be canceled. Birds reacting to the fireworks and jumping off their nests could be deadly for the incubating, according to NH Fish and Game biologist Brendan Clifford.
A hovercraft that came ashore Saturday because of a hole in its skirt did not disturb the nests, Clifford said.
Contact reporter Dan Alexander at Dan.Alexander@townsquaremedia.com or via Twitter @DanAlexanderNH
21 Bands That Played Foxboro's Sullivan Stadium in the 70s & 80s
Long before Gillette - and before it was known as "Foxboro Stadium" - Sullivan Stadium hosted many legendary concerts. With some help from Setlist.fm, here are some iconic acts that played in Foxboro long before Tom Brady.
More From Seacoast Current