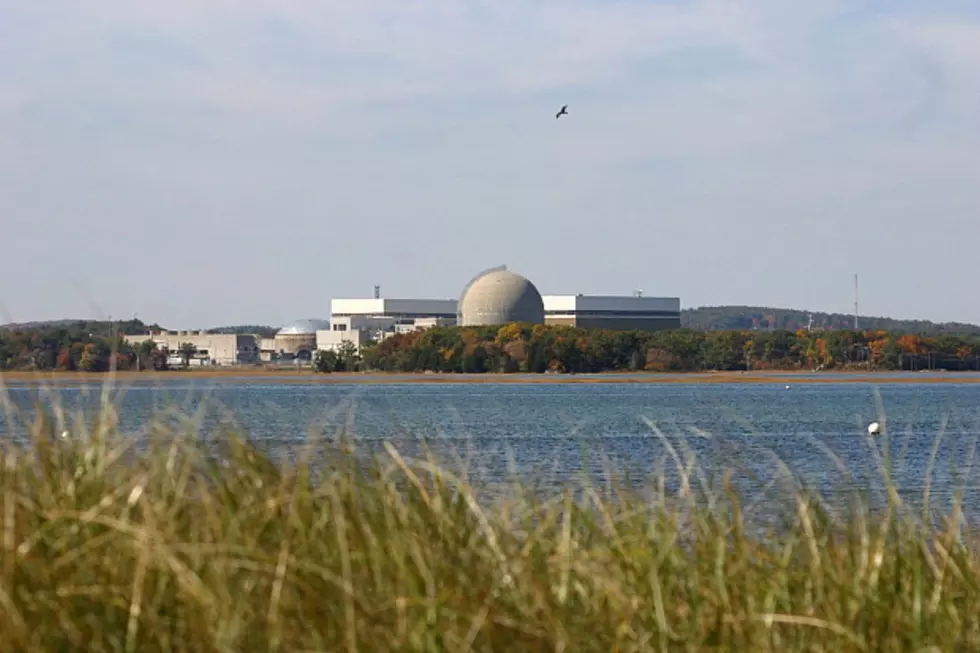 Behind the Scenes During the Seabrook Station False Alarm
Seabrook Station Nuclear Plant (MMWEC)
A report by the state office of Homeland Security & Emergency Management shows the behind-the-scenes communication between officials when a false message to evacuate the beaches because of a non-existant problem at the Seabrook Station nuclear plant was broadcast with no apparent plan to quickly notify the public of such a glitch.
The plant was operating normally when the message was heard on 10 of the 120 sirens within a 10-mile radius of the plant. According to the report, it was "inadvertently activated during a routine bi-weekly test of the system by Seabrook Station staff" at 10:50 a.m.
The tech canceled the alert after becoming aware of the activation, and the evacuation message was broadcast for less than three minutes.
The Rockingham County Dispatch Center (RCDC), Hampton Police, State Police, and state Homeland Security learned the alarm was fake when those agencies contacted the plant. The issue was a lack of communication from the plant, and getting word directly to the public.
"On July 12, 2022, there is no established state procedure for a response to an inadvertent siren activation. RCDC has a procedure to shut off a siren, but it only covered the technical procedure and did not address any communications process to the public once the siren was stopped," the report states.
The public address mode on the sirens was not used to broadcast an updated message, according to the report.
The report also stated that Townsquare Media's WOKQ, the radio station listed in Seabrook Station Emergency information brochures and signs, was not directly notified.
Here's the timeline, according to the Homeland Security & Emergency Management report:
10:53: First call received by 911 about Hampton sirens going off.
10:54: First call received by Rockingham County Dispatch Center (RCDC) asking about beach sirens going off.
10:56: Rockingham County Sheriff's Office Dispatch Supervisor (RCSO) called a Seabrook Station siren maintenance staff member. He advised her that he could see what happened, but didn't know where it came from, and that it was not a real emergency.
10:57: Hampton Police advised 911 of accidental activation of the Seabrook sirens, and that there was no emergency.
10:57: Homeland Security & Emergency Management (HSEM) Radiological Preparedness Assistant Section Chief called Seabrook Station Project Manager Lead/Regulatory Affairs on his mobile phone with the information on the sirens going off, with a request to call her back.
11:02: Division of Emergency Services and Communications (DESC) Directors notified of "accidental activation of sirens."
11:06: State Police Communications Supervisor call to Seabrook Plant – control room supervisor from State Police via orange NAS phone and confirmed it was accidental.
11:09: HSEM Field Representative called HSEM Radiological Preparedness Section Chief to let him know that Rockingham County Dispatch sent information through the CAD system of inadvertent siren activation.
11:10: Seabrook Station Project Manager Lead/Regulatory Affairs, called HSEM Radiological Preparedness Section Chief by mobile phone and verified the activation was an error and there was no emergency at the plant.
11:10: A page was sent to State Police Troop A sworn and command staff: "Be advised Seabrook Station had an accidental trip of an alert message that was broadcast – there is no emergency."
11:11: MS TEAMS message sent to IPOC staff by HSEM to confirm inadvertent activation.
11:13: DNCR Federal Emergency Management Agency (FEMA) Coordinator was notified by HSEM Assistant Section Chief of the inadvertent activation and to verify there was no need to evacuate the beaches.
11:15: HSEM Community Liaisons called each of the 17 EMDs in the Emergency Planning Zone (EPZ) around Seabrook Station and the three host communities to notify them that the sirens were activated inadvertently.
11:42: Code Red Reverse 911/ NH Alerts message sent to 17 EPZ communities by DESC.
11:49: message regarding the sirens posted to social media.
11:51: Direction given to issue a Wireless Emergency Alert (WEA)  message.
12:02: RCDC, at the request of Seabrook Station, used the public address feature of the beach sirens to announce there was no emergency.
13:32: IPAWS WEA message sent to Town of Seabrook. The WEA messages had to be sent one town at a time due to node structure set up by FEMA. All communities notified by 1348.
The report outlines several steps taken to improve communications in the event of a future false alarm.
A dedicated Nuclear Alert System phone will be the primary mode of communication between the plant, police, and Homeland Security during future false alarm activations.
Homeland Security has drafted a plan to be added it its response that includes activation of the State Emergency Operations Center for future false alarms. It is subject to approval by FEMA,.
In its investigation of the incident, NextGen said it would upgrade to the federal emergency system called IPAWS, which is already used during weather and Amber alerts. The system sends messages to all cell phones within a specific area, whether they are residents of New Hampshire or Massachusetts, or visitors to those states.
Contact reporter Dan Alexander at Dan.Alexander@townsquaremedia.com or via Twitter @DanAlexanderNH
The Coolest Collections From the People of New Hampshire
More From Seacoast Current