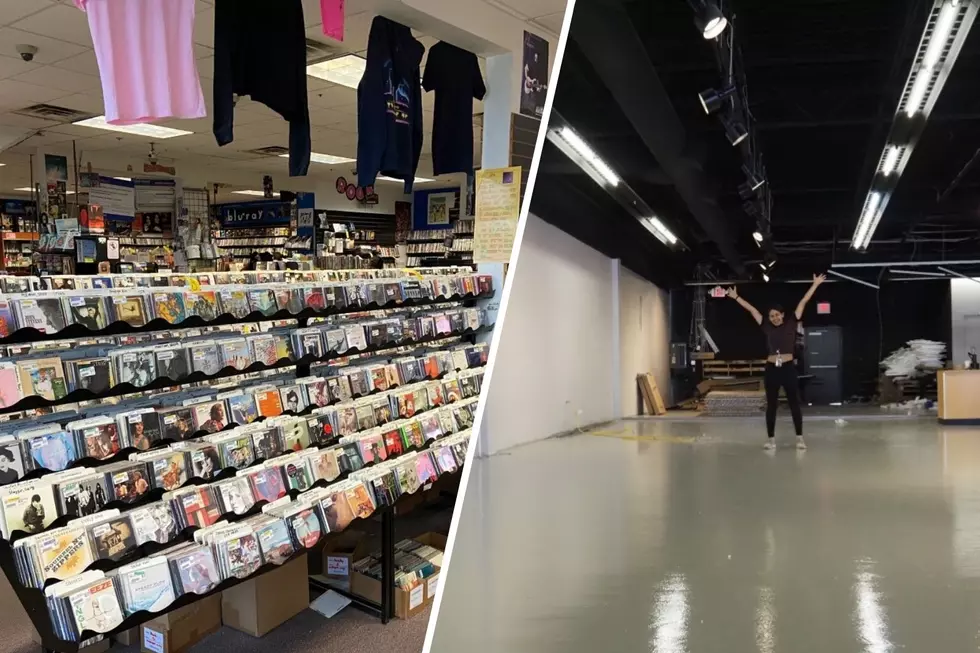 Bull Moose Moving Its Portsmouth, NH, Store
Current Portsmouth location of Bull Moose, new location (Bull Moose)
After 26 years in downtown Portsmouth, Bull Moose is moving to a bigger new location just two miles away.
But it may as well be 200 miles, as the entertainment retailer goes from being surrounded by the "cool" of Congress Street to the convenience of a small shopping center on Woodbury Avenue that used to house a Strawberries, the epitome of the suburban record store of the 70s and 80s.
Bull Moose spokesman Mick Werkhoven said that while people may have a preconceived notion of what a music store in a mini-mall looks like, the new Bull Moose location is the exception.
"I think this location is pretty sweet because it has really high ceilings with exposed duct work and almost industrial-like lighting, so it's got kind of a warehouse look to it, which I think is going to preserve some of that 'coolness' vibe," Werkhoven told Seacoast Current.
What's Old is Being Reused
Werkhoven said that lot of the CD and record bins from Congress Street are making the move over but will be spaced a bit further apart. Fixtures from Bull Moose's old Portland location will used on Woodbury Avenue.
"We're taking bits from two well-worn stores, indy basement downtown stores, and putting this into a new box," Werkhoven said.
Why make the move in the first place? Werkhoven said the new larger location will let the store expand, offer more, and upgrade to be more in line with other Bull Moose locations. The current location is "classic and iconic" and small, so making changes was difficult.
"If we wanted to add more fixtures, that's really difficult at the old location. We really wanted to try and get books in there, but there's not really room for them," Werkhoven said. "And it's been five or six years since we lost the parking garage that used to be right behind the building, so parking and accessibility is a real problem for customers, staff, and deliveries."
The Time Is Right for a Move
Werkhoven said that after a tough 6-8 months during the pandemic, business is good at the Congress Street store, so the time was right to go to a bigger space
"It's kind of putting along pretty good which is part of the impetus for the move. Things are good, so let's get into a new space with more room," Werkhoven said. "We're doing our thing. We're buying stuff back, we're putting stuff on the shelf, people are coming in,
The new location will also have room for artist meet-and-greets when bands are more comfortable doing them.
The biggest new feature of the new store will be a bigger book department with new fiction and non-fiction releases and a large selection of Manga. Inventory will increase significantly at the Woodbury Avenue location, with workers getting special training on being booksellers.
The move to the new location is ongoing, and Bull Moose has not yet announced when the Congress Street store will close and Woodbury Avenue will open. The store has put a pause on buybacks in Portsmouth until further notice.
Contact reporter Dan Alexander at Dan.Alexander@townsquaremedia.com or via Twitter @DanAlexanderNH
Trending Stories for Seacoast Current (May 16-22, 2022)
More From Seacoast Current