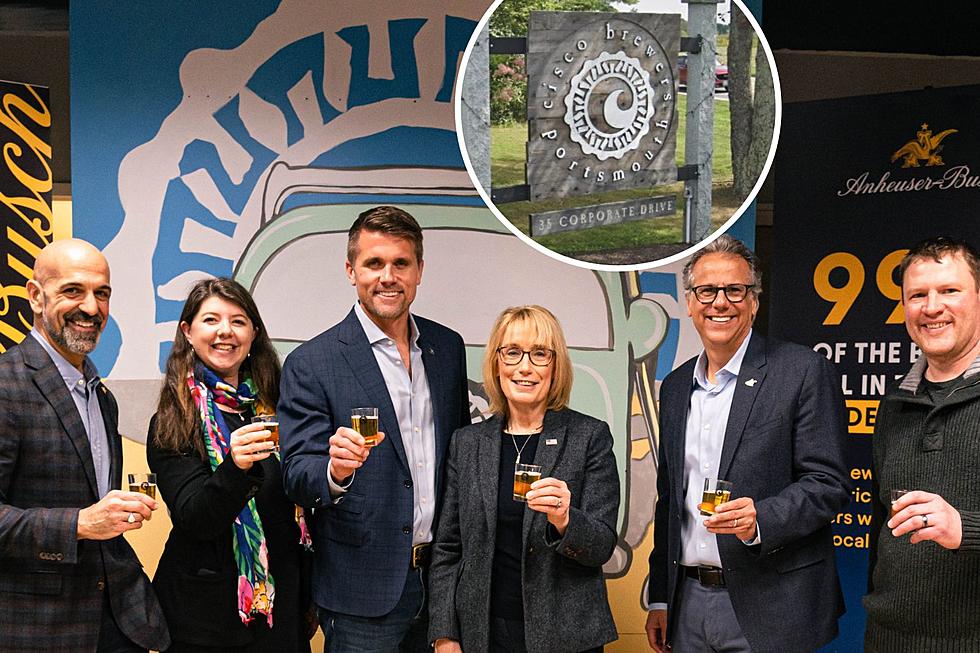 Cisco Breweries Builds New Canning Line at Pease Brewery
L-R: Andy Thomas (A-B President of the High End); State Sen. Rebecca Perkins Kwoka; Brendan Whitworth (A-B CEO); Sen. Maggie Hassan; Cesar Vargas (A-B Chief External Affairs Officer); Nick Murray (General Manager of the Cisco brewery) (Anheuser-Busch )
The Cisco brewery in Portsmouth has opened a state-of-the-air can line to significantly increase its capacity.
The $6 million investment by Anheuser-Busch in one of the first facilities to open at the Pease Tradeport after the base was decommissioned in the 1990s. The building will allow Cisco to brew and package a forecasted 29% more beer, cider, and hard tea offerings in 2023, and 56% more in 2024.
Cisco's 104,000 square foot facility is built on 13 acres, which includes 92K sq. feet of production and 12K sq. feet of the adjoining brewpub and event space. Work on the canning line started in 2022, and was completed early this year.
Sen. Maggie Hassan toasted the occasion at Cisco on Friday, which she said keeps New Hampshire as one of the country's best brewery destinations.
"This will create jobs, strengthen our economy, and ensure that New Hampshire remains one of the premier brewery destinations in the country," Hassan said in a statement. "From creating jobs to bolstering tourism, breweries have always played a vital role in New Hampshire's economy, which is why I have worked across party lines to deliver tax cuts for breweries in our state and across the country, something I will continue to do."
Cisco's Facility Was First at the Tradeport
One of the lines produced at Cisco is their collaboration beer with the New England Patriots, Forever New England.
Redhook became the first bi-coastal craft brewing operation in the country in 1996 when it built an exact replica of its Woodinville, Washington, brewery at the tradeport. It was rebranded as Cisco in 2018, but kept most of the same staff. Cisco's pub also opened in 2018 at the same location.
Redhook and Cisco are one of several brewers that make up Craft Brew Alliance, which was bought by Anheuser-Busch in 2019 and joined Anheuser-Busch's Brewers Collective of craft brew partners.
Anheuser-Busch also owns a brewery in Merrimack.
Contact reporter Dan Alexander at Dan.Alexander@townsquaremedia.com or via Twitter @DanAlexanderNH
13 Superstitions of New England Fisherman and Sailors
More From Seacoast Current