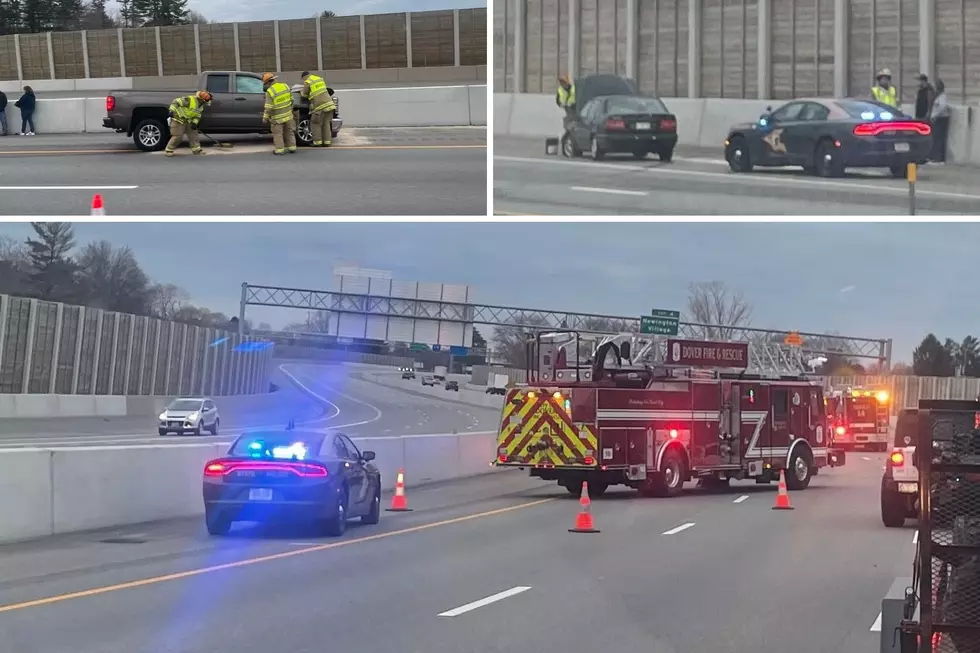 Distracted Driving May Have Caused Fatal Spaulding Turnpike Crash
Crash on the Spaulding Turnpike in Dover 4/26/22 (Shawn Booth)
Distracted driving may be the cause of a three car crash that killed a Barrington woman Tuesday morning on the Spaulding Turnpike.
State Police said a 2000 Volvo sedan driven by Thomas Fuller, 26, of Kittery and a 2013 Nissan Sentra, operated by Kyla Morgan,38, were driving side-by-side coming out of the Dover toll plaza around 5:30 a.m. After going under the Route 4 overpass the Sentra drifted into the Volvo's lane causing both drivers to take "evasive steering actions," according to State Police.
The drivers lost control causing the Volvo to "deviate" to the right and come to a stop on the ramp from Exit 6.The Nissan continued to the left and collided with a concrete barrier along the median and stopped at an angle across the travel lanes. according to police.
A 2014 Chevrolet Silverado 1500 driven by Mark Sweeney, 48, of Farmington, hit the Nissan causing Morgan to be ejected onto the roadway. She was pronounced dead at the scene.
"Preliminary investigation indicates that distraction by an electronic device may have contributed to start of this incident, however all aspects remain under investigation," State Police said in a statement.
The crash caused a delay that stretched back six miles to Exit 7 as two left lanes were blocked for most of the morning. The road was reopened around 11 a.m.
State Police asked any witnesses to contact them at 603-223-4381.
Contact reporter Dan Alexander at Dan.Alexander@townsquaremedia.com or via Twitter @DanAlexanderNH
Trending Stories for Seacoast Current (April 18-24, 2022)
More From Seacoast Current