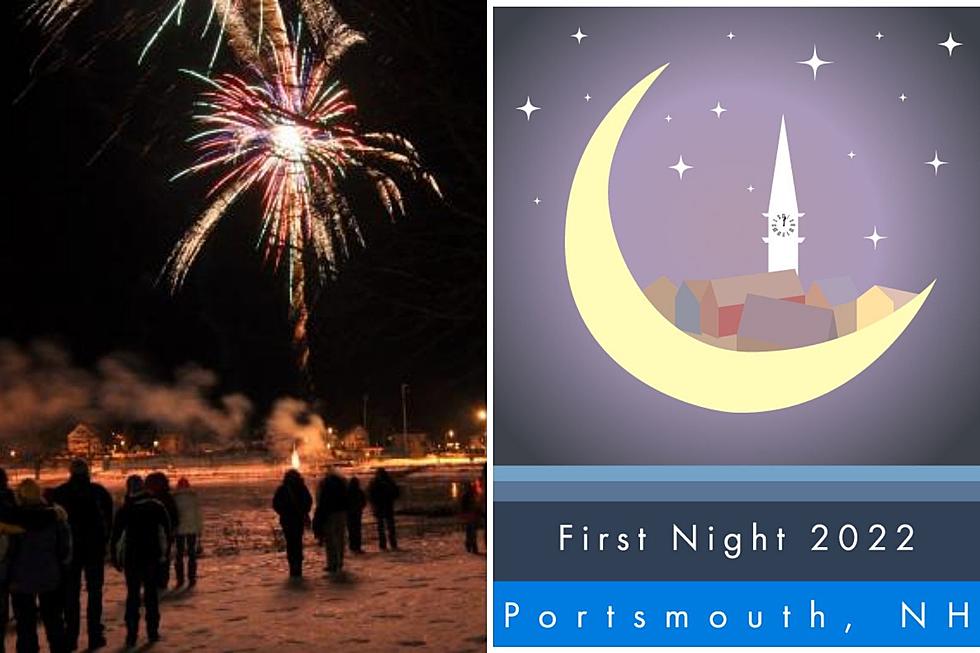 Donation Deadline Looms for First Night Portsmouth NH Fireworks
First Night fireworks (City of Portsmouth), First Night 2022 logo (Pro Portsmouth)
Pro Portsmouth is the home strech of its fundraising effort to raise to go forward with plans for a First Night celebration for families to welcome 2022.
The group already announced that this year's event would be an outdoor only event meaning there will not be the usual sale of buttons which Portsmouth Executive Director Barbara Massa called the foundation of funding for First Night. In other years the buttons allow visitors to indoor performances in the hours leading up to fireworks.
"In order to do anything we have to reach at least $15,000 and that will allow us to do an ice sculpture in Market Square and to do a fireworks display around 8 in the evening allowing families with small children to be able to enjoy that," Pro Portsmouth Executive Director Barbara Massar told Seacoast Current.
The fundraising effort stands at $11,000 with a Wednesday deadline to meet the goal so planning can go forward which makes Massar feel very confident.
"I'm feeling pretty good right now. Things have really started to pick up. We put out a lot of information, we made a lot of phone calls and emails," Massar said. "We don't want to sign a contract of course unless we have the money in place."
A source of confusion is that many people don't realize that First Night, which has happened in Portsmouth since 1985, is not an event funded by the city.
"People tend to think we're the city. In the past when I would ask people for help they would say, nicely, 'well I pay my taxes.' And I would say 'that's great, I do too, but that doesn't pay for the fireworks and the ice sculptures. That's the non-profit organization Pro Portsmouth.'"
COVID-19 Considerations
Uncertainty about the COVID-19 pandemic is the main reason there are no indoor events planned for this year. As of Wednesday Rockingham County has the highest number of current cases in New Hampshire with 1,407 and Strafford County the fourth highest at 728 on the state COVID-19 dashboard as of Wednesday.
"We don't know what it will look like in a month. It could be better, it could not be better," Massar said. "Even when the numbers weren't bad people were hesitant to be indoors. When we started talking about this with the city and the health department it's been clear outdoors is preferred."
She said that the firework display doesn't match a summer fireworks display.
"Nobody's setting up a picnic or lawn chairs. It's usually a shorter program. We don't have people out there in the cold for half an hour," Massar said.
Back to a Regular Schedule in 2022
Massar hopes that Pro Portsmouth will be able to get back on a normal schedule with its Children's Day event in May followed by the Market Square Festival and 5K in June and Summer in the Streets during Saturday evenings in July.
"We haven't done Children's Day since 2019. That feels so odd. It'll be three years but that's just the way it is," Massar said.
She's also is looking ahead to events that will be planned around the City of Porstmouth's 400th anniversary.
"You know how the world is now. Something's not in front of us and we move on especially when we in Portsmouth are looking at the 400th anniversary. We want to make sure we're active and doing things because we certainly hope to be part of the celebration in 2023," Massar said. "Doing fireworks and the sculpture are important to put a placemarker down to say 'this is what we're doing this year. Hopepully next December we'll be back to bringing the music and the dance and the theater that people love in the past.'"
Contact reporter Dan Alexander at Dan.Alexander@townsquaremedia.com or via Twitter @DanAlexanderNH
Portsmouth's Neighborhood Holiday Lights Contest 2020
More From Seacoast Current