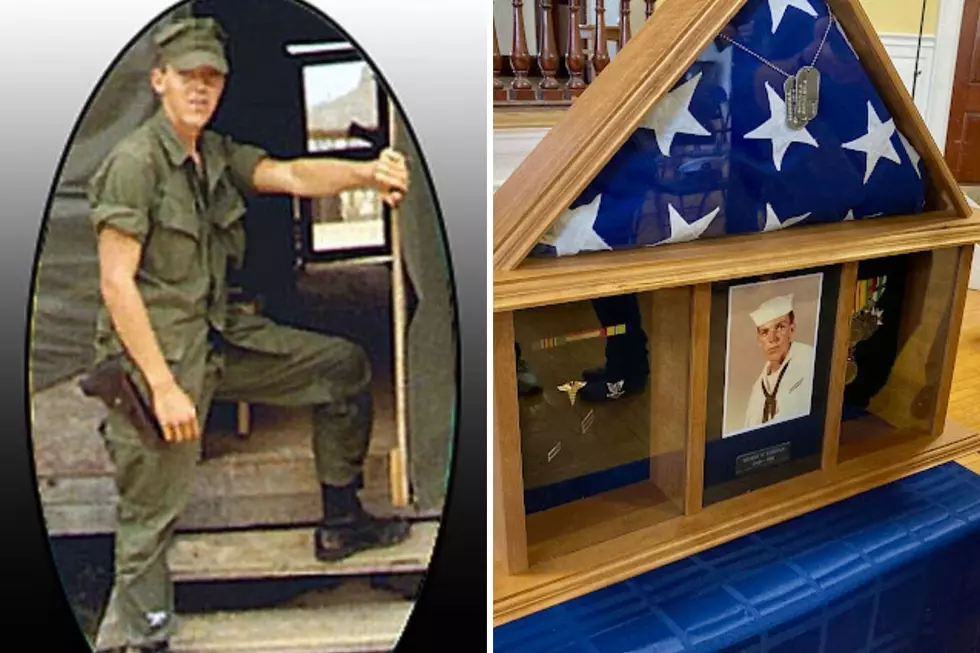 Dover, NH's George 'Doc' Riordan Family Presented His Bronze Star
Hospital Corpsman Third Class George "Doc" Riordan (Wall of Faces), Bronze Star presented to the Dover native's family 6/4/22 (Sen. Jeanne Shaheen)
A Bronze Star Medal was presented Friday to the family of Hospital Corpsman Third Class George "Doc" Riordan to honor his heroism and ultimate sacrifice while serving in Vietnam.
Riordan's mother Eleanor told the Associated Press in 2017 how her son was shot while tending to the wounds of fellow soldier Don Ritter on March 14, 1968, in the province of Thua Thien. Ritter had been shot in the back and fell on top of his friend of three months, protecting him from further gunfire.
Ritter told the AP they laid in the field for two hours.
He went on to become member of the FDNY and worked at Ground Zero after the September 11, 2001, attack on the World Trade Center.
"You gave your life so I may live. My wife and children thank you .Without your heroic act my children would never have been born," Ritter wrote on Riordan's page on the Wall of Memory website in 2018. "I live my life and have lived my life to honor you. You represent the highest level of honor, dignity, courage and integrity . Thank you for the life you gave me."
Shaheen formally presented the Bronze Star to George's brother Martin Riordan in a ceremony at Dover City Hall on Friday. She said it would "cement Doc's legacy in the history books."
The U.S. Secretary of the Navy awarded the honor in 2021 thanks to Shaheen's efforts.
The Bronze Star Medal is awarded to members of the military who have "distinguished, herself or himself by heroic or meritorious achievement or service. When awarded for acts of heroism a letter "V" (for valor) is added to the medal's ribbon," according to the Navy.
"Doc's life was one of exceptional service, heroism and sacrifice. The Marines who served alongside Doc are still touched by the ultimate sacrifice made by the 19-year-old medic in Vietnam fifty years ago. To patriots like Doc, we owe not only a debt of gratitude, but also a sacred promise to honor their strength of spirit," said Shaheen.
Contact reporter Dan Alexander at Dan.Alexander@townsquaremedia.com or via Twitter @DanAlexanderNH
Trending Stories for Seacoast Current (May 23-29, 2022)
More From Seacoast Current