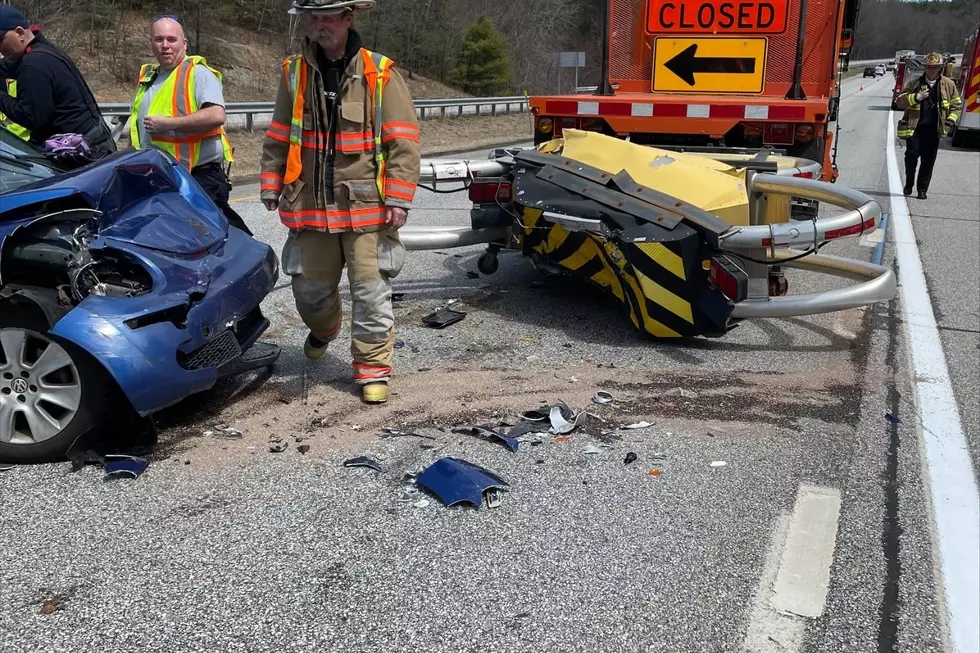 Driver Slams Into NH DOT Truck on Rt. 101 Due to Possible Distraction
Aftermath of a crash on Route 101 east in Auburn 4/28/22 (NH State Police)
A 78-year-old woman slammed her VW Beetle into the back of a DOT truck working in a lane closed to traffic on Route 101 in Auburn on Thursday afternoon.
State Police said that Helen Simpson of Manchester may have been distracted by an electronic device as she drove into the eastbound right lane near Exit 2 for Hooksett Road around 11:30 a.m.. The Beetle drove into the crash attenuator attached to the DOT truck at the start of the work zone. One person was inside the truck.
The crash attenuator is a safety device intended to absorb the impact of a crash in an effort to reduce damage to vehicles.
Simpson and her 76-year-old passenger were initially trapped inside the car, but were quickly removed by emergency personnel and did not suffer any serious injuries, according to State Police. Simpson, her passenger, and the DOT worker were taken to Elliot Hospital in Manchester as a precaution.
No charges have yet been filed in the crash.
State Police asked anyone who witnessed the crash to contact Trooper Tien Le via email at Tien.D.Le@dos.nh.gov.
Distracted driving may also be a factor in a crash on the southbound Spaulding Turnpike in Dover on Tuesday morning. Kyla Morgan, 38, of Barrington died in the crash.
Contact reporter Dan Alexander at Dan.Alexander@townsquaremedia.com or via Twitter @DanAlexanderNH
Trending Stories for Seacoast Current (April 18-24, 2022)
More From Seacoast Current