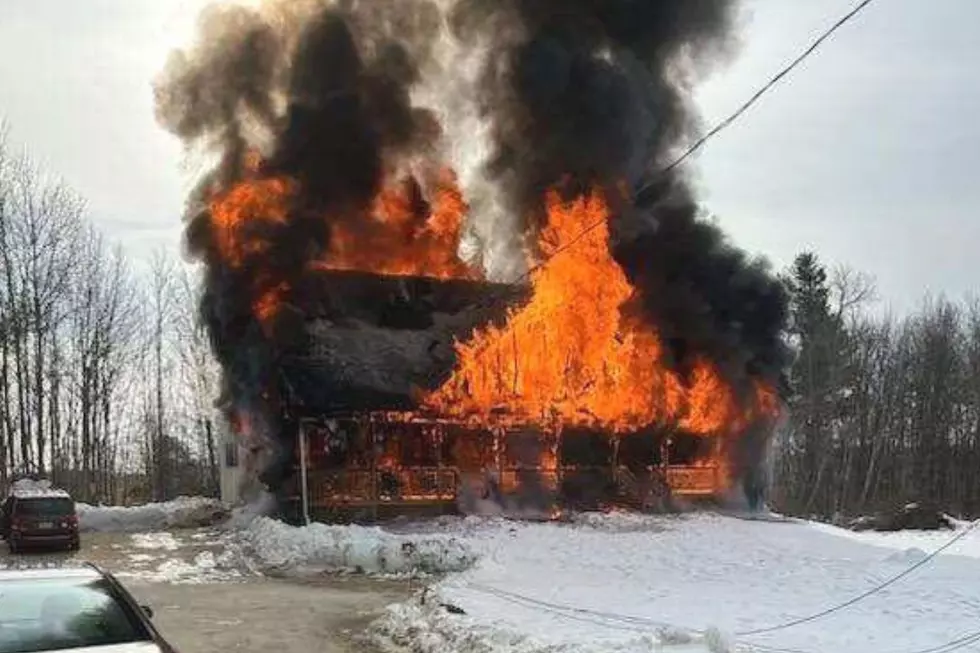 Fire Destroys Habitat for Humanity-Built Home in Rochester, New Hampshire
House fire on Four Rod Road in Rochester 2/5/23 (Rochester NH Scanner Alerts)
🔴 One family was home and the other at church when the fire started Sunday morning
🔴 Southeast NH Habitat for Humanity built the home in 2017
🔴 Three GoFundMe accounts have been created to help the two affected families
---
A two-family house built by Habitat for Humanity in Rochester was destroyed by fire Sunday morning.
The fire was first reported around 10:10 a.m. at the house set back from the road. Water tankers were brought to the home on Four Rod Road due to a lack of hydrants. It took two hours to bring the fire under control.
Two adults and two children in the side A residence made it out of safely. The residents of side B were not home at the time. Two pets are unaccounted for, while a cat was safely found outside.
Rochester firefighters were assisted by Frisbie EMS, Rochester Police, Rochester Public Works, and fire companies from Somersworth, Dover, Farmington, Milton, Lebanon Maine, Strafford, Sanford, Durham, Rollinsford, Barrington,  Lee, and Eversource.
Helping Two Families
The American Red Cross of Northern New England offered both families with financial assistance, comfort kits, teddy bears, and disaster-related health and mental health services.
A GoFundMe page has been created to help the families on Side A and Side B recover from the fire.
The home was built in 2017 by Southeast NH Habitat for Humanity, which also set up a GoFundMe page to help both families.
"We are heartbroken for these families. They have lost their homes and all the contents within. We are so grateful that no one was hurt in the fire. Grateful too for the fire departments and all who responded," the group wrote on their Facebook page.
Fire in Northwood
It was the second large fire of the weekend in the region.
A Northwood family lost their home on First New Hampshire Turnpike in a wind-whipped fire Friday.
According to a GoFundMe page, the mother and her five children ranging from two to 19 years old, plus several dogs, are safe, but lost nearly everything to the fire.
The NH State Fire Marshal's Office is investigating the cause of the fire.
Contact reporter Dan Alexander at Dan.Alexander@townsquaremedia.com or via Twitter @DanAlexanderNH
These Are 30 of the Best Places for Chicken Wings in New Hampshire
More From Seacoast Current