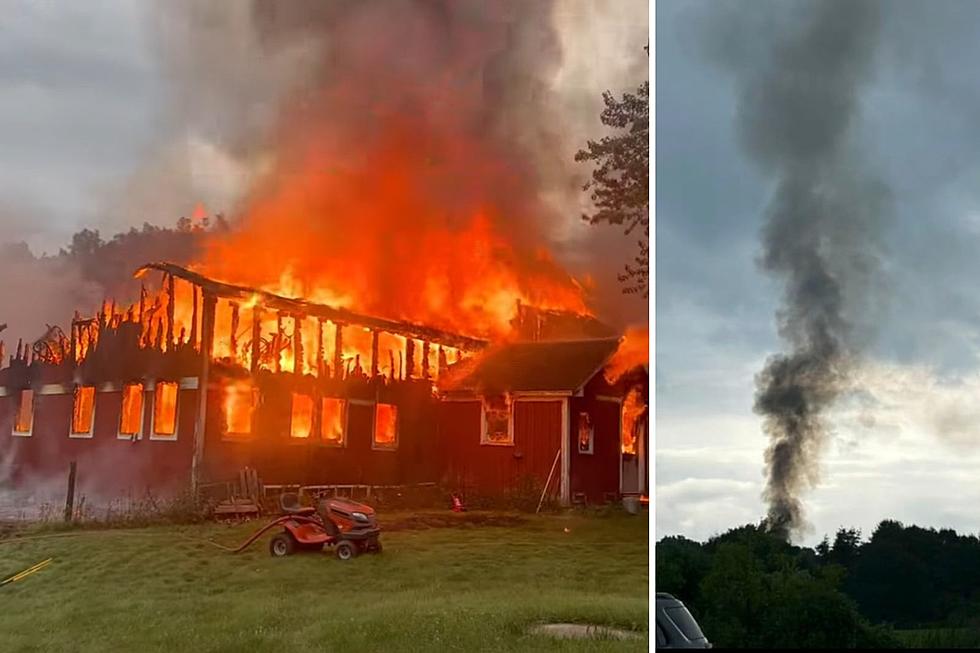 Fire Possibly Started by Lightning Destroys Dover, New Hampshire, Barn
Barn fire on Spruce Lane Ext in Dover 8/4/23 (Robert Nettles) (Strafford County Scanner News)
🔥 A house on the property off Spruce Lane Ext. in Dover was not damaged by fire
🔥 At least seven fire companies responded to the blaze
🔥 A pet rabbit died in the fire, according to the barn's owner
---
Lightning may have touched off a barn fire at Sunswept Stables in Dover Friday afternoon.
Fire crews from Dover found the barn completely engulfed in flames as they arrived at the barn off Spruce Lane, according to reports by Strafford County Scanner Alerts and Rockingham Alerts. The Somersworth Professional Firefighters Local 2320 said off-duty firefighters were called in to assist.
The fire sent a column of black smoke into the air that was visible for miles around.
Severe thunderstorms moved through the state late Friday afternoon, generating lightning that also struck a tree at Camp Tecumseh near a cabin, according to Moultonborough Fire Rescue. Campers in a nearby cabin sheltered in place per camp protocol when lightning struck. They were moved to the camp infirmary.
Lightning strikes were reported in eight other locations in Moultonborough during the storm.
The fire eventually went to three alarms, which brought in at least seven surrounding fire and rescues including Rollinsford, Somersworth, and South Berwick, according to Christina Bandouveres, who identified herself on her Facebook page as the owner of the barn.
She said the seven animals that called the barn home survived, except for a pet rabbit.
Another family member said the barn was being used primarily as a carpentry shop. A house also on the property was not damaged by the fire.
Video showed an excavator on the property Friday night, tearing down what was left of the barn.
Lightning is also being blamed for structure fires in Durham and Madbury, according to the Newmarket Fire Department, which sent an engine to the barn fire.
The Dover Fire Department did not respond to Seacoast Current's request for more information on Saturday morning.
Contact reporter Dan Alexander at Dan.Alexander@townsquaremedia.com or via Twitter @DanAlexanderNH
Meet Townsquare Media Portland, Augusta and Portsmouth Contributors
More From Seacoast Current