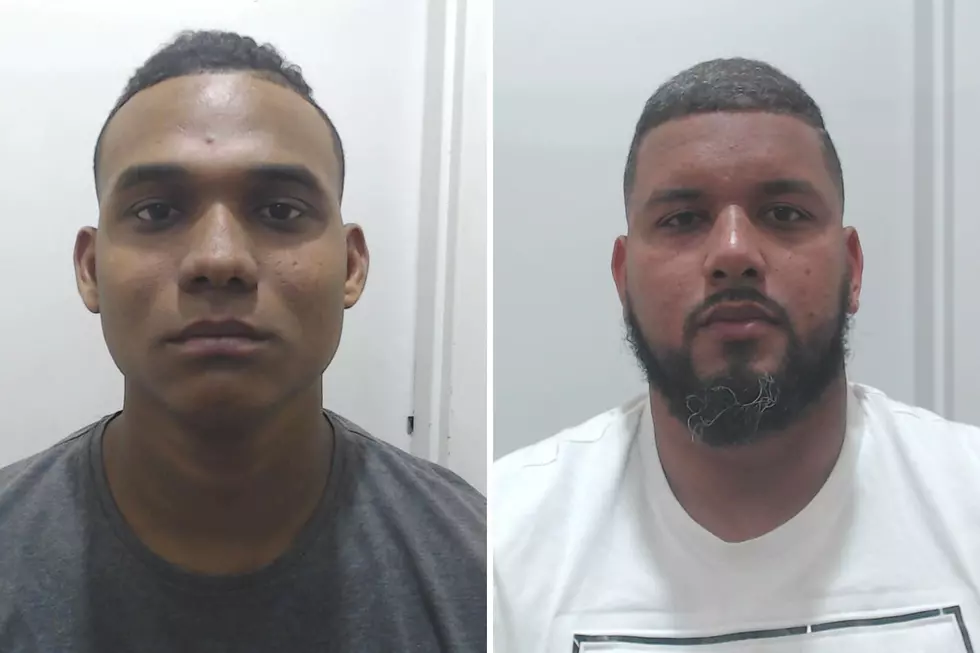 Hampton, NH, Police Thwart 'Grandparent Scam'
Junior Samuel Ricart Fortuna, Luis Osmar Brito Urbaez (Hampton Police)
A suspicious bank teller was key to stopping a customer from being scammed out of $20,000 in a classic "grandparent scam" setup.
Hampton Police Deputy Chief Alex Reno said the department was contacted by a resident concerned they may have been scammed after receiving a call from someone pretending to be their grandson. The "grandson" told the resident that he was involved in a car crash and had struck a pregnant woman. A lawyer would be calling to make arrangements to receive money in order to help, he told his grandparent.
The "lawyer" called and said he needed $9,500 to help their "grandson" who was at fault in the crash, according to Reno. The alleged victim withdrew the cash and paid it to two men who came to collect it.
The alleged victim received another call requesting an additional $20,000. When they went back to the bank, the teller became suspicious and was able to get the alleged victim to hold off on making the transaction, Reno said.The grandson made contact and said he had not been in an accident.
When the scammers found out they weren't getting $20,000, they asked for another $9,500, which prompted the alleged victim to contact police, according to Reno. Officers worked to set up a pickup of the cash which resulted in the arrest of Junior Samuel Ricart Fortuna, 19, of the Dominican Republic and Luis Osmar Brito Urbaez, 32, of the Dorchester section of Boston.
The two were charged with conspiracy to commit theft. They were arraigned on Tuesday and ordered held on $25,000 cash bail and to surrender their passports.
Reno asked anyone with information related to this incident to call Hampton Police
at 603-929-4444.
The state Attorney General's Office has the following advice if you receive a call you suspect could be part of a scam.
Do not engage with the caller
Hang up immediately
Do not provide money or personal information, including home address
Contact your local police department immediately, especially if you have lost money or other valuables, or made arrangements for the pick-up of money or valuables from your own home
Report the scam to the Office of the Attorney General – Consumer Protection Hotline:
1-888-468-4454
E-mail: Doj-CPB@doj.nh.gov
doj.nh.gov/consumer/complaints
Contact reporter Dan Alexander at Dan.Alexander@townsquaremedia.com or via Twitter @DanAlexanderNH
Trending Stories for Seacoast Current (June 6-12, 2022)
More From Seacoast Current