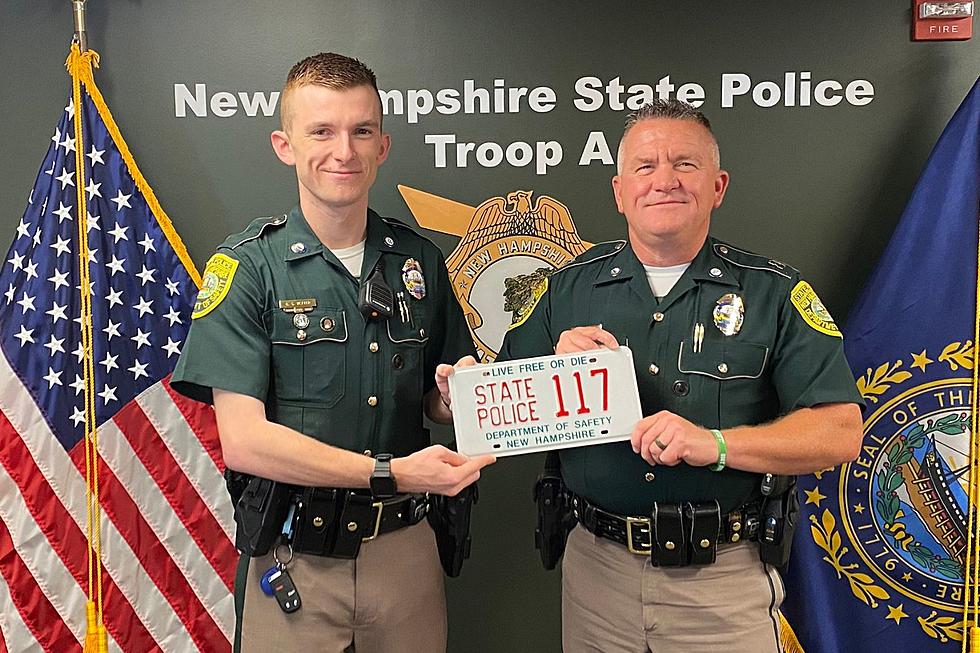 Making It Personal: Why New Hampshire Needs an Adult Mandatory Seat Belt Law
NH State Police Trooper Cam Vetter and his father Capt. Christopher Vetter (NH State Police)
🔴 New Hampshire seatbelt among adults ranks next to last among the 50 states at 75.5%
🔴 The proposed law requiring adult seat belt use would make it a secondary offense to not do so
🔴 State Police Capt. Christopher Vetter says seat belt use saved his son's life
---
New Hampshire State Police are backing legislation that would implement a mandatory seat belt law making it a secondary offense for adults who don't buckle up while driving.
Leading the effort on both a professional and personal level is State Police Capt. Christopher Vetter, commander of the state Office of Highway Safety.  He testified in front of the House Transportation Committee Tuesday in favor of HB 222 sponsored by state Rep. Daniel Veilleux (D-Hillsborough 34)
"This is not the first time that this legislation has been introduced. It has not been successful to date and we continue to have people lose their lives on our roadways because at least in part they're not wearing seatbelts," Vetter told Seacoast Current, adding that people also suffer serious injury in crashes because of a lack of seat belt use.
New Hampshire seatbelt among adults ranks next to last among the 50 states at 75.5%.
Vetter said that most people agree that wearing a seat belt is a good idea, but heard testimony at the hearing that buckling up should remain a person's freedom of choice.
Roger Richard of Nottingham testified about concerns that a mandatory seat belt law who interfere with liberties guaranteed in the state constitution
"I was in the Army for four years, defending our liberty, our New Hampshire way of life. I don't want to give it up. If you want to wear a seat belt, please do it. You have it.  Don't make me," Roger Richard of Nottingham told the committee.
Vetter said another argument against a mandatory seat belt law is that as a personal choice, only those in the vehicle are affected, making it a victimless crime.
"But both of those things we know, at least in my opinion, are inaccurate," Vetter said.
Thanksgiving Morning Tragedy
Vetter said that there can be many victims, and used the example of the early Thanksgiving morning crash at the Portsmouth traffic circle that claimed the life of Drew Ceppetelli, 21, of Barrington. She was one of six people, including driver Tyler N. Troy, 22, of Northwood, ejected from a Porsche Macan when it flipped several times as it came south from the Route 1 Bypass around 1:15 a.m.
Vetter said the crash had a ripple effect of victims. Two of the occupants suffered "life-altering, significant" injuries, and four passengers in the backseat were not wearing seatbelts, according to Vetter.
"If you buy the victimless crime argument, then you would tell me that the families of those that were injured are not victim. The parents that lost that 22-year-old girl are not victims," Vetter said. "The police officers mostly from Portsmouth a little bit from the State Police, who worked valiantly to save the lives of those young adults after they've been ejected, and that's exactly what happened, they're not victims."
No one has been charged in the crash.
Driving is a Privilege
In every state, driving in a privilege, which comes with a certain set of requirements. Seat belt use should be added to that list in New Hampshire.
"For the same reasons that we don't allow people to drive at 100 miles an hour or to drive impaired because we know it is dangerous. It's recognized as dangerous. I don't think anybody would argue with it," Vetter said. "We would lump seatbelt use in the same way in that it saves lives and prevents you from being injured."
The bill makes failure to use a seat belt as a secondary offense, meaning a driver would have to be pulled over for another offense in order to be cited. The fine would be $50 for a driver and $25 for a passenger.
"From my perspective, the Office of Highway Safety is for anything that will make people think to put on their seatbelts. So in a perfect world, if this passes, this is a law that we would never have to enforce. Everybody puts their seat belts on, we never have to address it. We never observe a violation. We never have to write a summons," Vetter said.
Vetter has a personal reason for supporting a mandatory seat belt law his oldest son who was involved struck head-on at 88 mph on Route 202 in Peterborough in 2016. Vetter's son lost consciousness as his car went into a spin and rolled over several times. When emergency personnel arrived, Vetter's son was found hanging upside down, suspended in his seat belt.
"Seat belts saved my son's life. No question about it, period. It's not up for debate. He was saved because he chose to have a seat belt on. Seat belts work, and they may save somebody you care about because they saved somebody that I care about," Vetter said.
Vetter's son Cam went on become a New Hampshire State Police trooper, and is currently assigned to Troop A in Epping.
Contact reporter Dan Alexander at Dan.Alexander@townsquaremedia.com or via Twitter @DanAlexanderNH
Women's History Month: 30 of the Best Women-Owned Restaurants in New Hampshire
More From Seacoast Current