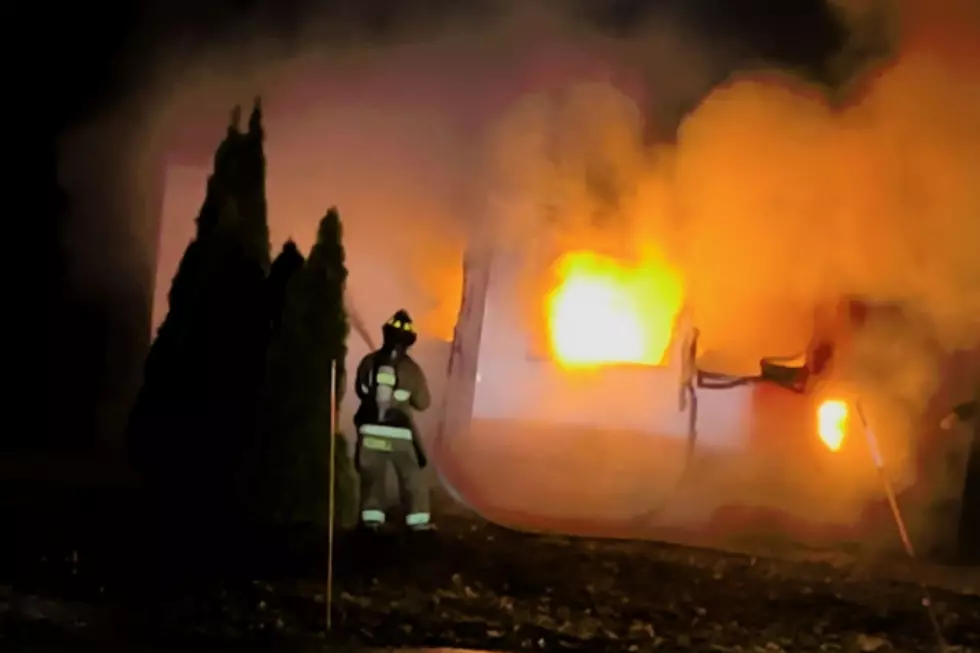 Mobile Home in Portsmouth, New Hampshire, Heavily Damaged by Fire
Fire at a mobile home in Oriental Gardens, Portsmouth 1/5/23 (Portsmouth Fire Dept)
A family of four escaped a fire early Thursday morning at a mobile home in Portsmouth.
Flames broke out around 2:40 a.m. at the home at Oriental Gardens off Woodbury Avenue, consuming nearly the entire home, according to Portsmouth Fire Chief William McQuillen. The blaze was brought under control just over an hour later.
The siding on a neighboring home was melted by the heat and flames, according to McQuillen.
The chief said the home did not have smoke detectors or a sprinkler system, McQuillen said.
Red Cross of Northern New England offered the two adults and two children financial assistance, comfort kits, blankets, teddy bears, & disaster-related health and mental health services following the fire.
Mutual aid at the fire was provided by Newington and Kittery, plus an ambulance from Rye.
"The Portsmouth Fire Department would like to remind everyone that working smoke detectors save lives and should at a minimum be installed in every bedroom," McQuillen said.
The cause of the fire is under investigation by the Portsmouth Fire Department Fire Prevention Bureau.
Contact reporter Dan Alexander at Dan.Alexander@townsquaremedia.com or via Twitter @DanAlexanderNH
20 of the Oldest Restaurants in Portsmouth, New Hampshire, Still Going Strong
Here's what locals say are some of the oldest restaurants in the Portsmouth area. Be sure to go to the bottom to see which one's the oldest.
More From Seacoast Current