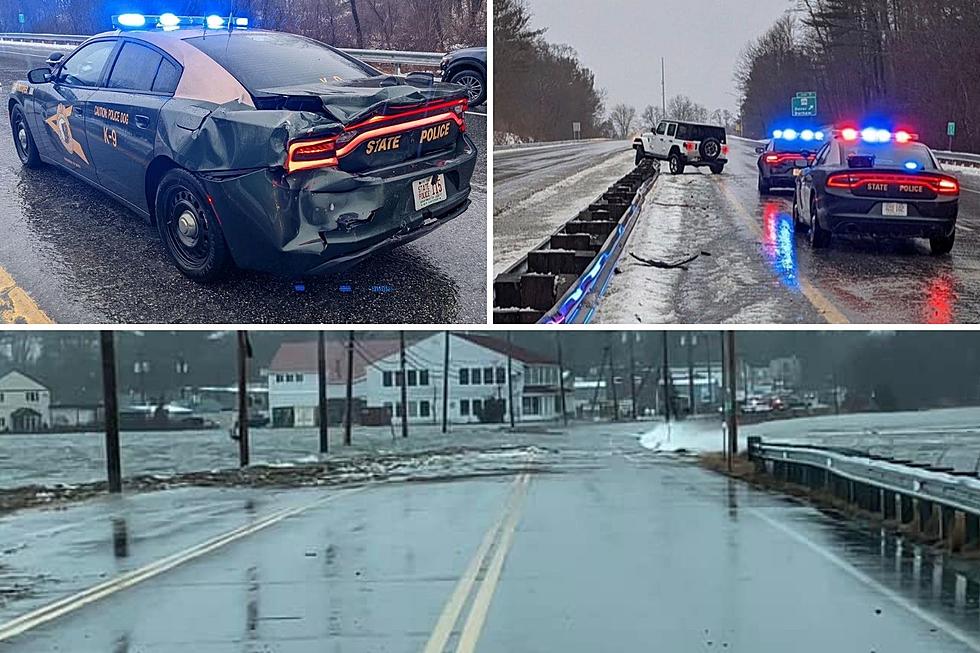 Monday's Storm Brings Coastal Flooding, Crashes, Wind & Snow
Crash on Route 16 in Dover (NH State Police) High standing water in Hampton (Hampton Police)
Monday's storm caused icy roads inland and minor flooding along the coast as the Seacoast got a variety of wintry precipitation.
A High Wind Warning remained in effect for the immediate New Hampshire, Maine and Massachusetts coasts until 4 p.m. as wind gusts of up to 60 mph continued into the afternoon. All other watches and warnings were lifted as the precipitation came to an end.
Inland areas of Rockingham County picks up a couple of inches of snow including 9 inches in Deerfield, 3.5 inches in Nottingham, according to the National Weather Service. In Strafford County Strafford picked up 6.0 inches and 3.3 inches in Barrington and 2 inches in Dover.
NH State Police said they responded to 54 crashes and calls for assistance statewide on Monday morning as the heaviest of the snow fell. One of the crashes involved a trooper on Route 16 which closed the northbound lanes in Dover for about 30 minutes.
The high tide brought high standing water to Ashworth Avenue, Brown Avenue and Lafayette Road near the marsh, according to Hampton Police. The flooding was enough to close Route 1A in Hampton from the junction of NH 27 in Hampton to Route 111 in North Hampton. Video showed road crews using plows to push seaweed and rocks off Route 1A.
A car was reportedly submerged in three feet of water on Ocean Boulevard in Hampton early Monday afternoon.
Winds that gusted to nearly 60 mph knocked out power for Maine and New Hampshire power customers including over 4,000 customers in York County. Eliot, Kittery, and York accounted for most of the outages, according to the company outage map.
Approximately 2,000 Unitil customers in Hampton lost power but were restored by 11:30 a.m., according to the utility. 131 customers were still without power as of 1 p.m. should be restored between 3 p.m. and 5 p.m., according to the Unitil outage map.
"Our crews have worked throughout the morning to assess the damage while working closely with first responders to address any safety concerns. The storm appears to have evolved as expected with snow changing to rain fairly quickly in coastal areas," Unitil spokesman Alec O'Meara said in a statement. "The focus will remain on the wind gusts through the afternoon and the potential for additional outages, although it appears that the most hazardous conditions have passed."
Gusty winds also helped fan the flames of a 9-alarm fire that destroyed Michael's Oceanfront Motel on Central Avenue in Salisbury and four other single homes and an apartment building.
Contact reporter Dan Alexander at Dan.Alexander@townsquaremedia.com or via Twitter @DanAlexanderNH
Retro-Like Prices: Go Skiing at These New England Mountains for Under $100
Looking for a place to go skiing that won't break the bank? Check out these ski mountains in New England.
More From Seacoast Current