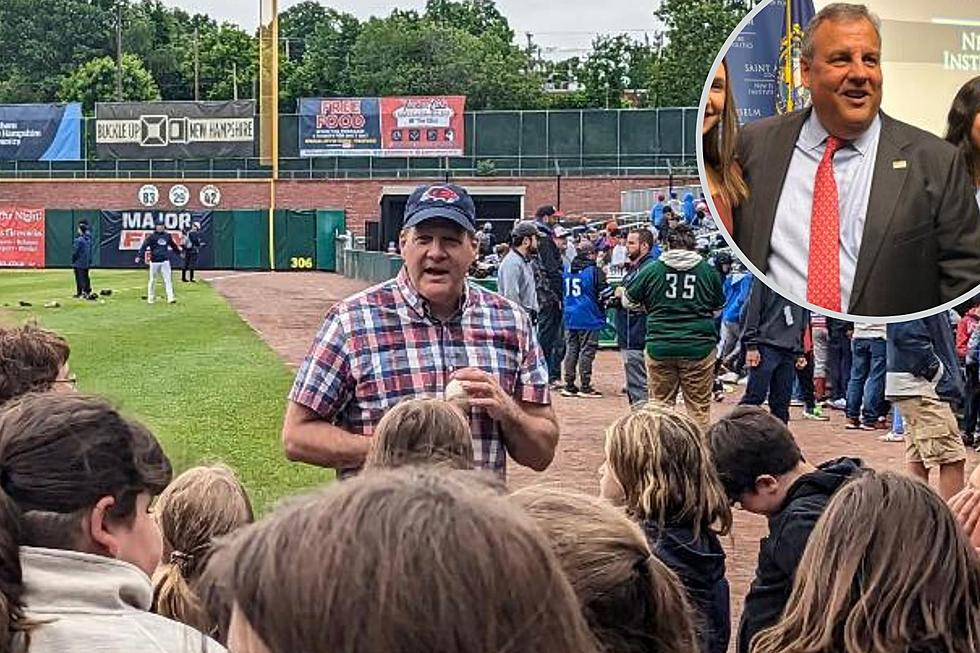 More Candidates Enter 2024 Presidential Race – Where's Sununu?
Gov. Chris Sununu at a NH FisherCats game (Gov. Chris Sununu), Chris Christie (Saint Anselm College's NH Institute of Politics)
As the Republican field or the 2024 presidential primary is filling up fast, is there still room for Governor Chris Sununu?
Former New Jersey Governor Chris Christie will make his run official Tuesday with a town hall-style meeting at the New Hampshire Institute of Politics at St. Anselm College. Former Vice President Mike Pence set to enter the next day with a speech in Iowa. Their declaration will swell the Republican field to nine announced candidates.
Gov. Chris Sununu, who has been hinting at a run, told CNN's Jake Tapper during Memorial Day weekend that he would make a decision "within a week or two."
"The money's been lined up. The support has been lined up. There's a pathway to win. All those boxes are checked. The family's on board, which is always a big one," Sununu told Tapper. "I just got to make sure it's right for the party and right for me."
Too late to run?
With two months to go before the first official Republican debate of the season and seven months until the presidential primary, SNHU Civic Scholar and founder of NH Political Capital Dean Spiliotes says Sununu still has time.
"For many years, campaigns would gear up 12 to 14 months before the first primary. You'd see exploratory committees, and the candidates would start showing up. In the last couple of cycles that's really been kind of pushed more into the spring and summer, so I don't think this is really that unusual any longer," Spiliotes said, adding that changing communications and technology for fundraising over the past 30 years affect the traditional time frame.
"I think if Sununu were to get in some time in the next few weeks, I think that would be fine for him," Spiliotes said.
Despite concerns about the field getting crowded like it did in 2016, neither Sununu nor any other candidate is really worried. Confidence in their own ability and appeal comes with being a politician, according to Spiliotes.
"Politicians are typically fairly competitive individuals, and they like to think they're going to be the ones who are going to make a difference. I don't think the issue is so much that the field is crowded upfront. The issue is going to be on the other end, people being willing to get out. And that's something that both Sununu and Chris Christie have pointed to."
Lots of Christie negatives
Christie finished 6th in the 2016 New Hampshire Republican presidential primary and ended his campaign. He became one of the first major politicians to endorse Trump, and was part of his inner circle until the 2020 election. The former federal prosecutor turned against Trump after the former president continued to push the idea that the election was stolen from him.
What does Christie think will be different for him in 2024 than it was in 2016? If anything, it looks worse for him. In polls nationwide and in New Hampshire, he is only in the single digits. In a new Monmouth University poll he had the highest unfavorable number among candidates. Among New Jersey residents, only 25% would support Christie in a presidential run, according to a Farleigh Dickinson poll.
Spiliotes said that most candidates seem to get some short-lived momentum going and get a lot of media coverage. Every year, he shows his class a documentary by The Huffington Post about the 2016 primary, which seems to have been filmed around Christie's "turn."
"We've seen it up here over the years with a number of candidates. So I think he does feel like he has the potential to connect. I think it's going to be like a McCain strategy where he realizes he's probably not going to be that competitive in Iowa. So he'll build his campaign here with town hall meetings," Spiliotes said "If nothing else, he is going to be a handful for Donald Trump. Once Christe decides he's in, he's not going to get doesn't mince words."
That bluntness that Christie is known for could also be weaponized by other Republicans against Trump.
"Let's let Christie take him out, and/or the various indictments that may weigh him down eventually. I think there still is this kind of hope among some of these candidates that they can basically ignore Trump and at some point, he will no longer be viable," Spiliotes said.
Contact reporter Dan Alexander at Dan.Alexander@townsquaremedia.com or via Twitter @DanAlexanderNH
Portsmouth, NH 400th Anniversary Grand Parade
Portsmouth celebrated its 400th anniversary with a Grand Parade on June 3, 2023 that included 73 units.
More From Seacoast Current