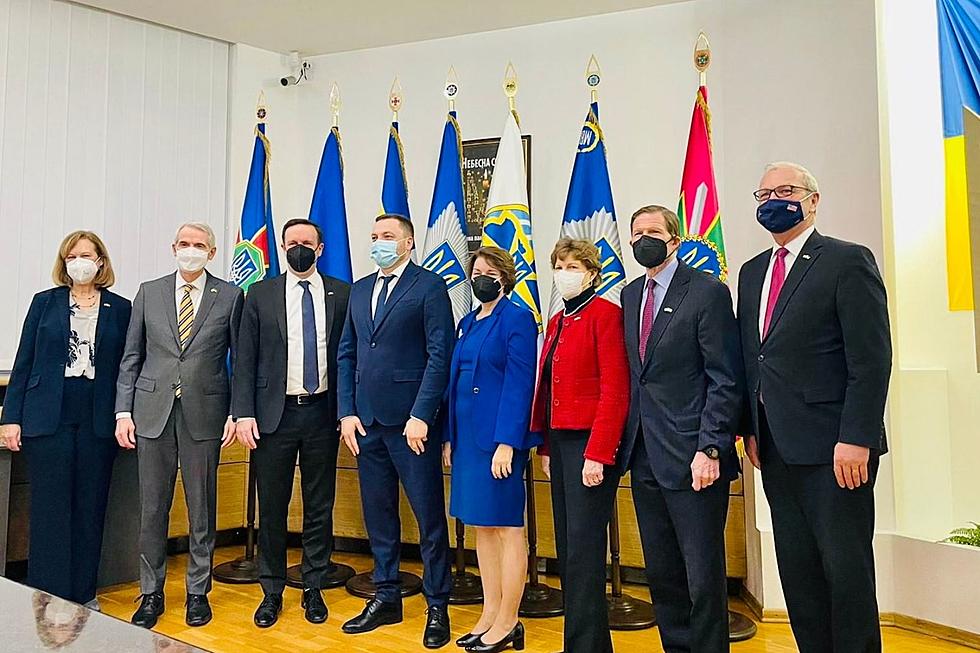 NH's Sen. Shaheen Reaffirms Support for Ukraine
Sen. Jeanne Shaheen with the U.S. congressional delegation in Ukraine (Sen. Jeanne Shaheen)
As tensions build between President Joe Biden and Russian President Vladmir Putin over a possible attack on Ukraine, Sen. Jeanne Shaheen is part of a congressional delegation meeting with President Volodymyr Zelenskyy and other Ukrainian officials to reaffirm the U.S.' commitment to Ukraine.
100,000 Russian troops are positioned on the border, leading to concerns about an invasion. Biden wants Putin to pull back his troops as a sign of negotiating in good faith, while Putin wants to U.S. to end NATO expansion. Neither wants to be seen as backing down from the other.
Shaheen and the delegation met with Zelenskyy on Monday in what Shaheen called a productive meeting. They made it clear that the U.S. is united across party lines against Putin's plan to target the U.S.'s Eastern European partners.
"I'm proud to help lead legislation that would empower the administration with additional tools to levy punitive damage against Putin if he acts out. Boosting military aid to Ukraine & strengthening our regional alliances are also critical in our response to Russia's escalations," Shaheen said.
Sens. Richard Blumenthal (D-CT), Kevin Cramer (R-ND),Amy Klobuchar (D-MN), Chris Murphy (D-CT), Rob Portman (R-OH) and Roger Wicker (R-MS) are also on the trip.
The trip is Shaheen's third to Ukraine following trips in June 2021 and June 2015. She was also planning a trip in 2017 but it was canceled after she was sanctioned by the Kremlin.
Contact reporter Dan Alexander at Dan.Alexander@townsquaremedia.com or via Twitter @DanAlexanderNH
The 10 Oldest Active Maine Breweries
Maine has over 100 craft breweries. While the industry soars, it's important to remember the industry's legacy. Here is a list of the 10 oldest remaining active breweries in Maine. Some are giant names. Others may be entirely new to you.
More From Seacoast Current