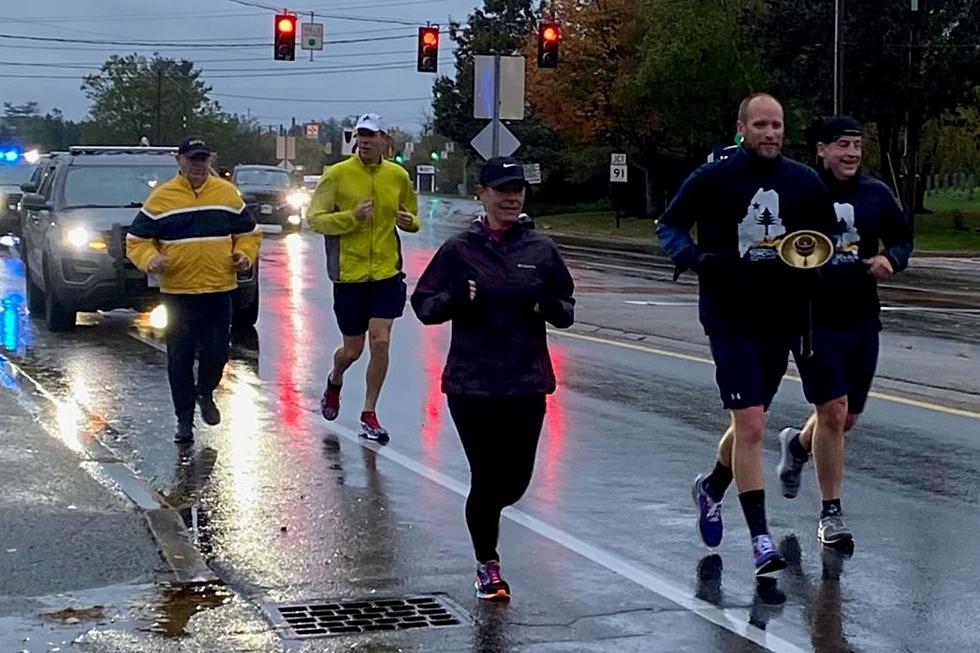 Nor'easter Winds Plunge Maine Coast into Darkness
York Police officers run in the rain during the Special Olympics Torch Run Wednesday morning (York Police)
Gusty winds from the nor'easter knocked out power for over 5,000 Central Maine Power customers along the Maine coast while New Hampshire and northern Massachusetts dodged a blackout bullet.
According to Central Maine Power's outage map just over 2,300 customers in York and 3,083 customers in Eliot, Kittery and Shapleigh were without power on Tuesday morning. The utility also had more outages north of Portland.
"We have more than 800 lineworkers & tree workers repairing outages caused by persistent high wind gusts, primarily along the Maine coast. We expect winds to continue to impact the coast today, and we will be there," CMP said in a tweet.
National Weather Service forecaster Andy Pohl told Seacoast Current the highest winds were just off the coast with a gust of 67 at the Isle of Shoals and 75 mph at Appledore Island just south of Kittery. Right along the coast the strongest gust was 44 mph in Portsmouth.
A Wind Advisory is in effect until noon for coastal New Maine for potential wind gusts to 45 mph. A High Wind Warning is posted for coastal New Hampshire for gusts to 50 mph.
The storm is gradually shifting away from the southern New England coastline with periods of rain and wind tapering off by Wednesday evening.
Contact reporter Dan Alexander at Dan.Alexander@townsquaremedia.com or via Twitter @DanAlexanderNH
UPDATED 2021 Halloween Trick or Treat Times on the Seacoast
Here's the official time and dates for trick or treat on the Seacoast for Halloween 2021 listed alphabetically by town. All times are subject to change without notice due to weather and other factors. We'll add to the list as we learn of more dates.
More From Seacoast Current