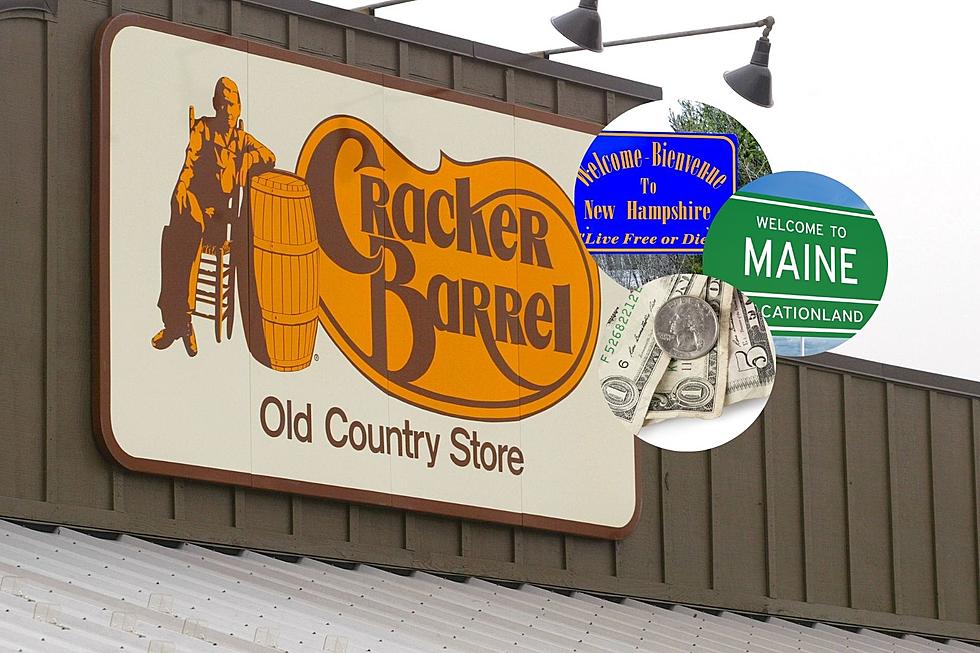 One of the Reasons Cracker Barrel is So Cheap is a Gut Punch to New Hampshire and Maine
Getty Images
Editor's note: This article was written by a Townsquare Media Northern New England contributor and may contain the individual's views, opinions or personal experiences.
Who hasn't heard of Cracker Barrel, known for its homemade, massive breakfasts and a warm welcome when you arrive?
For me, and I think for many, it's a favorite for grandparents and families who want a less expensive yet huge breakfast as well as the perfect road trip stop.  Those tall Cracker Barrel signs dot the highways and byways across the country.  It's almost like America's Sweetheart when it comes to restaurants, with its hometown classic comfort food, country lifestyle filling our tummies with biscuits and gravy, blueberry muffins, tall stacks of pancakes, and of course that country store that draws us all in with its Southern hospitality no matter where it's located.
That old-fashioned feel where chicken and dumplings, vintage trinkets, and old-time candy are everywhere.
Even the rocking chairs lining the wrap-around wooden entrances or lawns beckon.  And again, it's so inexpensive comparatively, which is unheard of when you think about their descriptions of farm-fresh, thick-sliced, country-style, and so forth.
So are you ready?  I stumbled upon this article in Mashed and it spilled the goods on why Cracker Barrel can keep its prices lower than most, and the first reason was truly a punch in the gut if you live in New Hampshire, Maine, and Vermont.
Let's talk about those tall stacks of fluffy buttermilk pancakes and dive into the delicious, thick french toast where butter and our ever-loved maple syrup are synonymous.
Cracker Barrel's syrup isn't 100% pure maple syrup!  What the what?!? How dare they in the maple syrup capital of the country?  Now clearly that's a bit selfish sounding on my part, considering maple syrup holds a special place for us in New Hampshire, Maine, and Vermont.  I mean, we rule that market with Vermont as the number one producer according to Statista, followed by New York, Maine, Wisconsin, Pennsylvania, Michigan, then New Hampshire. So, anything not pure is basically blasphemous.
Cracker Barrel, according to Mashed, mixes maple syrup with sugar cane syrup, and even the label confirms this on the Cracker Barrel syrup bottle.  It literally says that it's 55% pure maple syrup and 45% sugarcane syrup.
Oh well, at least we know, and I doubt it will stop any of us from saying no to our grandparents or parents who want to take advantage of the cheap prices.  Maybe we can just bring out own maple syrup.
Pure maple syrup is pricey as well, considering it takes about 40 gallons of sap to produce one gallon according to Penn State. So, mixing it with sugarcane syrup is one key way that Cracker Barrel keeps its costs down, passing that on to you and me.
Click here for the other 10 reasons why Cracker Barrel is so cheap.
50 Most Popular Chain Restaurants in America
YouGov investigated the most popular dining brands in the country, and Stacker compiled the list to give readers context on the findings. Read on to look through America's vast and divergent variety of restaurants—maybe you'll even find a favorite or two.
Solar-Powered New Hampshire Yurt Looks Like a Hobbit House of Natural Wonder
Unique solar-powered yurt in Rindge, NH looks like a Hobbit House in a natural habitat. Take a tour of the inside.
More From Seacoast Current