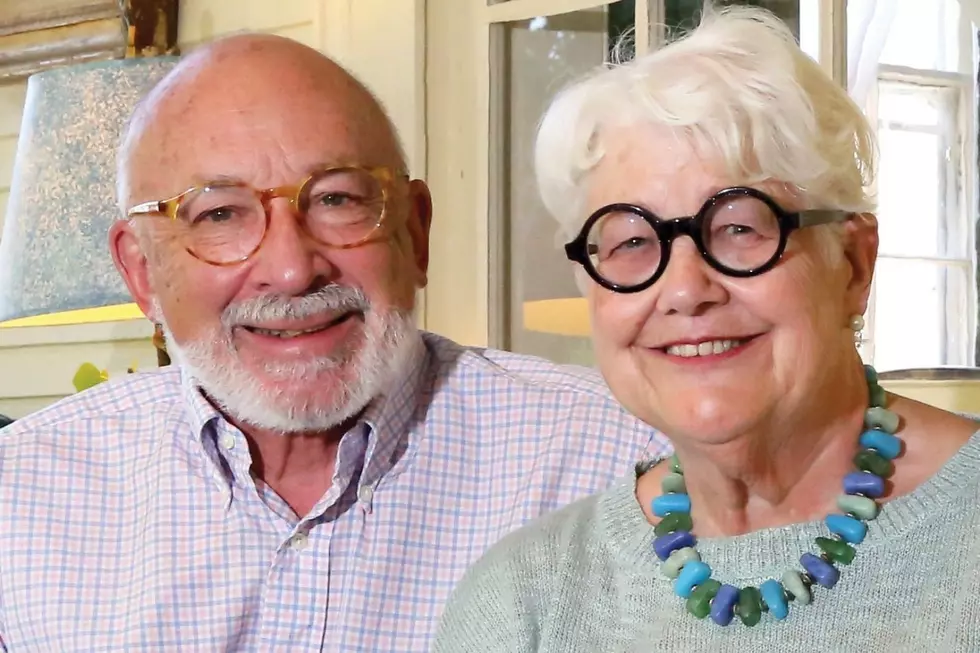 Portsmouth, New Hampshire's Dr. Geoffrey Clark Dies at Age 84
Dr. Gregory Clark and state Sen. Martha Clark Fuller(NHDP)
Dr. Geoffrey Clark, the husband of Portsmouth former state Sen. Martha Fuller Clark, passed away Saturday at the age of 84, according to an announcement from the New Hampshire Democratic Party.
The couple moved to Portsmouth in 1973 and became deeply involved in the community, serving on over 40 boards over the past 45 years, according to a 2019 interview with NH Business Review. The New Hampshire Women's Foundation presented the couple with their AmplifiHER Award in 2019 for "dedicating their personal and professional lives to strengthening New Hampshire communities."
The couple had three children, Caleb, Anna, and Than, and four grandchildren.
Dr. Clark told NH Business Review that public service was fun to him.
"It can be frustrating because you don't always get what you want, but it's terrific to help manage important institutions and have a big influence in so many areas. I've never regretted a contribution I've made," Clark said.
He was a doctor at Gastroenterology Professional Association for 32 years, according to In Depth NH.
Accolades From All Over
"Dr. Clark was of the most interesting, kindest, most generous people I've ever met. He's well respected and is accomplished in a variety of fields, and he will forever be remembered in New Hampshire. He's left an ever-lasting mark on the Granite State, in the political world and far, far beyond," Party chairman Raymond Buckley said in a statement.
"Portsmouth lost a leader on Saturday. Dr Geoffrey Clark worked tirelessly to make life in our community better. His loss is immeasurable and on behalf of the City of Portsmouth we send our condolences to his beloved wife Martha and their children Caleb, Anna and Than," Mayor Deaglan McEachern wrote on his Twitter account.
"Like all those who were fortunate to know Geoffrey, I'm heartbroken by his passing. Geoffrey was a pillar in the community as a fierce advocate on issues that have made New Hampshire a better place for all of our families. He fought to preserve our community spaces and historic buildings in Portsmouth, build and support a more sustainable environment for future generations and foster an inclusive society for all of our neighbors," Sen. Jeanne Shaheen said in a statement. "I appreciated his guidance over the years and his continued support to rightfully keep these issues front and center. Geoffrey and Martha worked tirelessly, side by side, to find new ways to give back to our communities. A doctor by training, it makes sense that caring for others wasn't just what he did - it was who he was. I offer my sincerest condolences to Martha, their family and to all those mourning."
"Dr. Geoffrey Clark was a dedicated philanthropist, committed to preserving the history and natural beauty of our state and to protecting access to health care for all. He was also a kind, funny, and loyal friend to those of us lucky enough to know him," Sen. Maggie Hassan wrote on her Twitter account; "My heart is with his wife, Martha Fuller Clark, and their entire family. NH is ever grateful for his service."
"I'm deeply saddened to learn of the passing of my friend Dr. Geoffrey Clark. He was an accomplished physician, well-known entrepreneur, and a dedicated community advocate with his wife, Martha Fuller Clark. My thoughts are with their family and friends at this difficult time," First Congressional District Rep. Chris Pappas wrote on his Twitter account.
"NH lost a giant today. Dr. Geoffrey Clark was a generous & thoughtful friend, always working to help others. For decades, he made a positive & long-lasting impact on communities across our state," Second Congressional District Rep. Annie Kuster wrote on her Twitter account.
"Dr. Geoffrey Clark cared deeply about the citizens of NH. He and Senator Martha Fuller Clark always looked for ways to help people and for projects to help our communities. Martha and their family are in my thoughts and prayers," former First Congressional District Rep. Carol Shea-Porter wrote on her Twitter account.
Funeral arrangements have not yet been announced for Geoffrey Clark.
NOTE: The story was corrected to show Dr. Clark died Saturday.
Contact reporter Dan Alexander at Dan.Alexander@townsquaremedia.com or via Twitter @DanAlexanderNH
Coastal $19 Million New Hampshire Farmhouse With Elevator and 30-Car Barn
More From Seacoast Current