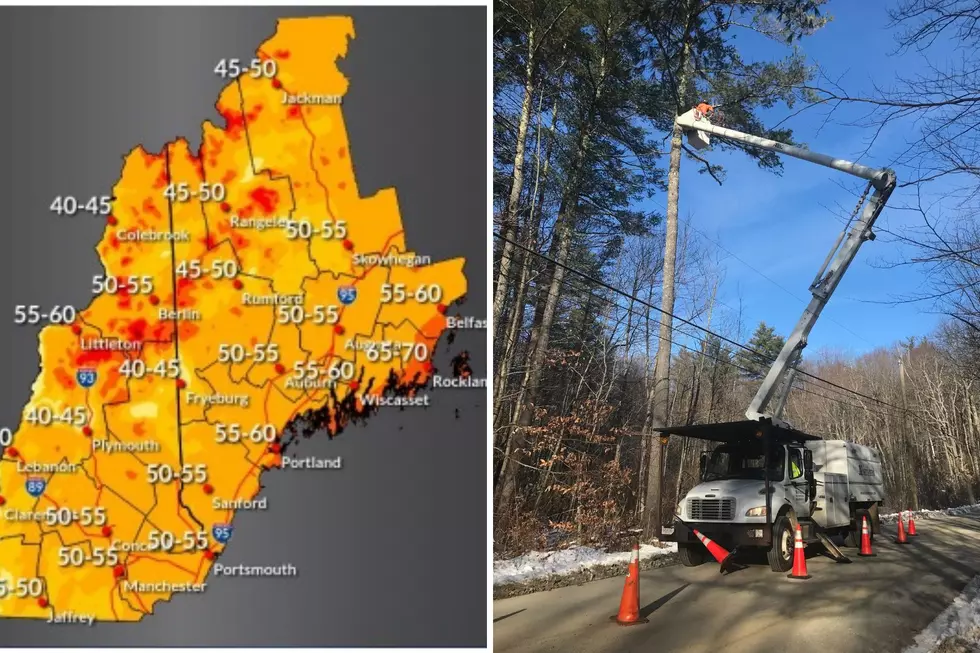 Pre-Christmas Storm Brings Seacoast Rain, Wind, Coastal Flooding, but No Snow
Expected wind gusts Friday and Friday evening (NWS Gray), Eversource tree trimming crew (Eversource)
Rain, wind, coastal flooding, then bitter cold will be the biggest concerns from a storm Thursday night and Friday.
"The Seacoast is going to have a lot of impact from this storm," meteorologist Jon Palmer at the National Weather Service in Gray, Maine, told Seacoast Current, adding that winter weather will not be part of this storm.
"The coastal flooding will make this a pretty big storm Friday. The flash freeze on top of that could create some difficulty with travel Friday evening. So, this is a pretty significant storm that's coming tomorrow," Palmer said.
A high wind warning is in effect for the Seacoast starting Friday morning at 1 a.m. until 2 a.m. Saturday morning for winds out of the southeast at 25-35 mph, with gusts to 60 mph that could blow down trees and power lines.
A storm warning is also in effect for the coast for waves at 18-23 feet from 4 a.m. Friday through 3 a.m. Saturday, thanks to astronomically high tides.
Palmer said the first precipitation will start to fall Thursday night in a timeline of events for the storm.
Thursday Night
Precipitation starts by 9 p.m. as rain. Northern interior parts of Rockingham County could see some snow at the start, but will quickly change to rain, according to Palmer.
Early Friday Morning

Rain will progressively get steadier and heavier overnight.
Friday Morning & Afternoon

Heavy rain all day. Total rainfall 1-3 inches.
10:30 a.m: an astronomical high tide (the second highest tide of the month) with moderate to major coastal flooding.
Winds will be 40-50 mph with gusts up to 60 mph, which could cause power outages.
Friday Evening
Temperatures in the 50s will fall quickly in the early evening to the upper teens overnight.
The drop in temperature will lead to a flash freeze, which will cause any remaining moisture/standing water on roadways and walkways to freeze and lead to slippery travel
conditions, especially since the salt will be washed off the roads from the heavy rainfall.
Saturday (Christmas Eve) & Sunday (Christmas Day)

Residual wind gusts create wind chills in the low single digits approaching zero degrees in the morning.
Christmas Day: Temperatures will moderate, but wind chills will still be in the upper single digits.
New Hampshire and Maine's utilities are preparing for the storm by trimming trees ahead of the storm near lines, and putting crews on standby.
Until spokesman Alec O'Meara said the wind gusts have the potential to bring down even healthy trees and branches. He said to assume that any wires that come down are live, and to stay away.
"Due to the potentially serious nature of the storm, Unitil has a complement of internal and third party crews prepared to respond, and currently plans to open its System Emergency Operations Center Friday morning in order to coordinate its response efforts, should outages occur," O'Meara said.
He suggested customers prepare for the storm by making sure they have the following items on hand:
Flashlights and fresh batteries.
Portable chargers and supplemental batteries for mobile devices.
Bottled water, canned foods, and a manual can opener.
A first aid kit.
Contact reporter Dan Alexander at Dan.Alexander@townsquaremedia.com or via Twitter @DanAlexanderNH
Seacoast New Hampshire Restaurants Open on Christmas Day 2022
More From Seacoast Current