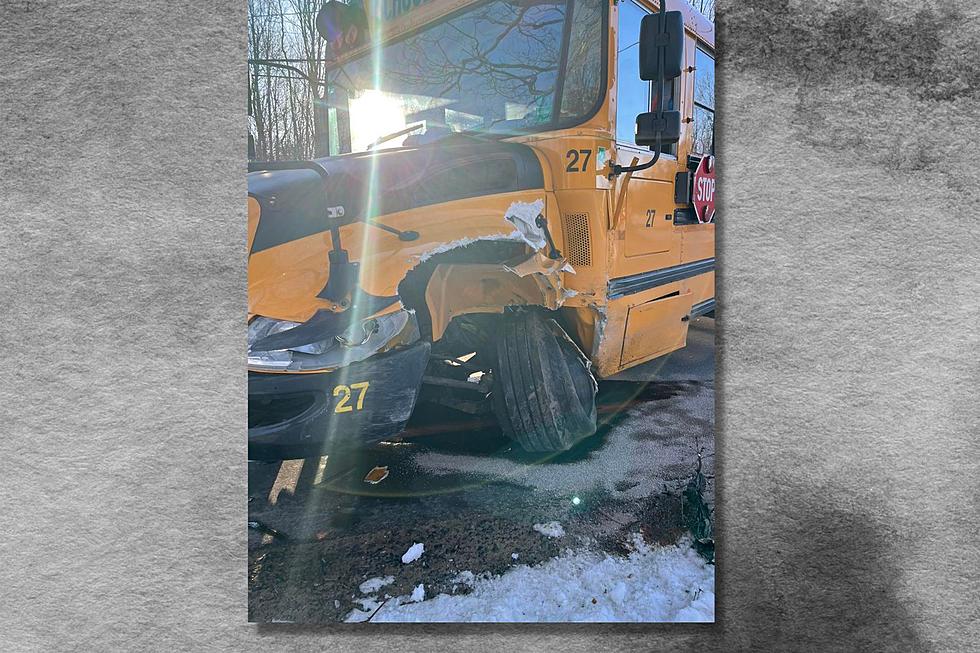 School Bus, SUV Collide in Berwick, Maine
School bus involved in a crash on Route 9 in Berwick 3/6/23 (Berwick Police)
🔴 The crash happened just after 7 a.m. on School Street (Route 9) in Berwick
🔴 The bus was carrying students from Noble High School
🔴 The school bus driver and a student were taken to hospitals for treatment of minor injuries
---
Two people, including a student, were injured in a school bus crash in Berwick on Monday morning.
Berwick police said the MSAD 60 bus crashed into an SUV just after 7 a.m. on School Street (Route 9) in Berwick near the Beaver Dam Campground. The bus was carrying students to Noble High School, according to superintendent Audra Beauvais.
"Families of the students who were on the bus were notified via Ride 360 and the high school directly," Beauvais said in a statement.
Police did not disclose the circumstances of the crash, nor the identities of anyone involved. The bus suffered heavy damage to the front tire on the driver's side.
Two Hospitalized
One girl was taken to a hospital after she hit her head on a window while in her seat. The driver of the bus was also taken to a hospital for treatment of a minor injury.
The Berwick Fire Department, North Berwick Rescue, North Berwick Police and Stewart's Ambulance also responded to the crash.
Berwick Police asked anyone with information about the crash is asked to call 207-698-1136, option #1.
Contact reporter Dan Alexander at Dan.Alexander@townsquaremedia.com or via Twitter @DanAlexanderNH
The Most Frequently Stolen Car in Each New England State
You'll notice some patterns...
More From Seacoast Current