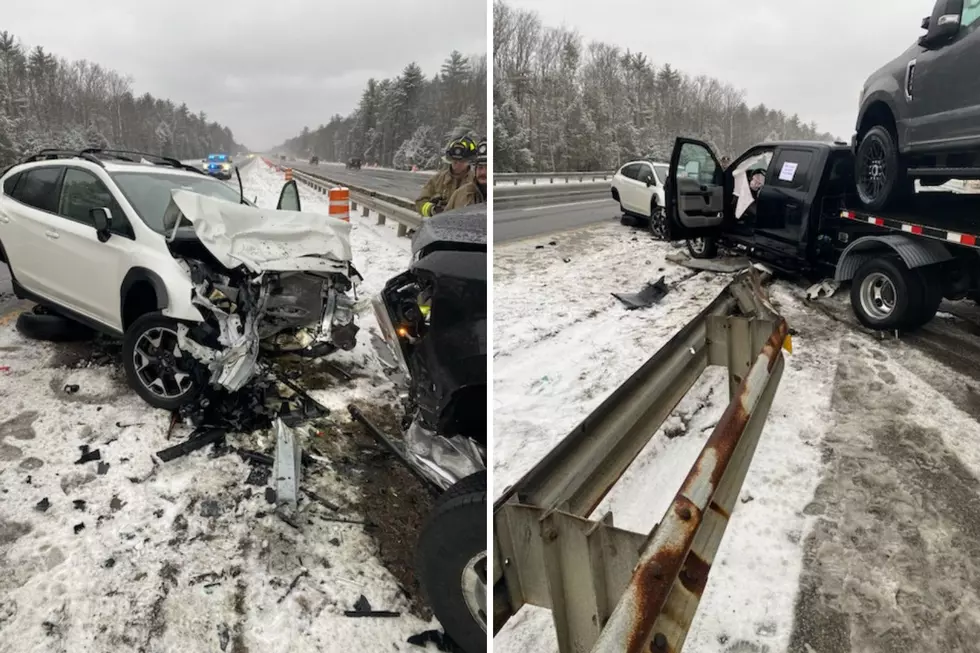 Slick Roads Lead to Crashes on New Hampshire, Maine Roads
Crash on the Maine Turnpike in Wells 1/12/23 (Maine State Police)
Two vehicles were involved in a crash on the northbound Maine Turnpike in Wells Thursday afternoon, one of several reported during Thursday's storm.
Maine State Police said a collision around 2:30 p.m. near Exit 19 (Route 9) forced one of the vehicles through the guard rail into the southbound lanes. There were no injuries, but one lane was closed in each direction for the cleanup.
A cause of the crash was not disclosed and an investigation is ongoing.
The pavement on the highway was wet at the time, with temperatures in the upper 20s.
Three crashes, including one involving a school bus, were reported in Dover by the Rockingham Alert Facebook page.
One was reported in the southbound left lane of the Spaulding Turnpike. The second crash was reported around 3:30 p.m. and involved a snow plow that brought down a pole and wires on Federal Street.
A school bus crash was reported on Indigo Hill Road in Somersworth with no injuries.
New Hampshire State Police reported weather-related crashes on I-93, I-89, and I-393.
Contact reporter Dan Alexander at Dan.Alexander@townsquaremedia.com or via Twitter @DanAlexanderNH
25 Things That Will Annoy Any Granite Stater
These are the most annoying things to see, hear, or be apart of in New Hampshire.
More From Seacoast Current