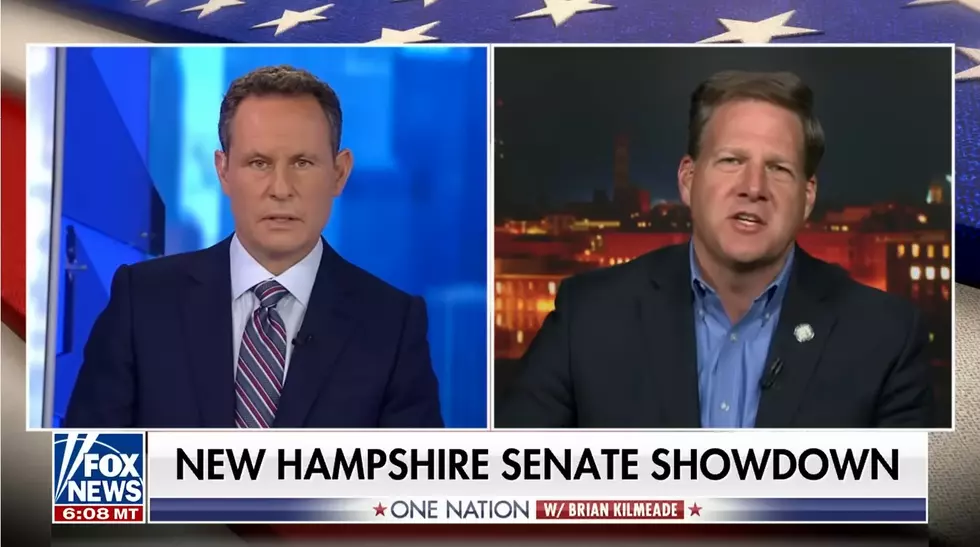 Sununu Does About-Face on U.S. Senate Candidate Bolduc
Gov. Chris Sununu with Brian Kimeade on Fox News 9/25/22 (Fox News via YouTube)
Gov. Chris Sununu, who denounced Republican U.S. Senate candidate Don Bolduc as a "conspiracy theorist-type candidate" recently referred to him as an "amazing individual," in a Fox News interview.
When asked during Fox News' One Nation with Brian Kilmeade about Bolduc's chances at winning with two new polls showing him trailing, Sununu predicted a win for his fellow Republican.
"We're going to be having a good time in early November. Senator Hassan is going to lose, no question. She's one of the most unliked, with the lowest favorability ratings Senators in the country. General Bolduc won a tough fought primary with very little money," Sununu said. "Now he's raising some money, he's getting some national attention, he's an amazing individual with this war hero background that just wants to stand up and serve."
He said that in order for change to come to Washington, the electorate can't keep re-electing the same candidates.
Kilmeade did not ask a follow-up question about Sununu's previous comments about Bolduc during the primary campaign. Sununu endorsed state Senate candidate Chuck Morse, who lost by just over 1,000 votes.
During an August 19 interview on WGIR, the governor said that Bolduc was "not a serious candidate." If he were to the win the primary, Sununu said Republicans would have a harder time winning the general election in November.
Dean Spiliotes, SNHU Civic Scholar and founder of NH Political Capital, said it's likely a bid for party unity going into November.
"This doesn't mean that Sununu has changed his opinion of Bolduc. It's simply your typical party unity play, and perhaps a way for Sununu to remove a potential distraction from his own reelection bid," Spiliotes said.
Both Bolduc and Sununu earned the endorsement of former UN Ambassador Nikki Haley. She campaigned for both separately Thursday and Friday.
Contact reporter Dan Alexander at Dan.Alexander@townsquaremedia.com or via Twitter @DanAlexanderNH
Fall is Here: Here's Why New Hampshire Locals Are Excited for the Season
More From Seacoast Current