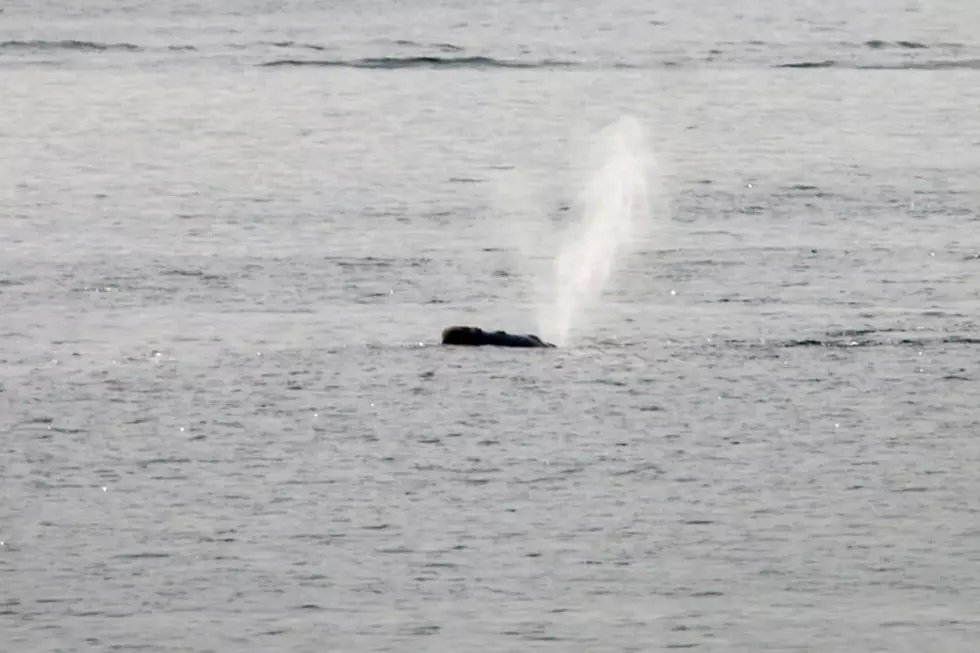 Two Rare Right Whales Spotted Off NH Seacoast
North Atlantic right whales off North Hampton 5/6/22 (Seacoast Science Center)
It was a rare sight off the New Hampshire coastline on Friday: two North Atlantic right whales.
The New England Aquarium, which has one of the longest-running right whale research programs, has cataloged all the world's right whales. Thanks to a photo by an Aquarium scientist, they were able to identify the whales as Aphrodite, a 35-year-old female off North Hampton, and Andy, a 32-year-old male off the coast of Hampton on Friday.
"It's completely normal for them to be up on our coastline this time of year. This is their annual migration from their breeding grounds down south up north to feed in the summertime in the abundant waters that we have up here," Brian Yurasits, Community Outreach Manager for the Seacoast Science Center told Seacoast Current.
The whales are chasing after a concentration of tiny plankton called copepods.
"A Once-in-a-Lifetime Experience"
Aphrodite was a few hundred yards off the North Hampton shoreline, allowing anyone to see her even without binoculars, according to Yurasits.
"You could see it right from the beach, which is such a unique experience. I've been working in the field for 10 years. Some of my colleagues have been working far longer than I have, and they've never seen a North Atlantic Right Whale this close to shore," Yurasits said. "It's really a once-in-a-lifetime experience event that took place right in our backyard."
Aphrodite added to the experience by moving back and forth feeding on the surface of the water in the same location for hours, according to Yurasits.
"It wasn't even diving down too deep. It was right there, essentially skim feeding copepods on the surface of the ocean," Yurasits said. Copepods like the warmer water, which may be why they were so close to the shoreline.
There was a whale spotted recently spotted off Gloucester, Massachusetts, and more off Cape Cod. So, there's a chance for another Seacoast sighting.
"This is time of year when they're really migrating through this area and spending time on the coast, so it's definitely a possibility that there are more of them out there that could be coming through," Yurasits said.
Extremely Rare Whale
There are approximately 350 North Atlantic right whales left in the world, and only 100 are breeding females, according to Aquarium. Aphrodite has had six documented calves.
They are a federally endangered species, and Yurasits said it's essential to give these creatures space.
"It's illegal to approach right whales within 500 yards/1500 feet (5 football field lengths) with your body, boat, kayak, jet-ski, surfboard, or paddleboard, drone or other air or watercraft. Drones should never approach closer than 500 yards/1500 feet from a North Atlantic Right Whale."
Two right whales died off the New Jersey shoreline in 2020.
A right whale was found floating five miles east of Long Branch. Bob Schoelkopf of the Marine Mammal Stranding Center Director in New Jersey said at the time that the photos of the whale showed it to have cuts from a propeller, indicating that it may have been struck by a ship. Another was entangled in marine lines.
Contact reporter Dan Alexander at Dan.Alexander@townsquaremedia.com or via Twitter @DanAlexanderNH
Trending Stories for Seacoast Current (April 25-May 1, 2022)
More From Seacoast Current