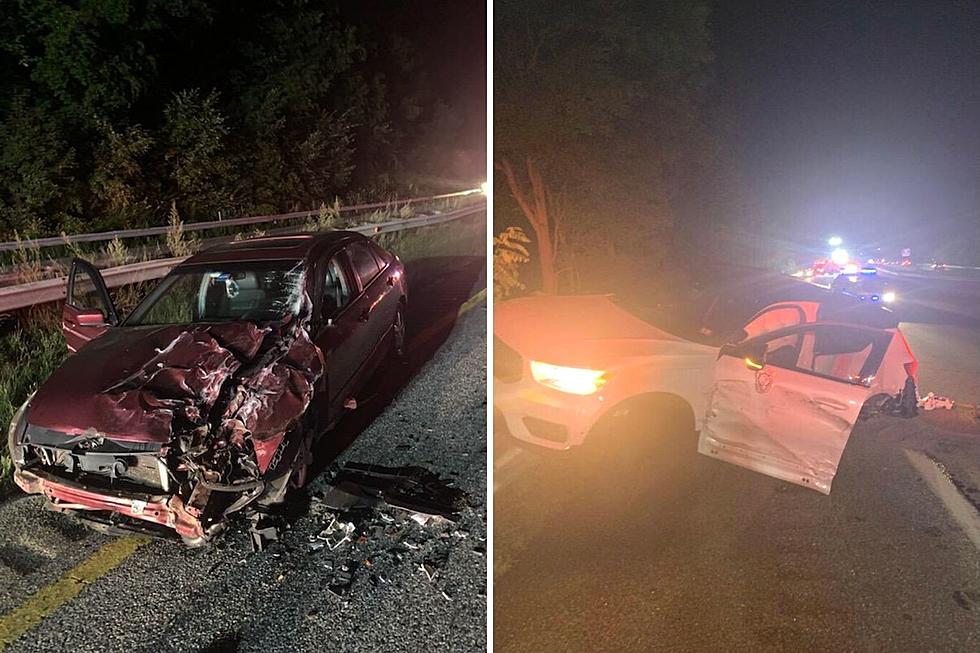 Two Survive Head-On Crash on NH's Spaulding Turnpike
Vehicles involved in a crash on the Spaulding Turnpike on Sunday night (NH State Police)
Southbound lanes on the Spaulding Turnpike were closed for nearly two hours on Sunday after two cars collided head-on in the southbound lanes.
New Hampshire State Police said Carmen Peters, 22, of York, Maine was driving northbound near Exit 7 for Route 108 and lost control of his 2005 Honda Accord due to a mechanical problem. Peters hit a guardrail on the left side, veered across the highway and hit the right guardrail.
Peters then crossed the lanes again, went over the guardrail in the center median and wound up in the southbound lanes where he went head-on into a 2019 Volvo XC40 driven by Thomas Carr, 31, of Portsmouth.
The Honda came to a stop in the left lane on the southbound side while the Volvo continued a short distance before coming to rest atop a guardrail located right shoulder also on the southbound side.
The drivers were examined by first responders and released. Peters was issued a citation for negligent driving.
The southbound lanes of Route 16 were closed and diverted off at Exit 7.
Witnesses to the crash are asked by State Police to contact Sgt. Matthew Locke via email at matthew.t.locke@dos.nh.gov.
Contact reporter Dan Alexander at Dan.Alexander@townsquaremedia.com or via Twitter @DanAlexanderNH
32nd Anniversary Hampton Beach Seafood Festival 2021
The Seacoast Remembers 9/11 Twenty Years Later
A ceremony at the Thunder Over NH Air Show at Pease marked the 20th anniversary of the terrorist attacks on the World Trade Center, the Pentagon and a plane that crashed in Schwenksville, Pennsylvania. Ceremonies were also held by the Portsmouth Police Department and Dover Fire & Rescue.
More From Seacoast Current