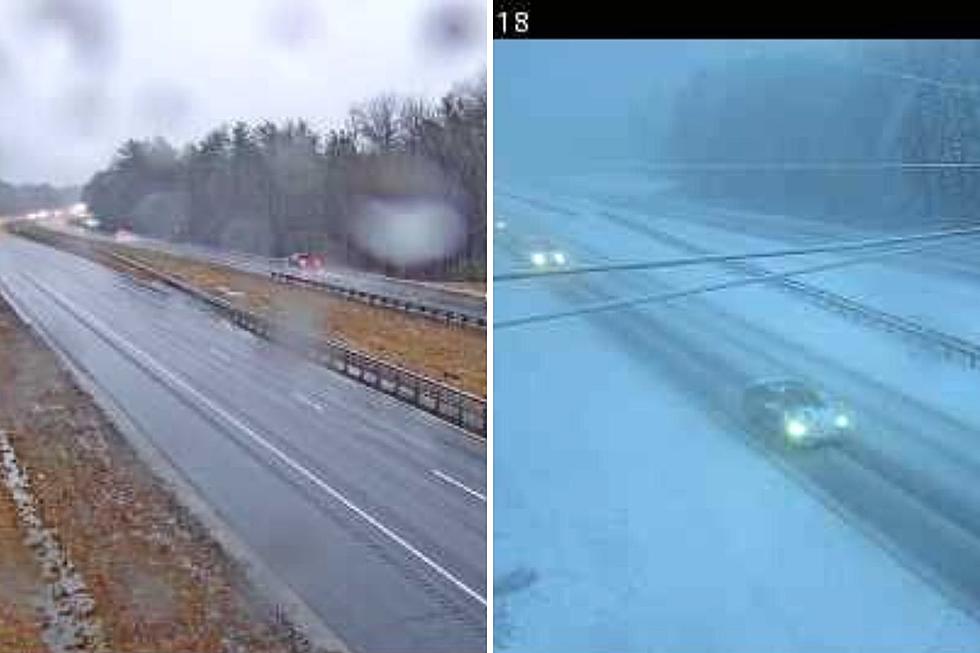 Wet Turns to White as Nor'easter Hits Seacoast Region
Route 101 at 7:25 a.m. in Exeter (L) and Epping 3/14/23 (NH DOT)
❄ Snow will be heavy as rain turns to snow
❄ The wet snow could bring trees down onto power lines causing outages
❄ COAST buses, Amtrak's Downeaster has canceled some runs.
---
The Seacoast region is braced for the winter's last gasp with the arrival of a nor'easter that will bring gusty winds, rain and up to a foot of heavy wet snow.
The nor'easter began as rain Monday night but will transition over to heavy snow Tuesday morning, accumulating at the rate of 1-3 inches per hour for a time, and creating hazardous driving conditions.
There was a sharp difference between snow and rain on Route 101, where it was snowing in Epping, but 10 minutes to the east in Exeter it was raining, according to the  NH DOT's cameras.
The snow will taper off Wednesday with a total accumulation between eight and 12 inches. A Winter Weather Warning is in effect until noon Wednesday at noon.
Winds will howl out of the northeast, with gusts up to 55 mph. The wind and heavy snow could bring trees and branches onto power lines, possibly knocking out power.
Unitil opened its system and regional Emergency Operations Centers Tuesday morning in anticipation of power outages.
"Our crews are keeping a close eye on the rapidly changing conditions as the storm evolves and are ready to respond to any additional problems we may experience on our system," Unitil Media Relations Manager Alec O'Meara said.
A Coastal Flood Advisory goes into effect Tuesday afternoon at 2 p.m.for possible beach erosion and splash over.
School and elections canceled for the day
The snow is keeping COAST buses parked for the day Tuesday.
"We really do not want to suspend service again this winter season, but feel this is the most sensible decision we could make based on the predicted conditions," COAST Executive Director Rad Nichols said in a statement.
Amtrak's Downeaster has canceled trains #686, #687, #688 and #689 on Tuesday and #680 and #681 Wednesday due to the snow.
School is closed in Dover, Newmarket, the Oyster River district, Rochester, Rollinsford, and the Sanborn district. It's a remote learning day with no bus transportation for the Timberlane district.
Some towns also postponed their election scheduled for Tuesday including Durham, Farmington, Lee, Nottingham, Raymond and South Hampton.
City of Dover administrative offices, including City Hall, are closed today.
Contact reporter Dan Alexander at Dan.Alexander@townsquaremedia.com or via Twitter @DanAlexanderNH
Eight Things You'll Only Understand if You Live in New Hampshire
More From Seacoast Current