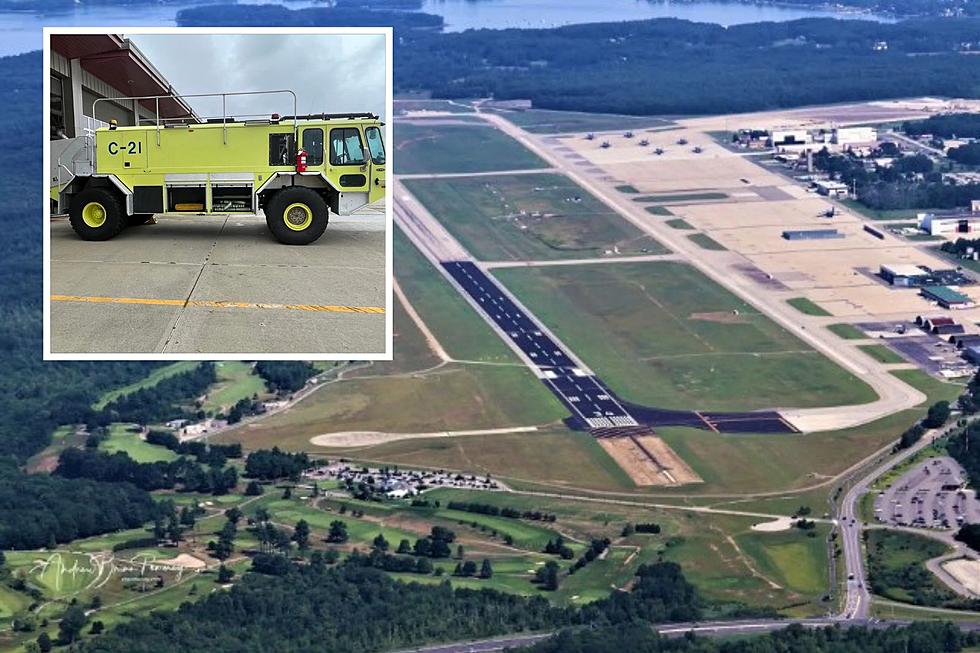 New Hampshire National Guard Secures Fire Suppression Truck for Pease —UPDATE
Fire suppression truck rented by the NH National Guard (inset) at the Portsmouth International Airport at Pease (NH National Guard)
Large commercial and military aircraft will be able to land at Portsmouth International Airport at Pease again Saturday afternoon.
The lack of a required fire suppression equipment forced all arrivals and departures to be canceled. The FAA requires at least one fire suppression truck to be available for heavy aircraft with nine or more passengers on board to land or take off from an airport.
All three of the Pease Fire Department's fleet of fire suppression trucks have been down for repairs, according to the New Hampshire Air National Guard. Two trucks on loan to the facility were also sidelined this week with mechanical problems leaving the airport without available equipment on site.
The New Hampshire National Guard said a 25-ton fire suppression truck from an agency in Rhode Island arrived Saturday morning to bring the facility in compliance. No commercial flights were scheduled to depart or land today.
All flights scheduled to arrive and depart Friday were canceled. Two commercial flights and two military training flights were impacted Friday night.
Allegiant is the only airlines to fly in-and-out of Portsmouth with flights to Fort Meyers, Orlando/Sanford and Tampa St. Pete, and seasonal flights to Myrtle Beach.
The New Hampshire Air National Guard's KC-135 aerial refueling squadron is also based at Portsmouth.
Contact reporter Dan Alexander at Dan.Alexander@townsquaremedia.com or via X (Twitter) @DanAlexanderNH
14 Celebrities Spotted in Maine and New Hampshire in 2023
A number of celebrities made a trip to Maine and New Hampshire throughout 2023. Take a look to see which ones.
More From Seacoast Current