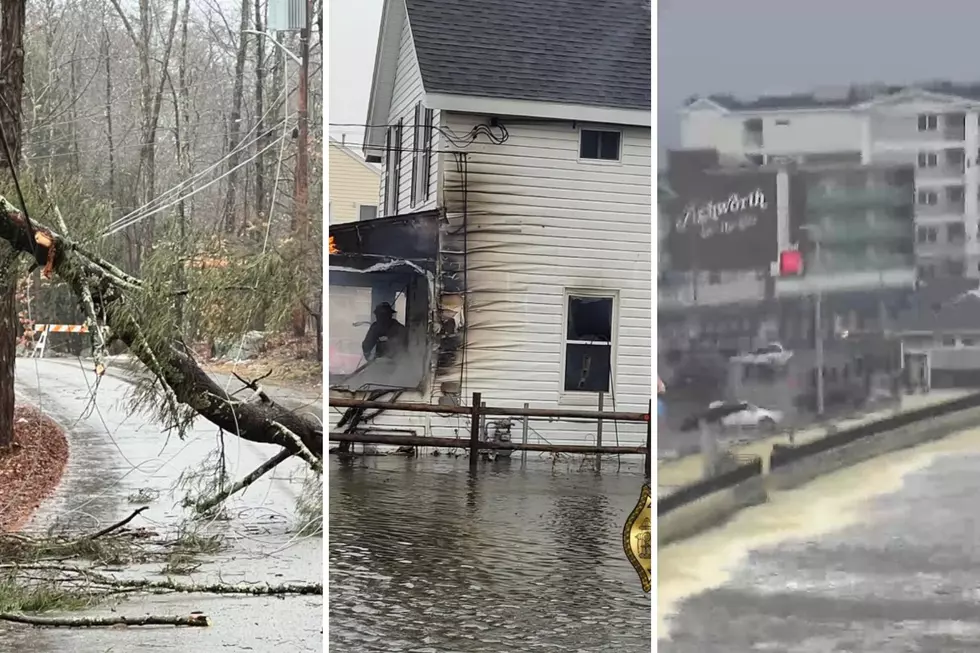 When Will Power Be Restored to the NH, ME Seacoast?
Downed tree in Exeter (Unitil), house fire in Hampton (Hampton Fire/Rescue), high tide in Hampton Beach (Hampton Beach Village District)
The rain is gone, but the cleanup and bitter cold remain following Friday's storm.
Thousands of people spent a cold night in the dark as the power remained out following Friday's ferocious winds, which included an exceptional 84 mph gust in Rye, according to the National Weather Service. Most other gusts were between 50 and 60 mph from the southwest, bringing down trees, branches, and power lines.
As of 7:30 a.m. 79,012 Eversource, Unitil, NH Electric Co-op, and Liberty Utilities customers were without power statewide.
Central Maine Power had 43,455 customers in York County without power. National Grid reported 5,432 customers without power in Essex County.
Among the hardest hit communities in the Seacoast region:
Eversource: Barrington, Durham, Epping, Lee and Rochester with over 1,000 customers without power.
NH Electric Co-op: Barnstead, Deerfield, Lee and Nottingham
Unitil: Hampton, Kingston, Newton
Working All Night at Restoration
Unitil spokesman Alec O'Meara said his company's crews worked all night continuing to make progress restoring customers' power, and will keep at it throughout the holiday until each and every customer is restored.
He said the band of thunderstorms that moved through late Friday afternoon that ushered in bitter cold air went through the heart of the company's service area and exacerbated the power outages, which jumped from 1,500 to 17,000.
"This storm could not have come at a worse time and we recognize that many of our customers are wondering if they will have the lights back on in time for their family gatherings. We appreciate their patience during this difficult time," O'Meara said. "Our crews worked hand in hand with emergency responders through windy conditions and plunging temperatures overnight, addressing public safety issues while restoring power where possible."
As power is restored to an area, crews will be redeployed to another area.
No Exact Time for Restoration
O'Meara said the possibility exists that some customers may not have power restored in time for Christmas Day, and should consider alternatives.
Eversource said it has brought in crews from Alabama, North Carolina, Texas, Virginia, and Canada working around-the-clock shifts to address emergency situations, clear blocked roads, assess damage, and restore power to customers impacted by the fierce storm.
"Our focus this morning is on blocked roads & community issues, and getting largest outages worked as quickly as possible. Also working to replace 84 broken poles," Eversource said in a statement Saturday morning. "We're continuing to assess damage & working on sharing ETRs. 62 more crews arrived overnight, so we have 600+ line, tree, & service crews working in NH today."
Fires in Hampton
During the astronomical high tide Friday morning, Hampton Fire Chief Michael McMahon said that within the span of a hour, the department received reports of 3 structure fires on I Street, Jones Ave, and Ashworth Ave, and 1 vehicle fire on Hobson Avenue with exposure. Hampton Fire Alarm answered over 200 phone calls and dispatched 39 calls for service for Hampton and Hampton Falls.
"We are very fortunate that we had our mutual aid partners in route to assist us with the volume of calls," McMahon said in a statement.
Rochester Police said they handled over 300 calls for service on Friday.
A tree fell on top of a car parked in a driveway on Whitehall Road on the Amesbury-South Hampton border with a person inside Friday night, according to the Amesbury Fire Fighters IAFF Local 1783. A heavy duty wrecker was called into help with the extrication, according to photographer Michael Kent.
Christmas Bitter Cold
The forecast calls for sunny skies on Saturday, with temperatures in the teens to lower 20s. Southwesterly winds up to around 35 mph or so will send wind chill values down to below zero in most locations, according to the National Weather Service.
O'Meara said that those using a generator should make sure it is installed and positioned. An improperly installed or positioned generator can cause exhaust, containing deadly carbon monoxide, to accumulate in a home.
Generators can "backfeed" electricity into the distribution lines and electrical equipment, seriously injuring or electrocuting a line worker or anyone who may touch a now-energized line thought to be dead.
The state Department of Safety's Division of Homeland Security and Emergency Management also offered these suggestions:
Use flashlights, rather than candles, for emergency lighting.
Do not use a gas range or oven as an alternate source of heat.
Only use a generator that has been wired to the house electrical service by a professional electrician.
Never run a generator inside a building or in an enclosed space and keep them 10 feet away from buildings with the exhaust pointed away.
Contact reporter Dan Alexander at Dan.Alexander@townsquaremedia.com or via Twitter @DanAlexanderNH
25 New Hampshire Towns That Would Be Perfect for a Christmas Movie
More From Seacoast Current