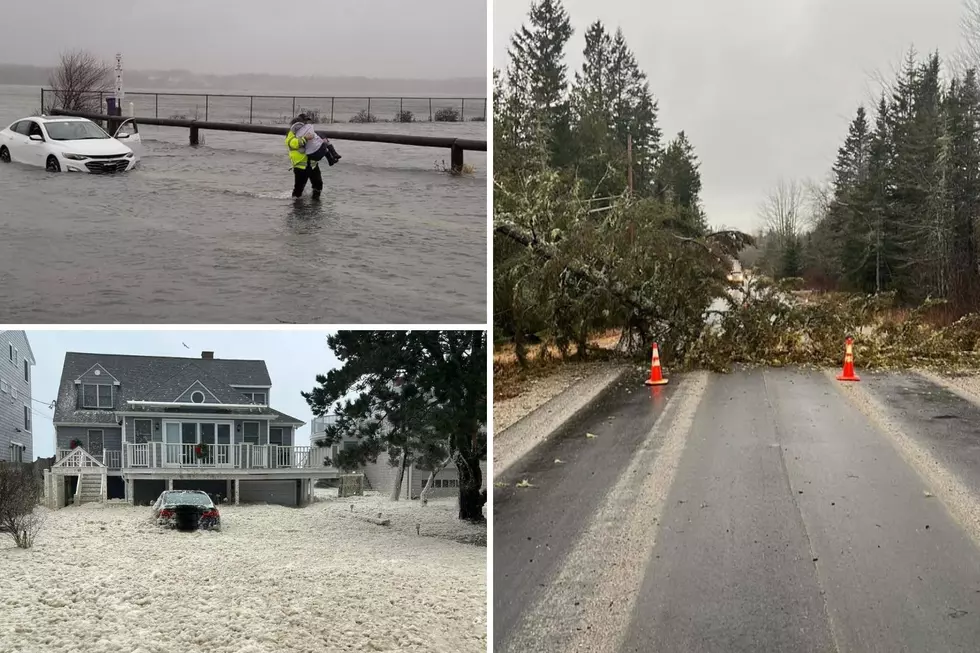 Photos, Videos Highlight Extensive Damage, Flooding in Maine from Powerful Storm
Wells Police, Hancock Maine Volunteer Fire Department via Facebook
A powerful storm struck Maine on Friday, December 23, but it wasn't some right-before-Christmas snowstorm.
Instead, heavy rain and strong winds were at the forefront of this "Grinch" storm that took down trees, caused widespread flooding and knocked out power to thousands of Mainers.
As of 8 a.m. Saturday, December 24, over 234,000 were still without power.
Central Maine Power was reporting 176,801 customers without power, and Versant was reporting 58,058 customers without power.
Many crews were unable to immediately start working on fixing power outages due to the high winds and instead had to wait for things to decrease so it would not be dangerous.
WMTW reported that winds hit up to 70 mph along the coast during the storm.
All across the state, the damage was felt. Downed trees on power lines, road closures, and extensive flooding that turned parking lots into lakes were just some of the result of the Friday storm.
The iconic Portland Head Light took a major hit, and you can see the powerful waves striking up on the lighthouse in this Facebook video:
The roads in Wells were flooded over as waves crashed upon them making for difficult driving in the area as seen in this Facebook video:
This was a storm that certainly left a mark.
In fact, just take a look at these 30+ photos of some of the storm damage, fallen trees and flooding across Maine.
It's incredible to see how much impact a storm can really have on so many communities.
Photos Highlight Extensive Damage, Flooding in Maine from Powerful December 23 Storm
Rain and wind hit Maine hard on Friday, December 23, causing downed trees, flooding, and power outages.
10 Unique Maine Christmas Trees Worth a Trip to See in 2022
There are a lot of great Christmas trees that go up for the holidays across Maine. But here are some that truly stand out as classic Maine.
More From Seacoast Current