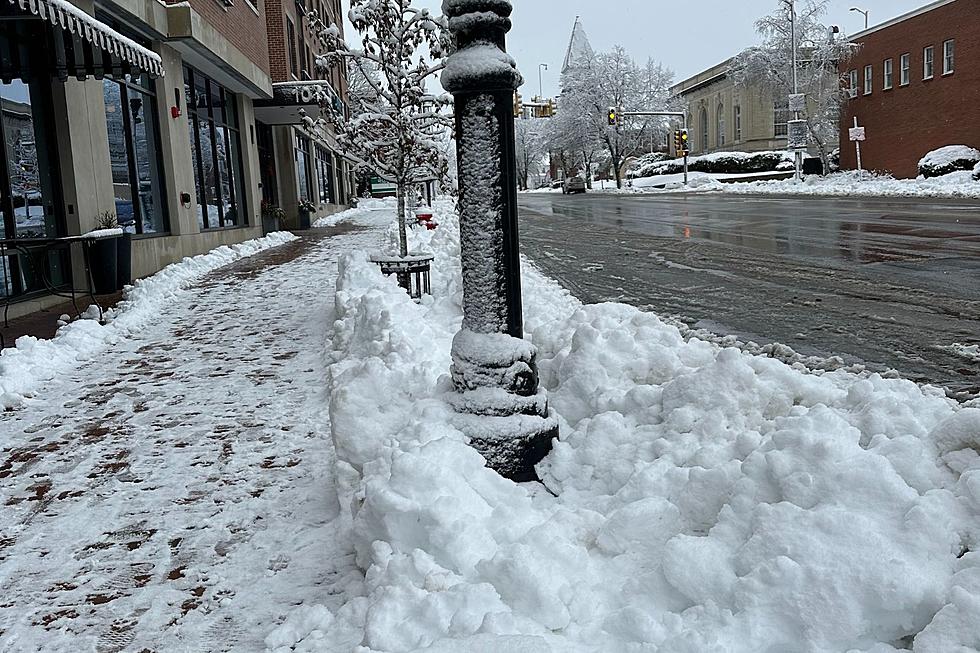 Winter's Not Done: Tuesday Will Be Snowy on the Seacoast
Snow in Dover (Jolana Miller, Townsquare Media)
The Seacoast's next snowstorm will not spare the immediate coast, as the precipitation will stay snow for the entire region.
Snow will begin to fall after midnight, making for a slick Tuesday morning commute, and will then continue all day, according to meteorologist Jon Palmer at the National Weather Service in Gray, Maine. A Winter Weather Advisory is in effect for 12 hours starting at midnight through Tuesday morning for periods of moderate and heavy snow.
"We're expecting snow to start around 2:00 to 4:00 in the morning. It'll snow throughout the day on Tuesday and well into the night," Palmer told Seacoast Current. "We anticipate snow to taper off around 11 midnight Tuesday."
The snow could fall at a rate of an inch an hour, and be dry and fluffy. There is a chance that some rain could mix in Tuesday evening, which could make it heavier according to Palmer. Winds will gust out of the east at 30 mph.
Total accumulation of snow for Rockingham, York, and Essex counties is expected to be 3-6 inches, with higher amounts in Strafford County and inland York County.
Snow days, remote learning days
Dover Public Schools announced that Tuesday will be a remote learning day
Prepared for Power Outages
In areas where the snow gets heavy, it could stick to branches and power lines, leading to outages. Utility poles are also endangered by slick roads and potential crashes, according to Unitil spokesman Alec O'Meara.
"We saw a number of outages caused by motor vehicle accidents throughout the weekend as snow fell off and on and created slick roads," O'Meara said in a statement. "With additional snowstorms in the forecast throughout the week, we urge drivers to take their time and remain safe while getting to their destination."
Indeed winter is still not done with us, as another storm will pass south of New England Friday night and Saturday, bringing the chance of a more significant snow.
Contact reporter Dan Alexander at Dan.Alexander@townsquaremedia.com or via Twitter @DanAlexanderNH
25 of the Best Arcades in All of New England
These are 25 of the best arcades in New England
More From Seacoast Current