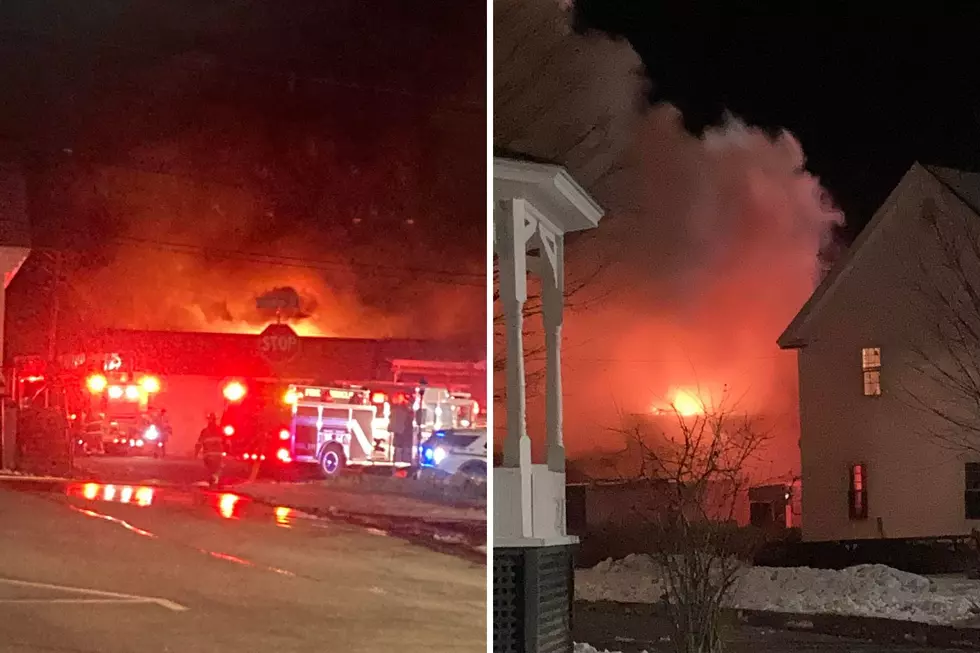 Wolfeboro, New Hampshire, Supermarket Destroyed by Fire
Fire at Hunter's IGA supermarket in Wolfeboro 1/16/23 (Tommy Charles Jr)
A family-owned supermarket in Wolfeboro was reduced to rubble by fire Monday night.
The fire at Hunter's Shop 'n Save supermarket on Main Street in Wolfeboro was first called in around 9:15 p.m. Video shows thick black smoke pouring from the building as firefighters from several towns fought the blaze.
A picture from the scene at daybreak show a pile of rubble where the store stood.
Wolfeboro Fire Chief Thomas Zotti no one was in the building when the fire started, and no one was injured. He said the fire was contained to the original building.
Rallying Around a Community Staple
Members of the Wolfeboro community are already working to help Hunters get back in business and to help its employees.
"Our thoughts go out to everyone impacted and to our larger community. This is a tragedy for our little town of massive proportions," Wolfeboro based Lucas Roasting Company wrote on their Twitter account.
Resident Jack St Sauveur created a GoFundMe page to assist workers at Hunter's, although the status of the store and their jobs are not known.
Salon Allure will donate 10% of all services Tuesday to the fund, along with 20% of all retail sales.
The Poor People's Pub is offering Hunter's employees free meals for the month of January.
Photos courtesy of Tommy Charles Jr.
This is a developing story. Check back for additional details.
Contact reporter Dan Alexander at Dan.Alexander@townsquaremedia.com or via Twitter @DanAlexanderNH
It's Illegal to Throw These 5 Items in the Regular Trash in New Hampshire
Before just tossing something into your regular trash it is good to know what items are illegal to throw away in your state. It could be harmful to the environment and/or get you in trouble! Here are five items you might not realize are illegal to dispose of in the regular trash in New Hampshire.
More From Seacoast Current