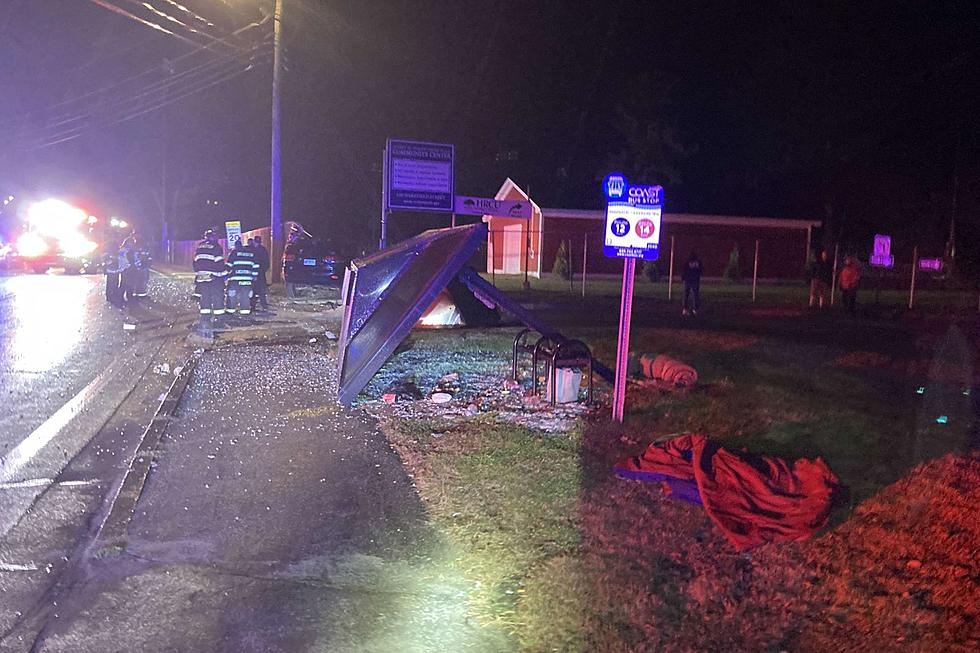 Woman Mows Down Rochester, New Hampshire, Bus Stop Shelter, Man Injured
COAST bus stop on Wakefield Street in Rochester after being run over by a Jeep 10/22/23 (Rochester Police)
A Rochester woman police say was using her cell phone while driving the under the influence smashed into a COAST bus stop, injuring a man standing inside on Sunday night.
Rochester Police said Elizabeth Laroche, 22, of Strafford was driving a black Jeep Cherokee south on Wakefield Street near the Rochester Community Center and McDonald's when she veered to the side into the bus stop just after 8 p.m., completely destroying the stop. Photos show the bus shelter flattened and scattered on the street and sidewalk.
A man standing inside at the time, Timothy Umling, 60, of Rochester, was alert when first responders arrived but was taken to Portsmouth Regional Hospital for further evaluation.
Laroche was charged with driving under the influence, reckless operation, and use of electronic mobile devices while driving. Laroche was released on bail and has a court date on November 30.
Contact reporter Dan Alexander at Dan.Alexander@townsquaremedia.com or via X (Twitter) @DanAlexanderNH
HOME LISTING: Waterfront New Hampshire Train Station House With Caboose in Barnstead
This might be one of the most unique properties on the market right now in New Hampshire.
4 Hartshorn Rd in Barnstead
boasts history, charm, and beautiful water views! The property is currently listed for $499,900.
Gallery Credit: Kira
These 5 New England Spots Were Featured on Yelp's 'Top 100 US Restaurants 2023' List
Gallery Credit: Megan
More From Seacoast Current