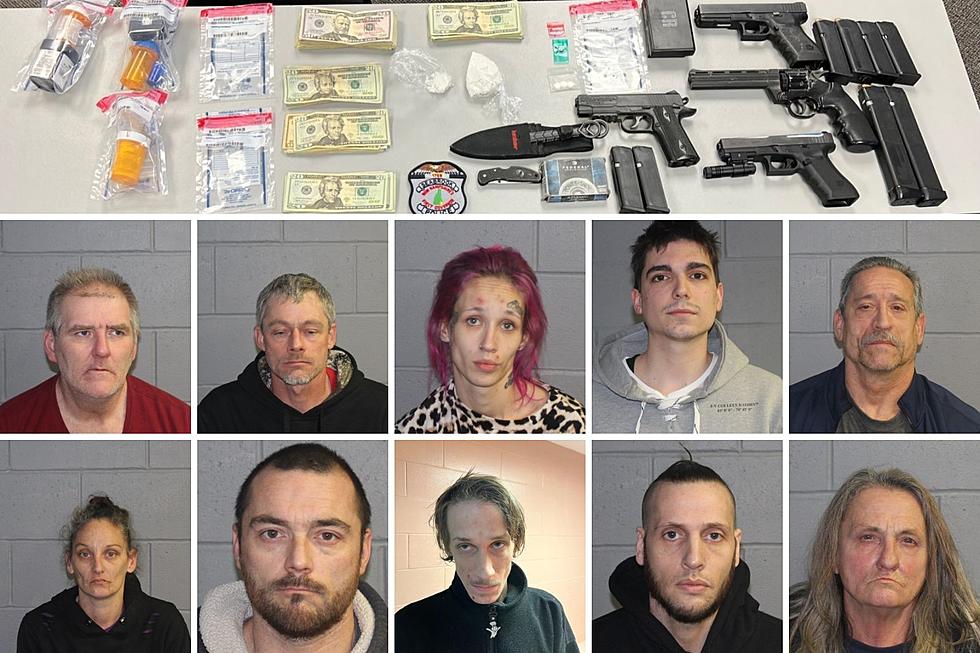 11 Arrested in Seabrook, New Hampshire, Illegal Drug Activity Bust
Items found by police. (L-R) John Lennox, Jason Green, Alyssa Paolini, Alex Erosa, Joseph Paquette, Krystil Karlson, Jonathan Campbell, Donald Rowley, Hope Eaton, Aaron Kiniry (Seabrook Police)
🔴 Resident complaints led to an investigation
🔴 11 arrested Wednesday at a home in Seabrook
🔴 Seabrook Police Chief Breett Walker asked anyone with information about illegal drug activities to call the Seabrook Police Department at 603-474-5200
---
Seabrook Police arrested 11 people and found a large amount of crack cocaine and suspected heroin/fentanyl following an investigation into illegal drug activity.
The arrests were made following the execution of a search warrant at 46 Collins Street Wednesday, according to Police Chief Brett Walker. Detectives found the drugs with a street value of $15,000, several firearms, and over $3,000 in cash.
The arrests came thanks to the work of the Seabrook Police Problem Oriented Policing Unit (POP), a hybrid of patrol officers and detectives.
"Our overdose numbers and deaths have gone down over the last couple years, but the drugs involved in many of these investigations are dangerous and represent a lethal threat to the members of our community," Walker said in a statement. "I would be remiss if I did not also credit members of the community who came forward with information. Thank you to the folks who stepped up to help us in these investigations."
Walker asked anyone with information about this investigation or illegal drug activities to call the Seabrook Police Department at 603-474-5200 or through the Crimeline for the Hamptons at 603-929-1222
Charged were:
John Lennox, 57, of Seabrook: sale of a controlled drug, possession with intent to distribute a controlled drug, and felon in possession of a deadly weapon
Jason Green, 43, of Lebanon, ME: conspiracy to possess a controlled drug with intent to distribute
Alyssa Paolini, 25 of Rochester, NH sale of a controlled drug, resisting arrest
James Medaglia, 50, of North Hampton: sale of a controlled drug- death resulting
Alex Erosa, 23, of Seabrook: sale of a controlled drug, endangering the welfare of a minor
Joseph Paquette, 66, of Hampton: sale of a controlled drug
Krystil Karlson, 39, of Seabrook: sale of a controlled drug
Jonathan Campbell, 42, of Newburyport, MA: possession with intent to distribute a controlled drug
Donald Rowley, 33, of Hampton: sale of a controlled drug
Hope Eaton, 62, of Seabrook: sale of a controlled drug
Aaron Kiniry, 36, of Seabrook, NH:possession of a controlled drug
Contact reporter Dan Alexander at Dan.Alexander@townsquaremedia.com or via Twitter @DanAlexanderNH
Ways to Enjoy a Sober New England St. Patrick's Day
More From Seacoast Current