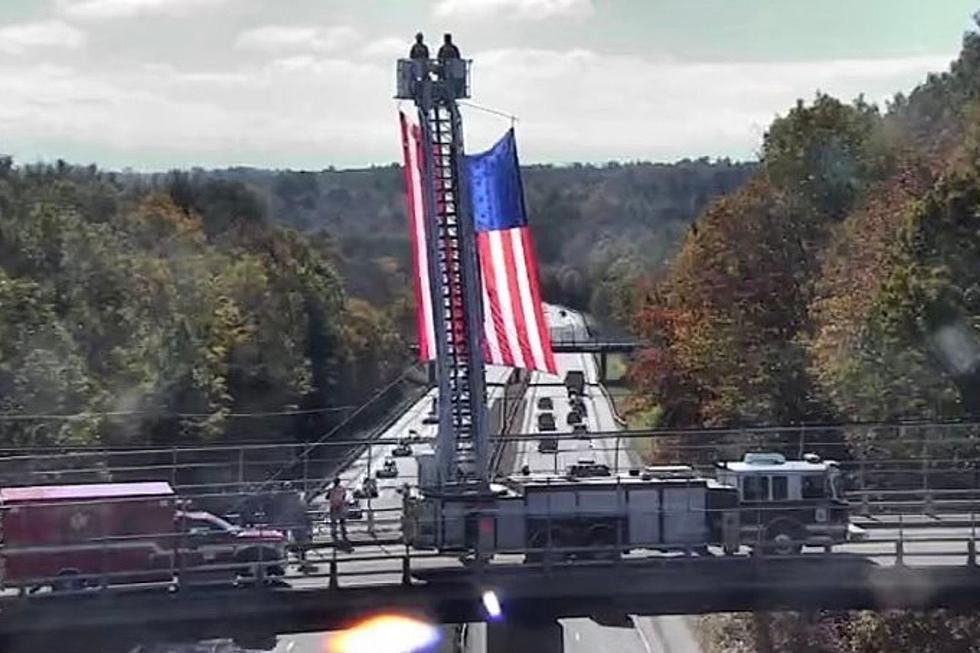 A NH State Police Trooper's Journey Home
Firefigthers salute NH State Police Trooper Jesse Sherril as his procession passes (Gov. Chris Sununu)
New Hampshire State Police Staff Sgt. Jesse Sherrill made the journey home on Friday with a procession from Concord to a funeral home in Dover.
Troopers lined up at Concord Hospital late Friday morning as his flag draped casket was loaded into a hearse to begin the procession. State Police cars and motorcycles led the procession along Routes 93, 101, 95 and the Spaulding Turnpike en route to the Wiggin-Purdy-McCooey-Dion Funeral Home in Dover.
Sherrill was working a construction detail on Interstate 95 in Portsmouth when he was struck by a tractor trailer near Exit 3 in Portsmouth around 12:30 a.m. He was taken to Portsmouth Regional Hospital where he died.
Funeral arrangements had not yet been announced as of Saturday morning.
Portsmouth Police hung a banner in Sherrill's honor from the Sherburne Road over pass over Route 95.
Flags will fly at half-staff in Sherrill's honor through Sunday per order of Gov. Chris Sununu.
The fundraiser created by the Greg Hil Foundation to help the trooper's family has collected $134,202 in donations as of Saturday morning.
Maine State Police on Friday told WMUR that their investigation of the crash on Route 95 at the request of New Hampshire State Police could take several days.
Frito Lay, whose truck was involved in the crash that claimed Sherrill's life early Thursday morning in a statement said it was saddened by his death.
"Our sympathies are with his family and colleagues as they go through this difficult time. Frito-Lay is fully cooperating with state and federal authorities on the investigation," the company said in a statement.
The driver of the truck was treated and released from Portsmouth Regional Hospital and has not been charged. State Police have not yet disclosed what led to the crash in the northbound lanes of Route 95 near Exit 3.
Fallen NH State Police Trooper SSgt Jesse Sherrill Comes Home
The body of New Hampshire State Police Staff Sgt. Jesse Sherrill who died in the line of duty early Thursday while working a construction detail was brought from Concord to Dover on Friday.
Contact reporter Dan Alexander at Dan.Alexander@townsquaremedia.com or via Twitter @DanAlexanderNH
More From Seacoast Current