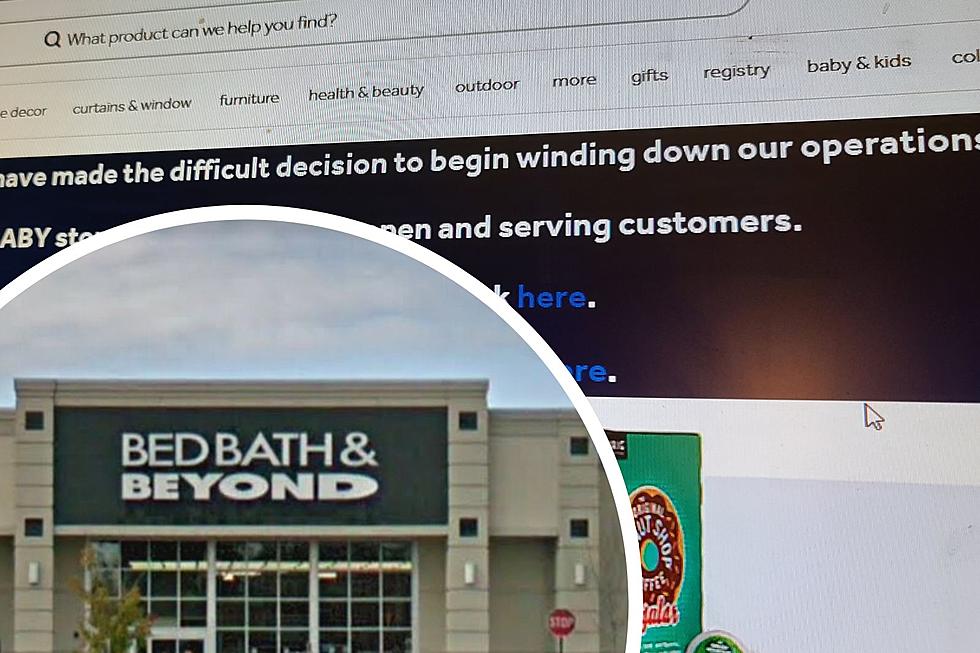 Bed Bath and Beyond to Close All Stores, 'Wind Down' Operations
Bed Bath & Beyond announcement on its website (Dan Alexander, Townsquare Media) Portsmouth store (Google Street View)
🔴 The chain announced it filed for Chapter 11 bankruptcy protection Sunday morning
🔴 Operations will begin to wind down at all stores
🔴 The company will continue to seek a buyer that could keep stores open
---
Troubled retailer Bed Bath and Beyond and sister store Buy Buy Baby are going to shut down their remaining locations after filing for Chapter 11 bankruptcy protection, with a glimmer of hope they could remain in business.
"Thank you to all of our loyal customers. We have made the difficult decision to begin winding down our operations," the company posted across the top of its website Sunday.
The chain that sold a wide array of goods for the home, from bedding to cleaning products, coffee makers, kitchen furniture announced the filing in the United States Bankruptcy Court for the District of New Jersey to "implement an orderly wind down of its businesses while conducting a limited marketing process to solicit interest in one or more sales of some or all of its assets."
The company has a $240 million line of credit to keep the company's 360 Bed Bath and Beyond and 120 Buy Buy Baby stores operating through the Chapter 11 process. No closure dates or immediate store closing were announced.
"Through the filing of customary motions with the court, the company intends to uphold its commitments to customers, employees, and partners, including continued payment of employee wages and benefits, maintaining customer programs, and honoring obligations to critical vendors," the company said in a statement.
CNN reported that stores will stop accepting its 20% off coupons Wednesday.
A Troubled Couple of Years
The chain has closed numerous stores around the country in recent months, although its Portsmouth, Bedford, Concord, and Nashua stores remained open. The South Portland store is the only one left in Maine after locations in Augusta and Brunswick were shut down.
Bed Bath and Beyond closed all of its Harmon beauty supply stores in 2022.
The company was having financial difficulties from the challenge of online shopping and other retailers, who had a better store layout. COVID-19 mandates, which forced the chain to close its stores during the pandemic, exacerbated the situation.
In August, it closed 150 "lower producing" stores and laid off 20% of its employees as part of a strategy to turn things around. But a poor holiday season blamed on limited inventory continued the chain's financial spiral.
Contact reporter Dan Alexander at Dan.Alexander@townsquaremedia.com or via Twitter @DanAlexanderNH
More From Seacoast Current